Petition No. 724
New Cingular Wireless
Granby, Connecticut
Staff Report
July 21, 2005
New Cingular seeks to replace a wooden transmission line "H" frame structure with a new structure that would include a 100-foot tall wood laminate pole for its antennas. Council member Colin Tait and staff person David Martin met New Cingular representatives Chris Fisher, Carlo Centore, Tim Burks, and Brian Morolski on July 21, 2005 to review the proposed project. A New Cingular RF engineer was also present.
The existing wooden structure is 56.6 feet tall and is located on the west side of Petersen Road within a 100-foot wide CL&P right-of-way. One side of New Cingular's replacement structure would be the same height as the existing structure. The other side would be raised 46 ± feet to a height of 100 feet. At the top of this pole, New Cingular would mount six antennas — two per sector — on T-bars. The new, taller pole would be designed to accommodate one additional carrier at 90 feet. New Cingular would install a gravel driveway with a turn around and a small compound area for a 12-foot by 20-foot shelter near the base of the structure. The shelter would be enclosed by a six-foot chain link fence. The submitted site plans indicate the fence would include green privacy slats.
Council representatives asked if the antennas could be flush mounted to reduce the tower's profile. New Cingular representatives explained that six antennas would address their needs better and would be better suited for new technologies that are anticipated within the next year or two.
The area around the proposed project is primarily scattered residential. There are several houses to the north of the ROW that could have views of the higher pole throughout the year and several houses to the south that might views when the leaves are down. At the Council's request, New Cingular will contact five or six of the closest neighbors to apprise them of the application.
Council staff called Fran Armentano, the Granby Community Development Director, who said he had no concerns about Cingular's proposal. He mentioned that he had received numerous comments from town residents about the lack of cell phone service in different parts of town.
During the field review, Colin Tait requested that New Cingular notify the nearest neighbors of its petition to the Council. New Cingular agreed and sent out notices within several days. One neighbor responded to the notice by requesting a public hearing.
Council staff has attempted to address this neighbor's concern by negotiating with Cingular to make changes to its project plan. In response, Cingular has proposed housing its equipment in a shelter that would have cedar siding and a pitched, asphalt shingled roof. The neighbor has agreed to this modification which would make the project blend in better to its rural surroundings.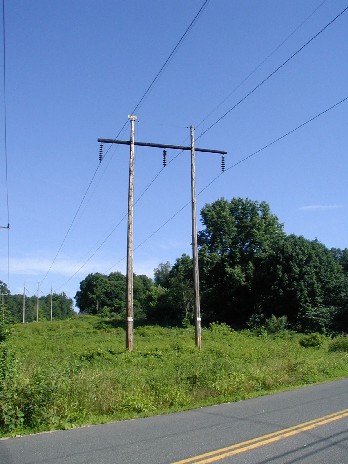 View of existing transmission line structure on
Petersen Road, Granby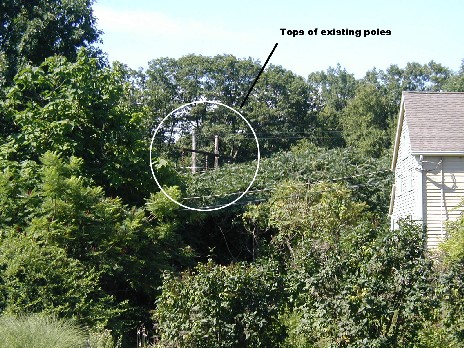 View of existing transmission line structure from north of power right-of-way