Fill The Boot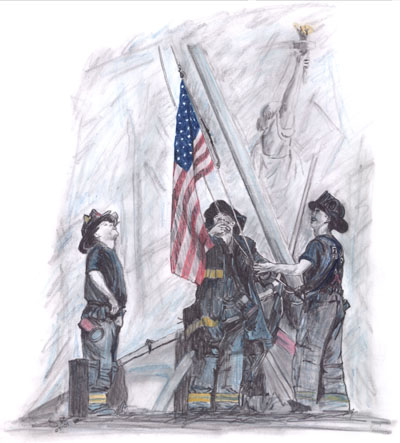 Download this Photo in PhotoShop PSD Format
Canvas Size 11x17 - File Size 26 Megs
Click here to Download
CT Fire Fighters 9-1-1 Fund
A consortium of the Connecticut Fire Chiefs, Fire Marshals, Fire Fighters,
Instructors, Career Fire Chiefs, Mechanics and Uniformed Professional
Fire Associations
Established to raise contributions for the members of FDNY and their families.
September 19, 2001
Dear Chief,
On the evening of September 18 a group of Connecticut fire service leadership met to discuss an appropriate means by which to recognize fire and EMS personnel killed in the World Trade Center terrorist event of last week. It was decided, a statewide fundraising effort to benefit the children, spouses and family members left behind by the firefighters and EMS personnel who perished would be most appropriate. While we realize many departments have already embarked upon local fundraising efforts, we hope and encourage you to support our planned event. The fundraising steering committee is recommending that fire departments throughout
Connecticut participate in a Fill-the-Boot campaign to be conducted September 28 – 30, 2001.
We encourage you and your members to participate in this endeavor. First, this fundraising activity will be registered with The Secretary of the State's office. An account has been
established at Webster Bank under the name of CT Fire Fighters 9-11 Fund. Monies raised through this campaign will be presented to invited representatives of "The New York Firefighters 9-11 Disaster Relief Fund" at the Connecticut State Firefighters Convention on October 13, 2001 at West Haven High School. The New York Firefighters 9-11 Disaster Relief Fund is a fundraising effort of Firehouse.com, Firehouse Magazine & Firehouse Expos in partnership with the International Association of Firefighters Upon completion of your local fill-the-boot campaign or any other fundraiser we request monies raised be consolidated into a single check made payable and sent to the CT Fire Fighters 9-11 fund account. We will
then issue a single check from our statewide fundraising efforts for presentation at the convention. Monies received after the convention will be forwarded to New York officials at a later date. We have received a commitment from Lt. Governor M. Jodi Rell to assist us in this organized Connecticut effort. We have also received a commitment from various news media outlets to help communicate our plans and elicit public support. Questions related to this initiative may be directed to Jeff Morrissette @ (860) 627-6363 Ext. 230.
To expedite processing, contributions should be mailed to:
CT Fire Fighters 9-11 Fund, P.O. Box 483 West
Haven, CT 06516.

Thanks in advance for your support and response to this effort. God Bless!
Fraternally yours,
Chief Timothy S. Wall
CT Fire Fighters 9-11 Fundraising Chairman
P.S. To ensure an accurate accounting in preparation for presenting a check to New York officials on October 13 we respectfully request all monies be forwarded no later than Thursday, October 11, 2001.

About Adobe Acrobat