--Updates, Alerts, and News from the PDIO--
---
December 2019
New Fact Sheet - Marssonina Blotch of Apple
September 2019
New Fact Sheets
August 2019
Disease Alert: Beech Leaf Disease - A Disease Killing American Beech Trees
Beach leaf disease was first discovered in Ohio in 2012. It has since been found in Pennsylvania, New York, and Ontario, Canada in North America. In Connecticut, this disease was first detected in August 2019. The disease has been observed mainly in forests, but also in landscaped areas. For more information of this disease, please read a new fact sheet Beech Leaf Disease.
A new infosheet: "Oak Wilt - An Invasive Pathogen on Connecticut's Doorstep! " written by Dr. Robert Mara.
-----------------------------------------------------------------------------------------------------------------------
A new fact sheet "Delphinella Shoot Blight of Fir" was published online.
Fir trees infected by Delphinella shoot blight in a Christmas tree farm
July 2019
Disease Alert: Downy Mildew
Downy mildew of impatiens Basil downy mildew
Destructive downy mildew diseases were confirmed on impatiens and basil plants in residential gardens this summer. For detailed information of these diseases, please see our fact sheets Downy Mildew of Impatiens and Basil Downy Mildew.
September 2018
Slime Mold - Unsightly, but no harm to landscape
Recently, many people asked questions, "There is something growing in my garden. It looks like a dog vomited." or "White mold is growing in my lawn. How can I get rid of it before it kills my grasses?" There questions clearly point it out that they are slime molds. Wet weather conditions this year were perfect for development of slime molds in landscapes and lawns. Slime mold is not toxic and do no harm to the landscape although it is unsightly. Linked please find a fact sheet that describes the slime mold fungi.
August 2018
Disease Alert: Epidemics of Boxwood Blight in Landscapes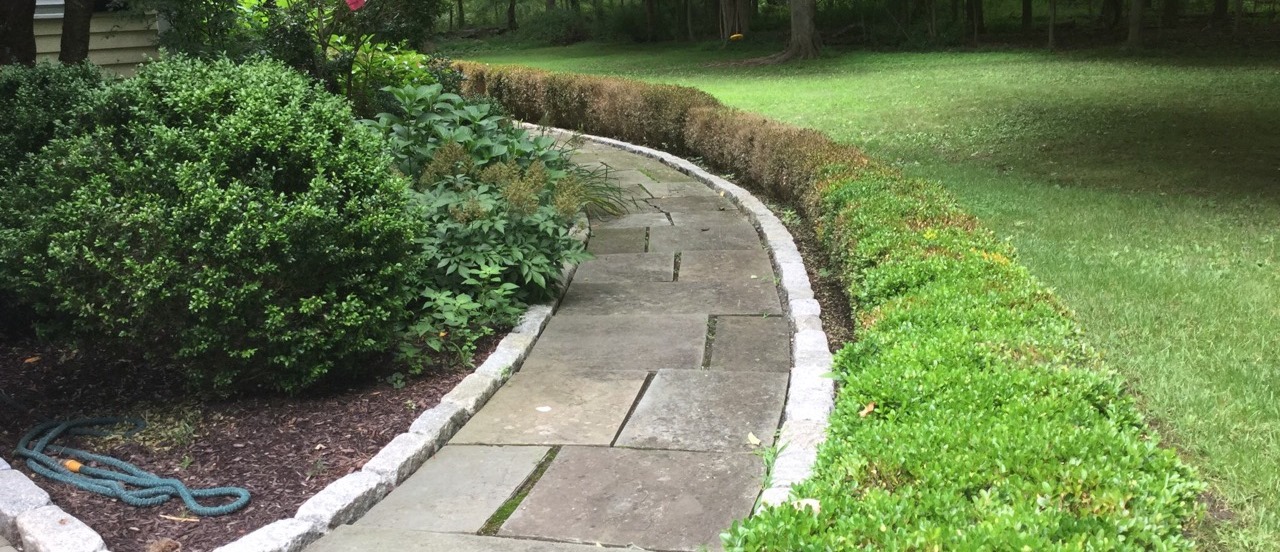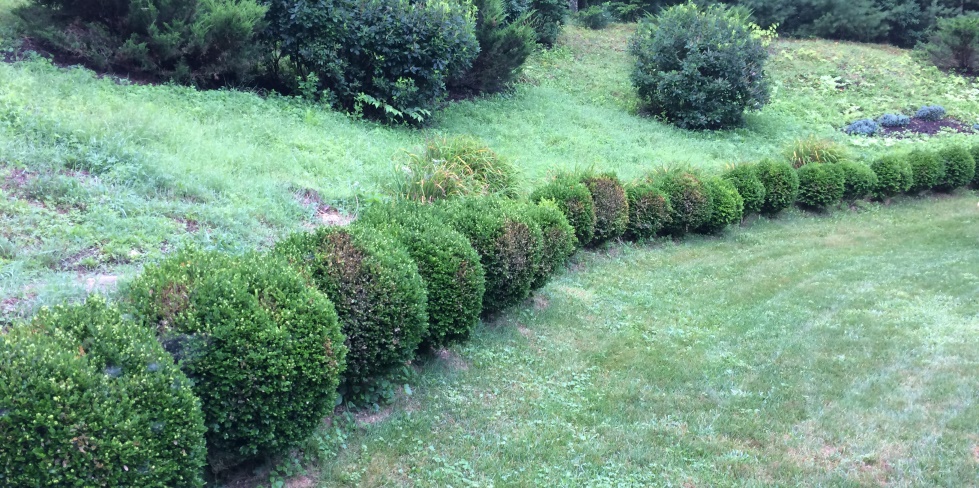 July 2018
Disease Alert: Dollar Spot of Turfgrass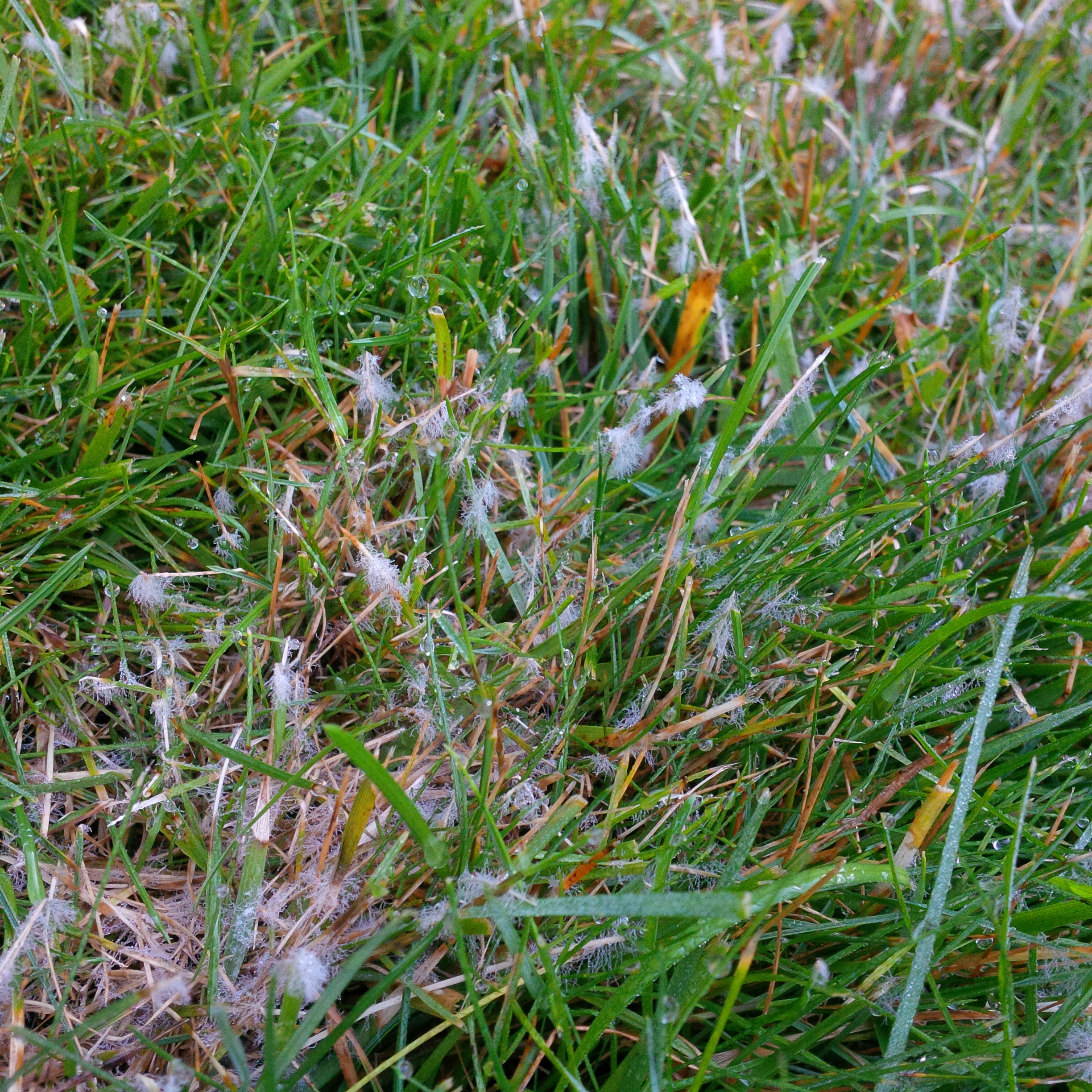 Dollar spot of turfgrass has been prevalent in the state due to warm and high humidity weather conditions this summer. Dollar spot is a foliar disease that is caused by a fungus,
Sclerotinia homoeocarpa
. Affected plants exhibit straw-colored lesions surrounded by a reddish brown border. As lesions coalesce, infected leaves become blighted and form circular, sunken patches in the lawn. In the early morning when dew is present, white cottony fungal growth can be noticed on infected grass blades. Pythium blight also form white fungal mycellium on blighted grasses, but the color of affected leaves is brown. Microscopic examination is needed to correctly distinguish these two diseases. If you see these symptoms in your lawn and have any questions, please feel free to
contact us
and
send us samples
.
June 2018
Disease Alert: Late Blight of Tomato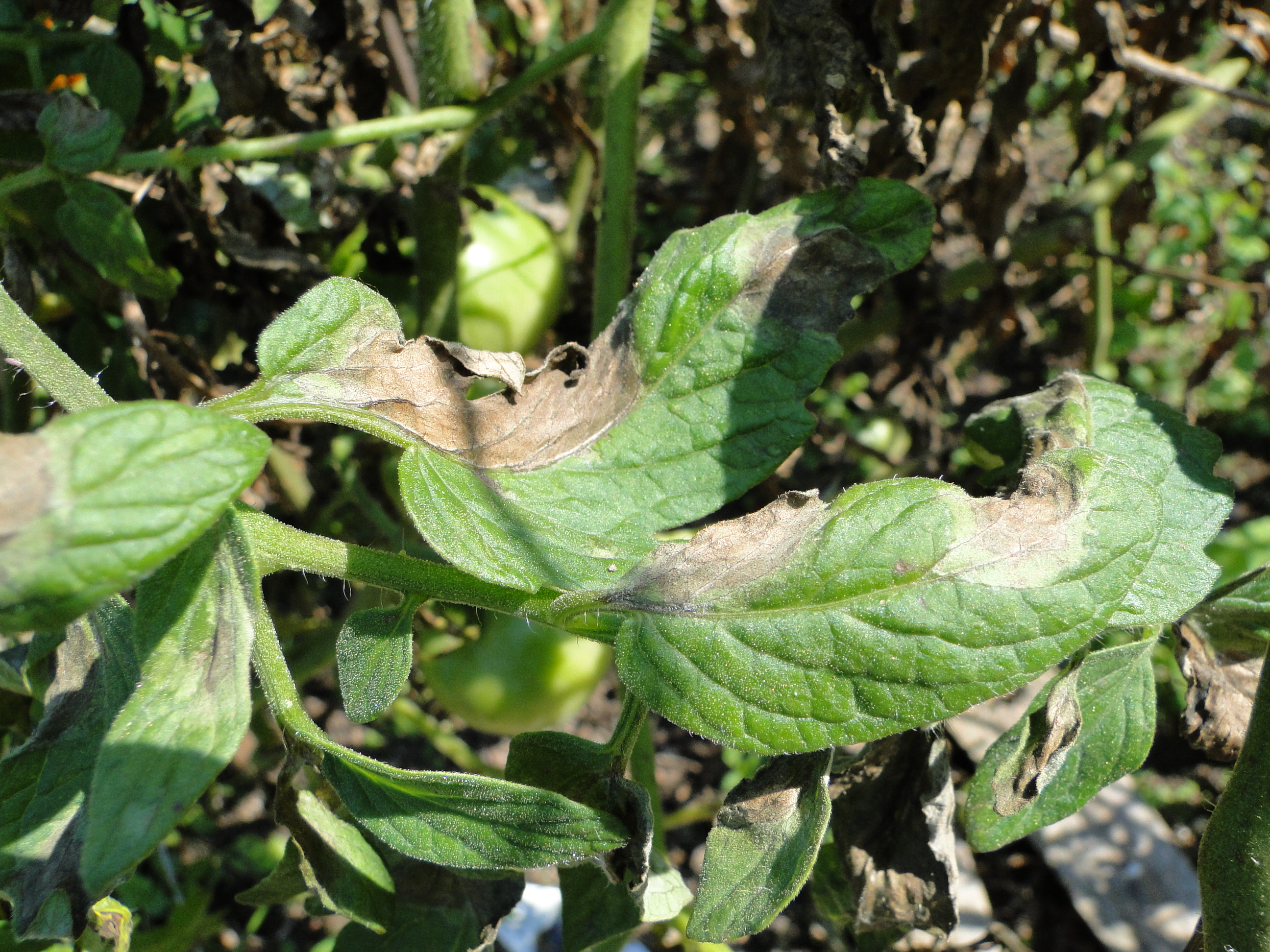 Late blight has been confirmed in Susquehanna County, PA and Onondaga County, NY on June 8 and June 15, respectively. The recent weather in Connecticut has been very favorable for the development of this disease. It is important examine plants for symptoms. To send/or bring us samples, please read the
Sample Submission Information
. The information on this disease can be found in the fact sheet
Late Blight of Tomato and Potato in Connecticut--2012
(PDF* format).
Disease Alert: Browning of Eastern Red Cedar Trees in Connecticut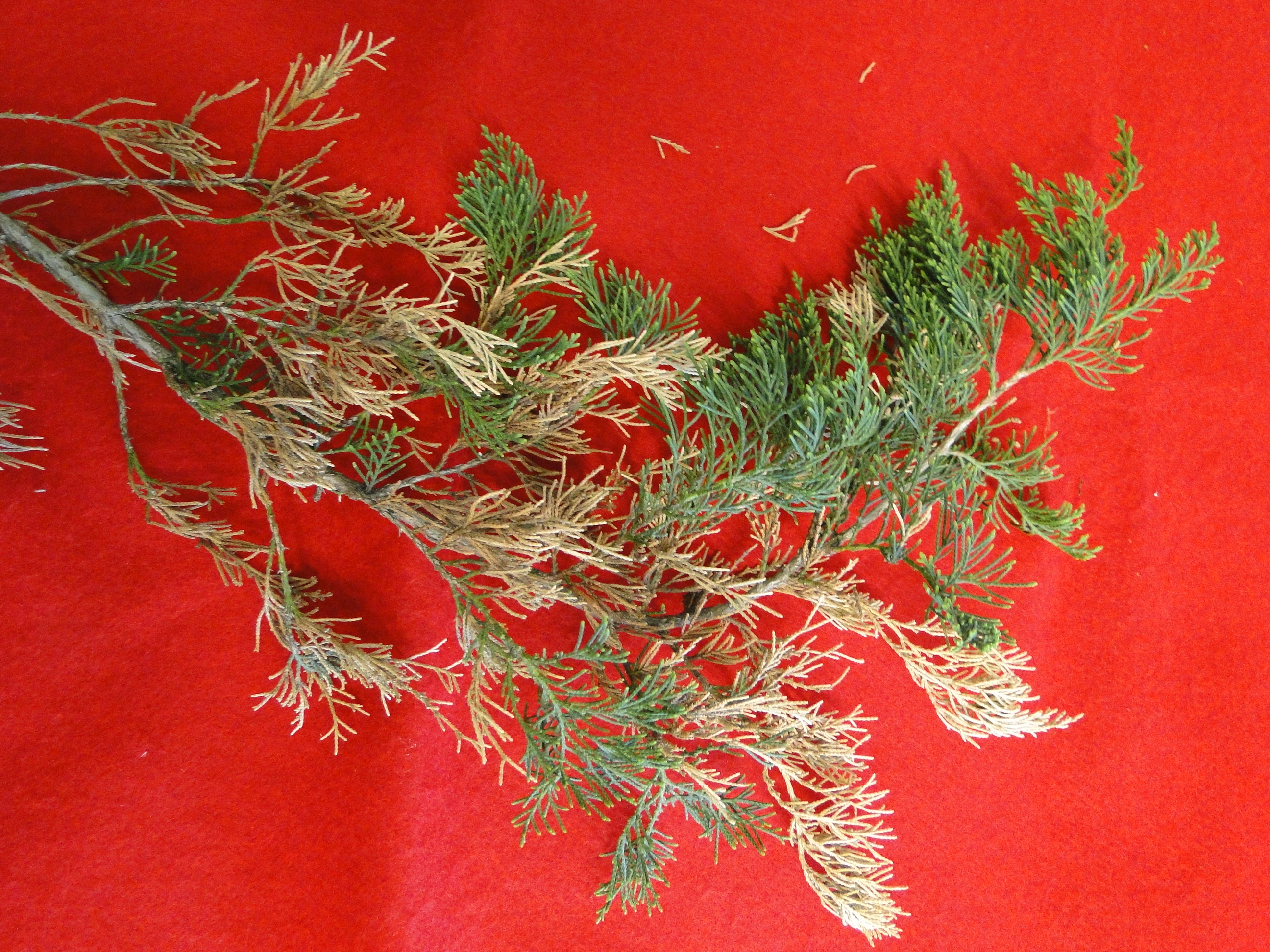 Since early spring, our office has been receiving numerous inquiries about browning of eastern cedar trees in Connecticut. Symptoms include distinctive off-color needles and tip diebacks. Upon close inspection and examination, no primary causing organisms were found on affected trees. This phenomenon was first observed in the state 2004 (seed the linked fact sheet 2005 Update on the Eastern Red Cedar Problem) and has been recurring since then. Weather conditions and climate changes are considered possible contributors to eastern red cedar declines in the state, especially continuous summer drought stress and mild/and extreme cold winter temperatures. For more information, please see the fact sheet Browning, Dieback, and Decline of Eastern Red Cedar.
Above: Lower surface of impatiens leaf with sporulation of the downy mildew pathogen.
New Fact Sheets
New Fact Sheet
PDIO Image Gallery
A newly revised and expanded disease management guide by Dr. Sharon M. Douglas, Emeritus Plant Pathologist, is now available. It can be downloaded to print hard copies or can used in electronic form with links. The Table of Contents includes: Host Genus and Disease Index, Host Common Name and Disease Index, Introduction to Use of the Disease Management Guide, An Introduction to Tree Health Problems, Common Tree Health Problems, Disease Management Guide, Disease Management Calendar, Fact Sheets, Disease Diagnosis, and Selected References. The Guide includes fact sheets with full color photos. Disease Management Guide for Connecticut Arborists 2015-2016 (PDF* format, 23 MB, 486 pages).
New Fact Sheet
This new fact sheet reviews one of the fundamental strategies for maintaining plant health and suppressing plant diseases by managing nutrition. Proper nutrition can often influence the fine line between host susceptibility and resistance. Examples of specific diseases and elements are covered in the fact sheet on Using Mineral Nutrition to Suppress Plant Diseases (PDF*format) by Dr. Wade Elmer.
June 2015
New Fact Sheet
Fire Blight Management During Bloom
Rhododendron tissue proliferation is a condition that causes tumor-like growths and shoots to form at the base of many cultivars of rhododendron. Early symptoms are often confused with crown gall, a disease caused by the bacterium Agrobacterium tumefaciens. A new fact sheet on Rhododendron Tissue Proliferation (PDF*format) by Dr. Lindsay R. Triplett is now available that describes how to handle this condition.
Last year many gardeners were disappointed with their basil crops--plants collapsed early in the season, often before they could be harvested. Widespread outbreaks of downy mildew of basil was the likely culprit. A new fact sheet on Downy Mildew of Basil (PDF*format) by Dr. Yonghao Li is now available that discussed how to recognize and manage this destructive disease.
Dooks Needle Blight (Formerly Canavirgella Needlecast) of White Pine
Many white pine throughout the region have been showing a yellow and brown discoloration of current-season needles. Although several needlecasts have been associated with this damage, Canvirgella needlecast was reported as a key component. Recently, however, the identity of Canavirgella banfieldii has been questioned, since there is evidence that it is really Lophophacidium dooksii, the fungus associated with Dooks needle blight—the two names are thought to be synonyms for the same fungal species. Dooks Needle Blight (Formerly Canavirgella Needlecast) of White Pine (PDF format*) by Dr. Sharon M. Douglas is now available.
Excess Water Problems on Woody Ornamentals
As the snow is melting, localized flooding may occur. Excess water and poorly drained soils can present serious problems for many woody ornamentals that may result in plant decline and death as well as uprooting of trees and large shrubs. Learn how to recognize and manage water issues in the newly updated fact sheet Excess Water Problems of Woody Ornamentals (PDF format*) by Dr. Sharon M. Douglas.
Pruning- An Introduction to Why, How, and When
Pruning is probably one of the least understood and most daunting landscape maintenance practices for most homeowners. Many people aren't sure what to do or when to do it. This updated fact sheet reviews the basics of pruning for shrubs and small ornamental trees. Learn more about pruning with Pruning: An Introduction to Why, How, and When (PDF format*) by Dr. Sharon M. Douglas.
Downy mildew is particularly destructive under moist conditions and cool nights--just the weather we have recently been having throughout the state.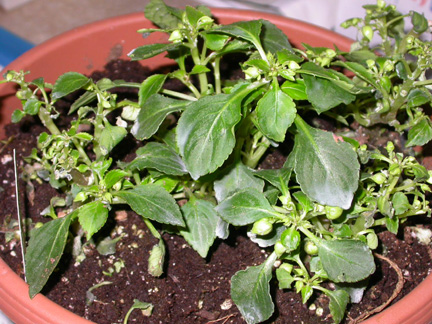 Impatiens downy mildew--note stunted plants with distorted leaves.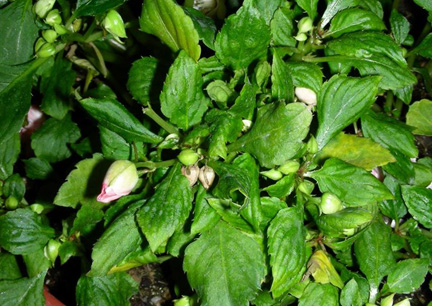 Subtle chlorosis and twisting of leaves of impatiens with downy mildew.
Any suspicious impatiens samples should be sent or brought to The Plant Disease Information Offfice for examination and diagnosis as soon as possible.
IF downy mildew is diagnosed on your plants, all infected plants should be dug (roots included) and placed into municipal trash, when acceptable. Infected plants should not be composted.
If you have any concerns or want more information about this destructive disease, please call The Plant Disease Information Offfice at 203.974.8601.
---