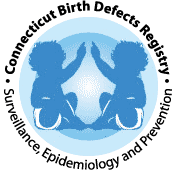 The Connecticut Birth Defects Registry is a surveillance system developed to collect information about birth defects that occur among state residents.
Public Health Significance

Birth defects are one of the leading causes of infant mortality in Connecticut as they are in the United States. Birth defects are the fifth leading cause of years of potential life lost and a major cause of morbidity and mortality throughout childhood. Although 90% of infants born with birth defects survive their first years of life, some of these children will have life-long disabilities and significant medical and rehabilitation needs.
Mission

The mission of the Connecticut Birth Defects Registry is to: 1) maintain statewide Surveillance through collecting information on birth defect incidence in Connecticut; 2) monitor trends and patterns in birth defect statistics; 3) conduct research studies to identify risk factors for birth defects; and 4) promote education activities for the prevention of birth defects.
What is considered a Birth Defect?
Birth Defects, as defined by the March of Dimes, is an abnormality of structure, function, or body metabolism that is present at birth and results in physical or mental disability. Most birth defects are included within the range of 740.0 to 759.9 of the International Classification of Disease, Ninth Revision. Conditions within this category include (1) malformations, which involve poor tissue formation, (2) deformations, which involve unusual forces on normal tissue; and (3) disruptions, which involve the break down of normal tissue.
Examples of Birth Defects in Body Systems include:
- Central Nervous System Defects
- Congenital Heart Defects
Surveillance
The Connecticut Birth Defects Registry collects information on birth defects through various sources of data, including reporting from birth hospitals across the state, vital records, and hospital discharge data. The surveillance activities will provide useful statistical information to health care professionals, researchers, and policy makers. Reporting of birth defects to the Registry is mandatory under the Connecticut State Statutes Sec. 19a-53, 19a-54 and 19a-56a.
Confidentiality
All data collected by the Department of Public Health complies with state and federal privacy and confidentiality regulations.
Referral
There are a multitude of specialty treatment centers, support services, and family advocacy groups available to assist families of a child with a birth defect. The Child Development Infoline is the resource of referral services for children with birth defects and other special health care needs. Contact Child Development Infoline at 1-800-505-7000 for information on referrals.
Reporting of Birth Defects
Reporting of birth defects can be made by physicians through completing the
CTBDR Reporting Form
and mailing/faxing to:
State of Connecticut Department of Public Health
Community, Family, and Health Equity Section
Connecticut Birth Defects Registry
410 Capitol Avenue, MS#11MAT
Hartford, CT 06134-0308
Phone: (860) 509-8074
Fax: (860) 509-7720