Press Releases
ACCESS HEALTH CT OPENS HEALTH CARE ENROLLMENT CENTER
First-of-its kind center offers in-person assistance
Hartford, Conn. - Access Health CT (AHCT) unveiled the nation's first health care enrollment center today in New Britain. Modeled after the Apple® stores, the enrollment center offers in-person assistance to guide consumers through the process of enrolling for health care coverage, and individual computer work stations where individuals can shop for options and enroll in the plan of their choice.
"Our goal is to reach as many of Connecticut's uninsured residents as possible with information about health care reform and how they can obtain coverage," said Lt. Governor Nancy Wyman, co-chair of the AHCT board and a longtime advocate for health reform. "The Access Health CT team has attended hundreds of community events, including fairs, festivals and farmers ' markets, answered over 26,200 phone calls in the first month of open enrollment, trained over 300 Navigators and Assisters, and is now offering a first-of-its kind retail store front to connect with consumers."
"Healthcare Reform is one of the most significant national policy changes we've been fortunate enough to see in our lifetime," said Governor Dannel Malloy. "With the enrollment centers and in-person outreach, we're taking a topic of national importance and connecting with people one-on-one at the most local level. It's this kind of personal outreach that's going to make a difference in demonstrating the benefits and value of health care reform for our Connecticut residents."
The New Britain enrollment center, located at 200 Main Street, is open Monday through Friday from noon to 8:00 p.m., Saturday from 10:00 a.m. to 4:00 p.m., and Sunday from noon to 4:00 p.m. The center is easily accessible by bus, and parking is available nearby. The center is designed to be family friendly with an area for children to play while their parents or guardians meet with an AHCT staff member. Appointments are recommended and can be made by calling the AHCT call center at 855-805-4325. A second center open in New Haven, at 55 Church Street, later this month.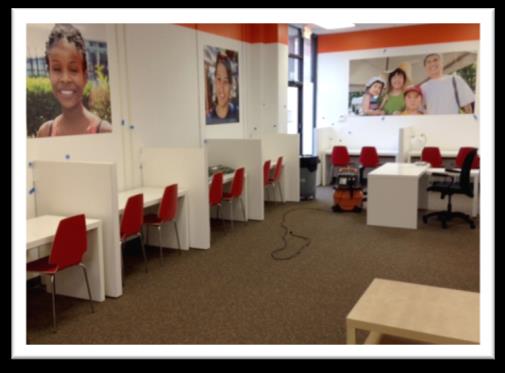 "We greatly appreciate the support we received from the City of New Britain and Mayor Tim O'Brien in launching our first enrollment center," said Access Health CT CEO Kevin Counihan. "New Britain currently has one of the highest rates of uninsured residents in the state, which is why we chose to open a center here, in a location that's easily accessible for residents. Based on the feedback we receive from the New Britain and New Haven centers, we'll consider opening additional store fronts in other communities with high rates of uninsured residents."
For information about coverage options in Connecticut, and to find answers about the plans and subsidies available under the Affordable Care Act, residents can also continue to call 1-855-805-4325 or go to www.accesshealthct.com . In-person assistance is also available in all communities from insurance brokers certified by AHCT and Navigators and Assisters - the list of qualified individuals is available online. The enrollment period runs from October 1, 2013 through March 31, 2014 .
###
About Access Health CT
Access Health CT (also known as the Exchange) was created by the Connecticut Legislature in 2011 and is a quasi-public agency established to satisfy requirements of the federal Affordable Care Act. Its mission is to increase the number of insured residents in Connecticut, promote health, lower costs and eliminate health disparities. Its vision is to provide a simple online shopping and enrollment experience for state residents and small businesses, starting with open enrollment in October 2013.
Access Health CT will ensure that participating health plans meet certain standards, and will facilitate competition and choice by rating the quality of each plan. Individuals and families buying coverage through the Exchange may qualify for tax credits on premiums. The Exchange will also coordinate eligibility and enrollment with state Medicaid and Children's Health Insurance Programs. More information is available at www.AccessHealthCT.com
Twitter: https://twitter.com/@LGWyman
Facebook: https://www.facebook.com/LtGovWyman