Press Releases
GOVERNOR MALLOY, STATE AND LOCAL OFFICIALS, CUT RIBBON ON NEW WEST HAVEN RAIL STATION
(HARTFORD, CT) - Governor Dannel P. Malloy today joined Lieutenant Governor Nancy Wyman, U.S. Senator Richard Blumenthal, Connecticut Department of Transportation (ConnDOT) Deputy Commissioner Anna M. Barry, and other state, railroad and local officials for a ribbon-cutting ceremony to mark the grand opening of the new West Haven commuter rail station which will primarily serve customers on the New Haven Line, which is operated by Metro-North Railroad under contract to ConnDOT. Recognized as the busiest rail corridor in the U.S., Metro-North's New Haven Line saw ridership increase by 1.3% in 2012 with 38.8 million rides, breaking a record set in 2011, when the line carried 38.3 million people.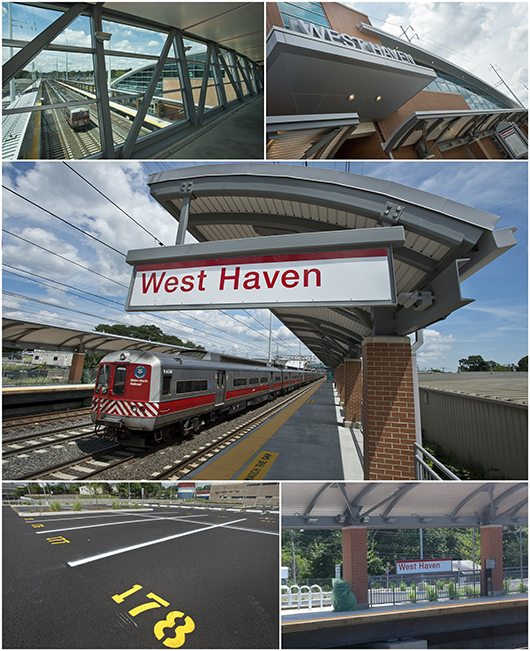 "We are making upgrades and adding new stations, rail cars and parking to the New Haven Line in order to maximize the use of this state-owned asset, ensure a faster and more convenient commute for our workforce, and strengthen our regional economic competitiveness," said Governor Malloy. "The New Haven Line is vital to facilitating commerce and ensuring residents have a real alternative to driving to work every day. We want to continue making smart, targeted investments to encourage even more residents to take the train while also easing gridlock on our already congested highways and reducing carbon emissions and fuel consumption associated with Single-Occupant Vehicle trips."
Located midway between Milford and New Haven stations, West Haven is the first new station to open on the New Haven Line since Fairfield Metro Station was added in 2011. Prior to the building of West Haven Station, the 10 miles between Milford and New Haven stations was the longest gap in the New Haven Line system. If local residents wanted to take the train to work, they had to travel to New Haven, Milford or further west on the New Haven Line to access commuter rail service.
Governor Malloy continued, "In particular, the West Haven Station project created about 1,000 immediate jobs for Connecticut residents, will support regional transit-oriented development and, going forward, will help make the city and surrounding communities more walkable, more accessible, and more attractive to residents and employers alike."
The $103 million West Haven Station includes two 1,100-foot platforms that are 12 cars in length, an ADA (Americans with Disabilities) compliant station building with restrooms, self-pay parking and ticket machines, bicycle racks and 650 new parking spaces to accommodate the current and future demand for ridership and parking on the east end of the New Haven Line. The project also included upgrades to a five-mile section of the New Haven Line track, overhead catenary power lines and signals.
"Metro-North is delighted to inaugurate train service to Connecticut's newest station on one of the fastest growing segments of the railroad, the outer New Haven Line," said Metro-North President Howard Permut. "We are grateful for the continued infrastructure investments made by our partners at the Connecticut Department of Transportation and trust that this beautiful new station will attract customers and promote business here in the city and across the region."
West Haven Station was designed by Vanasse Hangen Brustlin and built by a Connecticut company, Manafort Brothers of Plainville. The project created or sustained about 1,000 construction-related and ancillary jobs, including designers, planners, materials suppliers, landscapers and local economic development.
"The Metropolitan Transportation Authority is proud to be the provider of the high quality train service that Connecticutters have come to expect from Metro-North Railroad," said MTA Chairman & CEO Thomas F. Prendergast. "This new station joins Fairfield Metro and State Street before it as testament to the commitment of the State of Connecticut to improve mass transit for its citizens. I congratulate you, Governor Malloy."
Connecticut DOT Commissioner James P. Redeker said the new station "underscores our commitment to continuous improvement in customer service, satisfaction and communication on the New Haven Line."
"Today is the beginning of a new era in transportation for our city and the hundreds of commuters who rely on the New Haven Line every day," West Haven Mayor John M. Picard said. "I would like to thank Governor Malloy, the Department of Transportation and the many local supporters who circulated petitions for a West Haven train station, including Mike Mercuriano. This is a project we can all be proud of, and one that will serve West Haven and the state of Connecticut for years to come."
Today's ribbon-cutting ceremony also included a moment of remembrance for Metro-North employee Robert Luden, who was struck and killed by a train while working on the tracks at the new station on May 28, 2013.
Parking at West Haven Station will be free through September 2. Like all New Haven Line stations, parking is free on weekends and holidays. West Haven station parking permits, which are effective September 1 through February 28, 2014, are available for purchase from CTrides at 877-CT-RIDES (877-287-4337), by email at info@ctrides.com , or through the online live chat at www.ctrides.com . The new schedule is now available in Grand Central Terminal and online at www.mta.info .
Twitter: https://twitter.com/@LGWyman
Facebook: https://www.facebook.com/LtGovWyman