Recovery Act
Byrne Justice Assistance Grant (JAG) Program
IMPORTANT ANNOUNCEMENTS for MUNICIPAL GRANTEES
in the LOCAL JAG PASS-THROUGH GRANT PROGRAM
Municipalities: Click this link to view instructions for submitting mandatory reports and receiving grant payments.
JAG Formula Grant
<st1:country-region w:st="on">U.S. </st1:country-region>Department of Justice: Recovery Act: Justice Assistance Grant (JAG) Program
http://www.ojp.usdoj.gov/BJA/recoveryJAG/recoveryjag.html
The Edward Byrne Memorial Justice Assistance Grant (JAG) Program is the primary provider of federal criminal justice funding to state and local jurisdictions. JAG funds support all components of the criminal justice system, from multijurisdictional drug and gang task forces to crime prevention and domestic violence programs, courts, corrections, treatment, and justice information sharing initiatives. JAG funded projects may address crime through the provision of services directly to individuals and/or communities and by improving the effectiveness and efficiency of criminal justice systems, processes, and procedures.
JAG Formula Grant Allocations
The federal JAG Formula grant is awarded to the State of Connecticut Office of Policy and Management (OPM). According to federal regulations, OPM must allocate the JAG funds as follows:
Approximately 40% of the State's JAG Grant must "pass-through" to local governments. For additional information click: CT Local Pass-Through JAG .

Approximately 60% of the State's JAG Grant may be allocated to statewide or state agency projects.
Request for Public Comment on the Proposed JAG Implementation Plan
: please click this link to view the
Plan
. Please email comments to:opm.jagrecovery@ct.gov
Connecticut Local Pass-Through Justice Assistance Grant (CT Local JAG) -
Technical Assistance Session
2009 Recovery Act JAG Grant
Funding Allocation by Category
$20.5 million dollars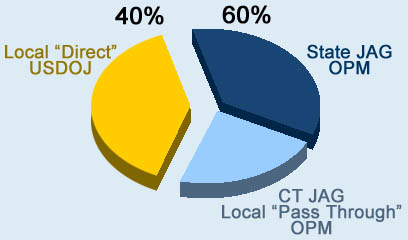 Links
For more Information Contact:
Chief Accountability Officer - Stimulus Funds
Questions from the media should go to: