National Public Health Accreditation Initiative
---
The CT DPH's commitment to accreditation began following the completion of the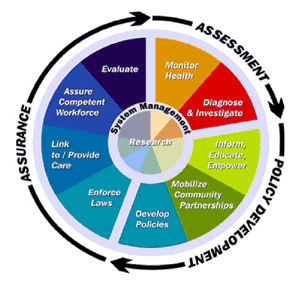 state health assessment
,
the state health improvement plan
, and the creation of a strategic plan for the entire Department of Public Health. The Public Health Accreditation Board (PHAB), a non-profit organization funded by the CDC and Robert Wood Johnson Foundation, was created in 2007 to develop and implement a voluntary national public health accreditation program. The program's purpose is to help public health departments assess their current capacity to carry out the
3 core functions and 10 essential services
, and guide them to become better by improving service, value, and public accountability. These enhancements lay the groundwork for improved health outcomes.
On November 19, 2014, the CT DPH officially kicked-off the agency-wide accreditation process. Twelve teams of about 60 total DPH employees came together to learn more about the process and receive training on collecting documents that demonstrate DPH conformity to PHAB standards. To view the presentations from the Kick Off, follow the links below.
What Are the Advantages of National Accreditation?
Allows public health agencies to engage in continuous quality improvement
Furnishes measurable feedback on the agency's strengths and challenges
Provides a "seal of approval" validating the agency's services to the public
Raises the visibility of public health in the state
Demonstrates accountability to taxpayers, funding sources, and elected officials
Increases the agency's credibility to its constituents
Within the agency

Improves staff morale
Increases understanding of roles and duties of staff in relation to the agency's mission and the delivery of essential public health services
Has the potential to increase access to resources that support quality and performance improvement, address infrastructure gaps, and support new programs and processes
Could streamline the application process for federal grants
Could be a requisite for grant eligibility
Who is involved in the CT DPH's Accreditation process?
Everyone in the Department of Public Health is involved in achieving accreditation. People from every program and division in DPH will be asked to submit documentation that will help the Accreditation Board decide the CT DPH is ready for national accreditation status.
Ensuring continuous quality improvement is part of everyone's job at any health department, especially at the state level where approximately 3.6 million people rely on an efficient and effective body of public health professionals.
Message from the Commissioner's Office
What can YOU do to Help DPH Achieve National Accreditation?
---
What are the 7 Steps of the Accreditation process?
1. Pre-Application: The health department prepares and assesses readiness for application for accreditation, completes the Online Orientation, and informs PHAB of its intent to apply.
2. Application: Health department submits application and fee, and completes applicant training.
3. Document Selection and Submission: Applicant selects documentation for each measure, uploads it to e-PHAB, and submits it to PHAB.
4. Site Visit: Site visit of the health department is conducted by PHAB-trained site visitors and a site visit report is developed.
5. Accreditation Decision: PHAB Accreditation Committee will review the site visit report and determine accreditation status of the health department.
6. Reports: If accredited, the health department submits annual reports.
7. Reaccreditation: As accreditation status nears expiration (every 5 years), the health department applies for reaccreditation.
---
How is the CT Department of Public Health being assessed?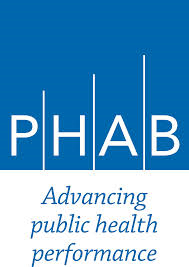 PHAB evaluates health departments based on a series of standards structured around Public Health's 10 Essential Services and two additional principles that address administration, management, and governance. The 12 Domains are:
| | | |
| --- | --- | --- |
| Domain 1 | | Conduct and disseminate assessments focused on population health status and public health issues facing the community |
| Domain 2 | | Investigate health problems and environmental public health hazards to protect the community |
| Domain 3 | | Inform and educate about public health issues and functions |
| Domain 4 | | Engage with the community to identify and address health problems |
| Domain 5 | | Develop public health policies and plans |
| Domain 6 | | Enforce Public Health Laws |
| Domain 7 | | Promote strategies to improve access to health care |
| Domain 8 | | Maintain a competent public health workforce |
| Domain 9 | | Evaluate and continuously improve processes, programs, and interventions |
| Domain 10 | | Contribute to and apply the evidence base of public health |
| Domain 11 | | Maintain administrative and management capacity |
| Domain 12 | | Maintain capacity to engage the public health governing entity |
Within each of the 12 domains are standards and measures that supply the requirements the health department must conform with in order to be granted the accreditation status. During the documentation collection phase, the health department gathers documents from around the agency that demonstrate and prove conformity to the PHAB measures.
Curious about what the specific requirements are? Learn more about PHAB's Standards and Measures.
---
Where can evidence of conformity come from?
Documents that demonstrate the CT DPH's conformity from PHAB standards can come from a variety of areas within the agency. The general rule is that documents must demonstrate services that are within the core public health services under the ten Essential Public Health Services framework. For example, mental health, substance abuse, primary care, human services, and social services (including domestic violence) are not considered core public health services.
Some program funding provides support for both population public health and also personal health care services. Documentation related to the program's population public health activities is appropriate for PHAB documentation, while documentation related to the individual, personal, or clinical services provided by the same program, is not appropriate for PHAB documentation. Irrespective of the program (i.e. WIC, Ryan White, dental health), documentation of activities related to the provision of individual patient care or clinical services is not appropriate for PHAB documentation.
Acceptable Documents:
Specific to required documentation guidelines
Directly related to the core public health functions and ten essential services
Include policies, procedures, plans, memos, reports, meeting agendas, webpage screenshots, social media communication
PHAB will not accept all documents from the following areas:
(documents must be specifically population-based and reflect programs that do not have an independent accrediting board)
Primary Care, Dental Clinics, Home Health
Mental Health and Substance Abuse Services
Domestic Violence Services and Social Services
Licensure, certification, and Licensing for Professionals
Emergency Medical Services
Social Services, including WIC
Any questions? Contact Melissa.touma@ct.gov.