Protect Your Pets Against Lyme Disease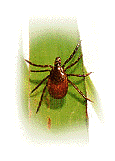 It is possible for your pets to get Lyme disease, although some are more susceptible to the disease than others. The same tick that causes Lyme disease in people, causes Lyme disease in pets. Ixodes scapularis (deer) ticks are found throughout the state of Connecticut and human illness has been found in every town. It is possible for pets in all towns to become infected as well. Lyme disease symptoms that your pet displays may mimic other illnesses, and this can make it difficult for a proper diagnosis.
For the most up-to-date information on how to protect your pet(s) against Lyme disease, please visit the following websites:
The American Veterinary Medical Association
The Centers for Disease Control and Prevention
Preventing Ticks on Your Pets
Information for Veterinarians
To contact the Epidemiology and Emerging Infections Program, please call 860-509-7994.