Lyme Disease Annual Statistics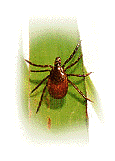 The Connecticut Department of Public Health has maintained comprehensive Lyme disease surveillance since 1987. To define the epidemiology of Lyme disease in Connecticut and follow disease trends, surveillance methods were modified and enhanced over time as surveillance goals and resources changed. Surveillance has included passive and active methods that incorporated physician-reporting (1987-present) and laboratory-reporting (1998-2002, 2006-present) components. These data reflect cases meeting the national surveillance case definition for monitoring purposes. Since Lyme disease may be suspected based on broader clinical criteria, these data do not reflect all persons diagnosed or treated.
Understanding Lyme disease Surveillance (CDC)
National Lyme disease Surveillance Case Definition (CDC)
National Data and Downloadable Datasets (CDC)
Excel Spreadsheets
Number of Confirmed and Probable Lyme Disease Cases by Year, Month, and County, Connecticut, 2009-2018
Annual Cases and Rates by Town and County
All reports are in PDF.
Graphs
Maps