Bulk Water Hauling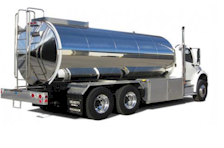 As of October 1, 2014, legislation was passed under Connecticut General Statute 20-278h, requiring that "no person shall act as a bulk water hauler unless such person has obtained a license issued by the Department of Public Health (DPH) for the transporting of water to a water company or a consumer of a water company where such water is to be used for public drinking water supply purposes."
Information for Bulk Water Hauling Companies:
Select and complete the application below to apply for a bulk water hauling license if not already licensed by the DPH. Please follow the guidelines attached in the application to properly ensure sanitary measures are maintained as instructed.
Bulk Water Hauling Application
Information for Public Water Systems Receiving Water:
When receiving water from a bulk water hauler be sure to complete the water hauling notification form found in the link below. The completed notification form must be forwarded to the DPH. Please also ensure that the water hauling company is following proper sanitary measures by reviewing the bulk water hauling guidelines document found in the link below.
For a listing of Bulk Water Haulers licensed by the department see the following link - Bulk Water Haulers