CT Migratory Bird Conservation Stamp Dollars Deliver Results
Celebrating 30 Years of the Connecticut Migratory Bird Conservation Stamp Program, 1993-2023
The Connecticut Migratory Bird Conservation Stamp Program is the only dedicated source of funding for wetland protection in the State. Ninety-nine percent of every dollar of each Migratory Bird Conservation Stamp purchased is spent to protect and enhance homes for migratory birds like the American black duck, red-winged blackbird, and great blue heron. The other one percent produces the lovely stamps that come with the $17 investment in our cherished wetlands. In fact, healthy wetlands benefit over 20% of all the wildlife species in Connecticut, including painted and spotted turtles, pickerel frogs, and all 12 of the salamander species that call Connecticut home.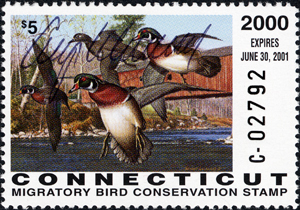 Over 3,845 acres of wetlands have been restored or enhanced. Projects have encompassed nearly 50 sites, mostly on state-owned wildlife management areas. In 2011, two more projects, one in Tolland and another in Haddam, were completed using Migratory Bird Conservation Stamp funds.
In 2021 alone, Migratory Bird Conservation Stamp funds were used, in part, to restore over 110 acres of inland wetland habitat and another 100 acres of saltmarsh habitat.
Specialized large equipment was purchased to conduct extensive marsh restoration work, particularly along the coast.
A 75-acre addition to the Wangunk Meadows Wildlife Management Area in Portland was purchased.
Migratory Bird Conservation Stamp funds have generated additional monies for Connecticut through matching grants from federal conservation initiatives. By combining Stamp funds with these additional monies, over $4 million have been available to complete wildlife conservation projects. Thus, Connecticut has received a 4:1 return on Migratory Bird Conservation Stamp monies.
The wetland restoration work funded by Migratory Bird Conservation Stamps has benefited many wildlife species, including several designated as species of greatest conservation need in Connecticut's Wildlife Action Plan.
The Migratory Bird Conservation Stamp Program is a prime example of a user fee program that has greatly benefited not only wildlife, but also the people of Connecticut by improving the health of our local environments.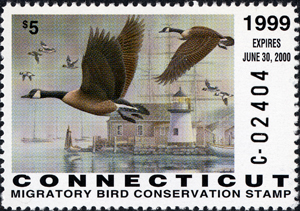 The Connecticut Migratory Bird Conservation Stamp Program was initiated in the early 1990s when concerned sportsmen worked with the DEEP to develop legislation that would generate revenue for wetland conservation. Modeled after the federal Duck Stamp Program, the Connecticut program requires the purchase of a state Migratory Bird Conservation Stamp, along with a hunting license, to legally hunt waterfowl in the state. By state law, funds generated from the sale of Migratory Bird Conservation Stamps can only be used for the development, management, preservation, conservation, acquisition, purchase, and maintenance of waterfowl habitat and wetlands, as well as the purchase and acquisition of recreational rights or interests relating to migratory birds.
The early state Migratory Bird Conservation Stamps featured waterfowl art from artists across North America. Starting in 2003, the stamp featured designs from local artists. Then, from 2012 to 2020, DEEP held a nationwide artistic contest to select the images for the Stamp. However, starting with the 2021 Stamp, the artwork from the winner of the Connecticut Junior Duck Stamp Art Contest is now featured. This change was made to display artwork from Connecticut artists on the annual stamps, while at the same time encouraging conservation awareness in young people through the National Junior Duck Stamp Program. Art enthusiasts, stamp collectors, and conservationists can purchase as many stamps as they wish. Full-color prints from 2015 and 2017-2023 are also available for purchase.
The first Connecticut Duck Stamp debuted in 1993 with a fee of $5.00. From 1993-2002, the sale of Duck Stamps and prints generated over $1.2 million in revenue. Print sales gradually declined over time and the print program was discontinued with the 2002 Duck Stamp. In order to maintain revenue for growing habitat conservation needs, the cost of the Connecticut stamp was increased to $10 in 2005, $13 in 2010, and $17 in 2017 when the annual Harvest Information Permit (HIP) was added to the stamp. Surveys conducted by the DEEP indicated that the majority of migratory bird hunters were behind increased stamp fees. Hunters and conservationists have consistently expressed strong support for the Migratory Bird Conservation Stamp Program and associated conservation projects. The sale of stamps alone currently generates approximately $50,000 per year.
Connecticut Migratory Bird Conservation Stamps from 1993 through 2024
View the amazing artwork that has graced Connecticut's Migratory Bird Conservation Stamps since the first stamp was unveiled in 1993.
How to purchase CT Migratory Bird Conservation Stamps and Prints
CT Junior Duck Stamp Art Contest
Back to the main CT Migratory Bird Conservation Stamp webpage
Content last updated in April 2023.