Common Wildlife Problems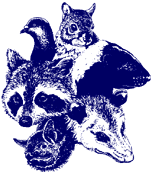 Information on what to do if you've found an animal that appears sick, injured or orphaned.
Provides information to individuals interested in becoming Wildlife Rehabilitators in Connecticut.
Link to an online form to report dead birds.
Nuisance Wildlife Information and Suggestions
Each year, the Wildlife Division receives several thousand calls for assistance from residents who have problems with wild animals. These conflicts typically include wild animals damaging crops, livestock or property; wild animals posing a threat to human safety; diseased wild animals; and wild animals taking up residence in areas where they are unwanted. Information and suggestions for resolving problems are available for the following species (PDF versions of the information sheets are available where indicated):
Bats
Bears
Beavers
Coyotes PDF version of Living with Coyotes
Deer
Foxes
Geese PDF version of Dealing with Nuisance Canada Geese
Pigeons
Opossums
Raccoons
Skunks
Squirrels
Woodchucks
Woodpeckers PDF version of Dealing with Woodpecker Problems
Do Not Feed Waterfowl brochure
Provides information to Connecticut homeowners about how to get professional assistance from licensed Nuisance Wildlife Control Operators (NWCOs) in solving common nuisance wildlife problems.

Do you need additional help and advice concerning nuisance wildlife, particularly with species not listed here? Check out www.wildlifehelp.org and select "Connecticut" as your state to get started. This website is supported by the Northeast Association of Fish and Wildlife Agencies and the Northeast Wildlife Damage Management Cooperative.

Provides information to Connecticut homeowners about rabies.
Provides information to individuals interested in becoming Nuisance Wildlife Control Operators in Connecticut.
The Deer Crop Damage Permit Program (Connecticut General Statutes 26-82) provides commercial agriculturalists with a minimum annual gross income of $2,500.00 and an actual or potential loss of this income from their cultivated agricultural crops, the opportunity to reduce damage caused by deer when the firearms deer hunting seasons are closed.

Content last updated on February 13, 2020.