Mountain Biking
Trail Guidelines | Riding During Hunting Season | Volunteer Information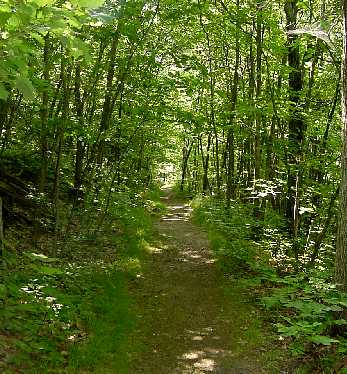 Mountain bikes can be used on all designated multi-use trails unless posted otherwise. Maps are available for specific areas on the maps page.
It is your responsibility to ensure that your use of the trails does not impair that of other trail users, or damage the trails themselves. The actions of a few individuals often speak for a whole group, and mountain bikers are no exception. When mountain biking be aware that you will be sharing trails with hikers, equestrians, hunters, and others.
Connecticut State Parks and Forests are open every day from 8 a.m. to sunset. Therefore, night-riding is prohibited.
Sharing trails is a realistic goal if bikes are operated in a reasonable manner. A set of guidelines has been adopted which is intended to minimize conflict with other user groups.
TRAIL GUIDELINES
1. Respect Other Users
Yield the trail to hikers and horseback riders. Excessive speed may frighten other trail users. Use courtesy and caution when approaching or overtaking others.
2. Respect the Environment
Avoid skidding your tires, it promotes trail erosion. Do not take short cuts or create new paths. Avoid riding after a rain or during the spring thaw. Do not litter. Do not create trail "braids" by riding around fallen logs, puddles, or other obstacles.
3. Respect Closed Trails
Trails are closed for a reason, usually environmental impact or potential user conflict. Check with park staff if you are unsure of which trails are open to bicyclists.
The statewide Blue-Blazed hiking trail system is maintained by the Connecticut Forest and Park Association, a private non-profit conservation organization, and therefore these trails are closed to mountain bikers, as is the Appalachian Trail.
4. Respect Your Head
For your safety, please wear a helmet.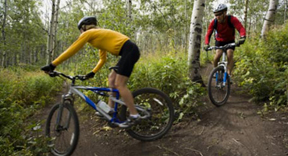 RIDING DURING HUNTING SEASON
Hunting is allowed at most state forests and wildlife management areas. Become familiar with hunting season dates and various outdoor safety tips. Peak hunting activity for small game and deer occurs from the third Saturday in October through December. Early morning hours are the most active. Archery hunting is allowed for deer on Sundays on private land; please be aware of where you are riding as some trails do cross onto private lands.
If you choose to ride where hunting is permitted:
Call out to hunters to identify your position.
Wear bright colors, such as fluorescent orange.
Do not wear white, gray, brown or tan clothing.
VOLUNTEER INFORMATION
If you would like to volunteer your time to help maintain the trails you ride on, contact your local park supervisor, or the Connecticut Chapter of NEMBA.
CONNECTICUT CHAPTER OF NEMBA
New England Mountain Bike Association
1-800-57-NEMBA. NEMBA's website also highlights trails on other public property, such as town and land trust managed.
If you would like to support improvement of transportation, recreation, and tourism for all bicyclists throughout Connecticut, contact the Connecticut Bicycle Coalition Inc. at 433 Chapel Street, 2nd Floor, New Haven, CT 06511-5830; 203-848-6491; or info@ctbike.org
Content last reviewed July 2020