Horseback Riding/Camping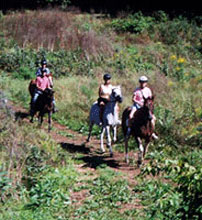 There are some great opportunities for horseback riding on The Department of Energy & Environmental Protection's (DEEP) property. Some of the best are along the various State Park Trails like Larkin in the western part of the state or the Air Line in the east. In addition, there are areas open in several State Forests for equestrian activity. There are even horse camping areas in Pachaug and Natchaug Forests.
Maps and Information on Riding and Camping Areas:
Horseback riding is allowed on all trails unless posted otherwise, make sure to check inpidual park and forest maps for postings.
CT Horse Council Recommended Trails - These trails have been reviewed by the CT Horse Council and are marked with a yellow diamond in the field:
Shenipsit State Forest Equine Maps: Loop A & B, Loop C, Bald Mountain Loop
Patchaug SF - There are three loops that, in addition to the yellow diamonds are marked with arrows and mileage. All loops were measured by GPS. All of the loops are marked going both ways.There is 14 mile, 7 mile and a 6 mile loop which occasionally overlap. The loops start and end at the Frog Hollow Horse Camp but can also be found and followed from the youth camp. Parking at the youth camp field is allowed in the winter months because the bar gates to the Horse Camp are closed from January 1st to April just before opening day of the trout season.
Horse Camping
The following campgrounds have been designed exclusively for equestrian use. They open for camping in April and close on Thanksgiving. All sites are available on a first-come, first-served basis. Camping is offered for riders who can provide their own mounts. Horse rentals are not available.
Natchaug State Forest, Eastford
Pachaug State Forest, Voluntown - Frog Hollow Horse Camp has two composting toilets and 18 sites for camping with horses.
It is always a good idea to call ahead to the facility where you wish to ride if you are not sure that horses are allowed.
Remember that when you are riding you are sharing the trail with many others. Although cyclists in particular should yield to horses, not everyone is familiar with trail etiquette. Be prepared to encounter different situations along the way. In addition, keep the following in mind before you set out to ride:
Use common sense and follow basic safety rules.
If you are riding alone, let someone know where you are going.
Stay on the trail (no shortcuts). Make sure horses are permitted on the trail you are riding. In particular, avoid the Blue Blazed Trails, as they are for hikers only.
Walk carefully through mud or water if you cannot avoid them.
Don't "race" or ride too fast on the trail. Hooves can dig up the trail surface and result in considerable time and expense for the maintaining organization.
Discourage your horse from "snacking" on trailside vegetation.
Avoid riding on wet or muddy trails whenever possible.
Move off to the side of the trail when your horse relieves itself.
Be alert when encountering children or hikers with dogs. Make sure that the child or dog is under control before proceeding.
Let other trail users know how to approach and pass your horse through both voice and hand signals.
Be aware that hunting takes place on many DEEP properties. Know where hunting is allowed and when the various seasons are. If you are riding an area that is regularly hunted, wear orange – you may even want to put bells on your horse.
You may even see volunteer riders helping on some trails. These volunteers are affiliated with the Connecticut Horse Council, an organization that advocates for the interests of the state's equestrian community. If you would like more information on the trail volunteers or other horse-related issues, you can visit the Council's web site at www.cthorsecouncil.org.
The Connecticut Equine Advisory Council (EAC) assists the Department of Energy and Environmental Protection with issues related to the preservation of equine trails in Connecticut. More Information
---
If you have questions or need additional information on Connecticut State Parks and Forests, please contact the State Parks Division by e-mail at deep.stateparks@ct.gov or by phone at 860-424-3200.