Youth Group Camping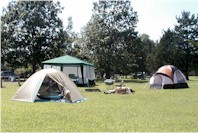 Youth Group Camping areas are available to qualifying youth organizations. The group camp areas are generally away from main public use areas, giving group leaders maximum control over their group's camping experience. This program is designed to encourage youths to learn about nature and the camping experience.

Qualifications:
In order to qualify for Youth Group Camping, your group must be:
Youth Oriented

- the group must have a demonstrated interest in social, educational or religious work with youth. "Youth" generally implies age 18 and under; or

Non-profit:

the group must be sponsored by or affiliated with a school, church or recognized youth organization. Written proof of IRS non-profit tax exempt status is required when applying for a camping permit.
To Apply:
Youth Group Camp areas are available by written application. District offices can advise applicants of site availability but cannot take reservations by phone.
Send completed applications to the District Office address listed for the youth area requested. All areas east of the Connecticut River plus Cockaponset Forest are reserved through the office in Marlborough. Reservation requests for areas west of the Connecticut River go to the office in Harwinton.
A fee applies for use of youth area sites. Groups of up to 50 youth may obtain a permit for $33. Each permit is valid for a camping stay of up to three consecutive nights. Permits for larger groups will be issued with a $33 fee applying for every additional 50 campers. When returning completed applications, please include payment by check or money order made out to "Treasurer, State of Connecticut".
Applications for a camping permit must be received by the appropriate District office at least fourteen (14) days prior to your camping dates.
Maps and other information specific to the area of your camping trip will be sent along with your permit.
Youth Group Camping Application (PDF Form)
Refund Policy:
For a refund, groups canceling their reservation must inform the District Office at least 7 days before a scheduled camping date. Cancellations made less than 7 days before a scheduled date are not eligible for a refund, but the trip may be rescheduled within the current camping season if dates are available.
Guidelines:
In order for Youth Group Camping to be offered as a program to the public, the following guidelines must be followed:
The group leader (as named on the application) must be present during the entire stay and will serve as a contact person with park personnel.
The group must have adult supervision in a ratio of at least one adult per ten campers under 18. The adult supervision ratio must also not exceed four per ten campers, with the exception of cub scouts who may be required to have a higher adult : youth ratio.
Retain all or some of the vehicles in which you arrived for emergency purposes.
At least one adult advisor should be trained in first aid and should have a first aid kit suitable for group needs.
Alcoholic beverages, pets and electric generators are not permitted in youth group camping areas.
Areas may be reserved for one, two or three night stays. Duration of stay cannot exceed 4 days and 3 nights without approval of the Park or Forest supervisor.
There will be no camping on any Department of Energy & Environmental Protection lands from March 1 to the third week in April.
Notice To Campers:
Some Youth Group Camping Areas are located on or near State lands that are also open to hunting. They are designated below by the

symbol. If you are camping in an area where hunting is permitted, please note the following precautions:
Wear bright clothing such as a fluorescent orange vest or hat for activities outside of the campground. Avoid brown, tan, gray or white.
If you see someone hunting, call out to them to identify your location.
Consider using a bell on bikes, horses or other outdoor equipment.
Let someone know where you are going and when you will return.
Hunting may occur year-round, however, the peak season in Connecticut begins the third Saturday in October and runs through December. Hunting is not permitted on Sunday.
State Parks and Forests where Youth Group camp areas are available:
---
If you have questions or need additional information on Connecticut State Parks and Forests, please contact the State Parks Division by e-mail at deep.stateparks@ct.gov or by phone at 860-424-3200.
Content last updated March 2022