Rustic Cabin Rental Details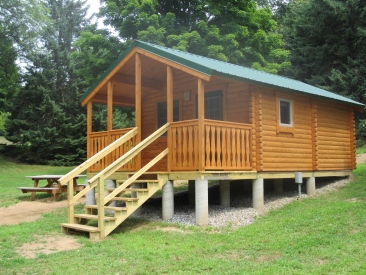 All cabins are 14 feet by 17 feet, have two rooms and can sleep six. There is a double bed in the front room and two bunk beds in the back room. Cabins do not have kitchens or bathrooms.




Rental Policies
Cabin camping fee is $50.00 per night for Connecticut residents and $60.00 for non-residents, plus a 15% CT room occupancy tax. Shoreline park rates for cabin rentals are $70.00 per night for Connecticut residents and $80.00 for non-residents, plus a 15% CT room occupancy tax. There is a $9.00 fee for reservations or a $3.00 fee for walk-ins.
A refundable security deposit of $50.00 must be paid upon arrival in the form of cash or check only.
Rental Period - There is a a seven (7) night minimum at Hammonasset Beach and Rocky Neck State Parks, a three (3) night minimum at Hopeville Pond State Park, and a two (2) night minimum rental period for all other parks.
Cabins will not be rented to anyone under the age of twenty one. Registrant accepts responsibility for all members of the camping party.
Cabins can comfortably sleep 4 people. Maximum camping party is 6 people.
Parking - Two (2) vehicles are allowed per cabin site with the exception of Kettletown State Park which allows only one (1) vehicle per cabin site. All extra vehicles must be parked in the visitors parking lot.
No open flames (i.e. candles, oil lamps, grills, etc.) are allowed inside the cabins.
No cooking or food preparation inside cabin, or on the porch, ramp or decking. Linens and cooking utensils are not provided.
No smoking is allowed inside the cabins.
No pets are allowed inside the cabins in any campgrounds.
No hardware or other items shall be affixed to the walls (i.e. clotheslines, pictures).
No painting, papering or defacing of cabin interior is allowed.
Renters may not remove furniture, brooms or floor mats from the cabin.
Toilet facilities are located nearby.
During the early season at Austin Hawes and Black Rock campgrounds, running water may not be available. Instead, portable toilets will be available.
No more than one tent and one screened gazebo may be erected on the cabin site.
Check-in time is 2pm. Check-out time is 11am.
The campground office at American Legion State Forest (Austin Hawes Campground) closes daily at 5:30pm. Cabin renters must be on site to check in by 5:30pm. No cabin check-ins will be available after hours.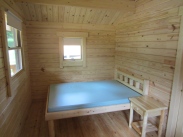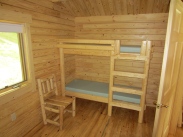 Available at these Connecticut State Parks: