River Camping
Four public camps along the Connecticut River at Hurd, Gillette Castle, River Highlands and Selden Neck State Parks offer primitive, riverside sites with fireplaces and pit toilets for individuals traveling on the river.
The river campsites are available from May 1 through September 30. The length of stay is limited to one night. Use of river campsites at River Highlands, Hurd and Gillette Castle is restricted to canoers and kayakers only.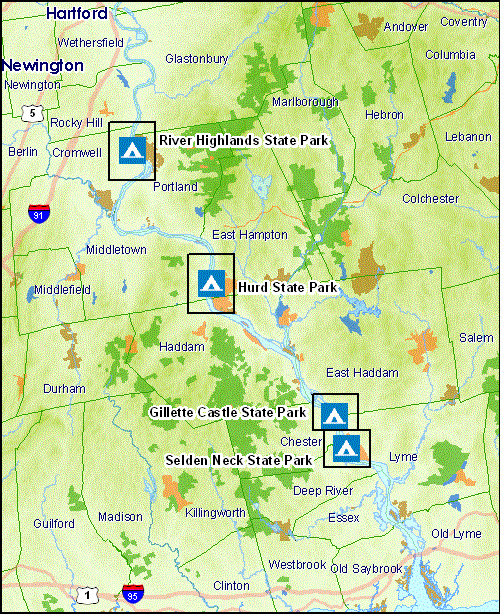 Select a State Park on the above map to view the detailed camping area map.
Access
Campers must arrive and depart by boat. Vehicle access is not available. For information on overnight parking at State Boat Launches, please see FAQs Boat Launches.
Camping Permit
Reservations for river campsites at Gillette Castle, Hurd, River Highlands and Selden Neck State Parks can be made via Reserve America. Reservations may be made up to 11 months in advance of arrival date.
Campsite Capacities
Gillette Castle: 20 campers
Hurd: 12 campers
River Highlands: 6 campers on each site
Selden Neck offers 4 sites:
Cedars site - 20 campers
Hogback site - 6 campers
Springledge site - 8 campers
Quarry Knob site - 12 campers
Facilities
The camps offer primitive, riverside sites with fireplaces and pit toilets. Please note: Fires are prohibited at the Gillette camp. Mooring or docking facilities are not provided. Campers at Hurd and Gillette Castle State Parks should plan on breaking camp by 9:00 a.m.
Fee
$5.00 / person / night.
Guidelines
Please respect the rights of others using the campground. Responsible behavior is expected from both children and adults.
All visitors to campsites must leave the area by 8 p.m.
Open ground fires are not allowed. Please use existing pits. Fires are prohibited at the Gillette camp.
Use of downed timber for campfires is permitted. Campers may not cut live or standing vegetation.
Please take your refuse when you leave; refuse containers are not provided.
Minors
Minors (under 18) must be accompanied by an adult in attendance who accepts responsibility for the camping party.

Notice To Campers

The Selden Neck Campground is located near State lands that are also open to hunting

. The season for goose opens immediately after Labor Day and archery season for deer opens in mid-September. Hunting is not permitted on Sunday. If you are camping when hunting is permitted, please note the following precautions:
Wear bright clothing such as a fluorescent orange vest or hat. Avoid brown, tan, gray or white.
If you see someone hunting, call out to them to identify your location.
Let someone know where you are going, and when you will return.
Pets
No pets permitted at the campgrounds.
River Information
For guidebook information see: AMC River Guide for Massachusetts, Connecticut and Rhode Island
Appalachian Mountain Club Books
P.O. Box 298
Gorham, New Hampshire 03581-0298
1-800-262-4455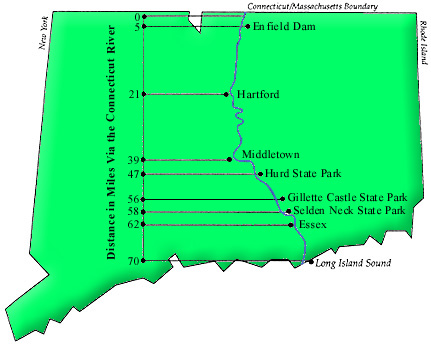 Content last updated August 2022