Event Recycling Resources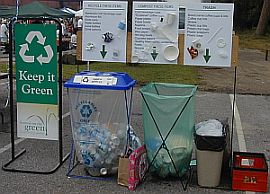 Recycling bins for special events, concerts, fairs, and festivals are now available to Connecticut communities through a grant that DEEP received from Keep America Beautiful and Anheuser-Busch Foundation. The Lend-A-Bin Grant provided the state of CT with 200
ClearStream recycling bins
for use by municipalities and civic groups to improve recycling collection at special events. Municipalities are tasked with improving recycling and waste diversion in their communities, and this Special Events Recycling Bin Loan Program provides them with basic infrastructure to implement successful beverage container diversion programs. If your group would like to borrow recycling bins for your special event, please contact the person responsible for the bins in your region below. Bins are available to any special event within the state of Connecticut and your event is not limited to borrowing from a particular location. Borrowers must schedule a pick-up and drop-off with the town contact listed below. The bins will be loaned out on a first come, first served basis. The Recycling Bin Locations may also have guidelines for borrowing the bins which you will be required to comply with.
Recycling Bin borrowers are required to complete the ClearStream Bin - Event Recycling Survey
after each event to comply with DEEP grant requirements.
Recycling Bin Loan Program Distribution Information

Region
Pick-up Location
Contact
Northeast
Mansfield
(40 bins available)
Ginny Walton
(860) 429-3333
WaltonVD@MansfieldCT.org
Southeast

Ledyard

(40 bins available)

Winston Averill
(860) 381-5558
waverill@scrrra.org

North Central

Bristol
(20 bins available)

Josh Corey
(860) 584-7791
JoshCorey@bristolct.go

North Central

Manchester
(20 bins available)

South Central
Essex
(40 bins available)
Janice Ehle Meyer
(860) 581-8554
jehlemeyer@rivercog.org
Western
Bridgewater, Brookfield, New Milford, Newtown, Redding, Ridgefield and Sherman
(40 bins available)
Collection Containers
Signage
Guidebooks, Manuals & Toolkits
Green n' Clean, A manual for music and arts festivals (A Greener Festival)
Additional Resources
Possible Equipment Funding Sources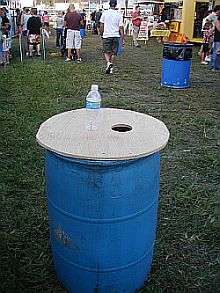 Some Companies That Provide Recycling Assistance or Services
Disclaimer: The Connecticut Department of Energy and Environmental Protection (DEEP) maintains the content on this web site to enhance public access to information and facilitate understanding of waste reduction, reuse and recycling. The DEEP is not recommending these resources over any others and recognizes these represent only a partial listing of resources on this subject.
Content Last Updated on August 2022