Buy Recycled
By now most of us are recycling at home, work, school or away from home. Or are we? Recycling does not end once you have dropped off your cans, bottles and newspapers at the curb or nearest recycling center. This is just the first step! Once you have dropped off your recyclable goods, they are taken to a recycling facility where they are processed to market conditions, baled and shipped to manufacturers and paper mills which turn them into value added products that are then sold on the market. The final step, which is just as important as these other two steps, occurs when YOU, the consumer, purchase the products made from the recovered materials.
Creates markets for materials collected in residential & business recycling programs, thus increasing their value
Reduces need for additional disposal capacity
When manufactures or paper mills use recycled materials vs. virgin materials to make new products:
Air and water pollution is reduced
Natural resources are conserved
Energy is saved
Less water is used
Emissions of greenhouse gases that contribute to global climate change are reduced
Supports the development of green technologies
Creates jobs and strengthen the local economy
Promotes and supports a more sustainable lifestyle or business ethic
In the past, the variety and in some cases, the performance of some recycled content products did not always measure up to products made from virgin materials. However, technology has come a long way and the quality and variety of recycled content products has improved dramatically. There are recycled content products on the market that meet or even exceed the quality and performance of virgin products. The variety is sufficient to allow you to select only those products that meet your performance specifications.
RECYCLED PRODUCTS MYTH BUSTER

MYTH

REALITY

Recycled Products are Hard to Find

This is no longer true! There are more recycled products out there than you think. Visit the resources under each "Buy Recycled" heading below to find thousands of products made from or packaged in recycled content material.

Recycled Products Lack Variety

Again, no longer true! Evidenced by the variety of links presented below, recycled products include more than just paper, bottles, and cans.

Recycled Products are not as Good as "Virgin" Products

Simply not true! Recycled products have the same quality, reliability, and dependability as their "virgin" counterparts. Recycled products undergo the same stringent testing and exacting performance documentation as virgin products.
The price of products with recycled content can be lower, higher or the same as comparable virgin products. As demand for these products increases, supply should also increase, therefore forcing prices down. These are the major factors contributing to cost discrepancies:
Availability and cost of raw materials to the manufacturers - both virgin and recycled
Distributor mark-up
Quantity of the item ordered
Whether the product is a common stock item
Geographical location
If a recycled content material does have a price differential, often the difference can be made up by using the product more efficiently, thereby saving money by buying less. For example, if buying recycled content copy paper costs a little bit more than virgin content paper, save by using less paper i.e. use both sides of the paper while copying or printing; send and read documents electronically; route copies of reports, memos instead of distributing individual copies, etc.
When comparing costs of products, consider life-cycle costs as well. Many recycled or reusable products have a longer life, may require less maintenance, have reduced disposal costs, etc. In a life-cycle cost analysis, these ancillary savings and revenue sources are factored into the initial unit price. Plastic or plastic-wood composite decking materials are a good example of this. This type of lumber costs more at the outset. However, because no regular maintenance is needed with these products, and because the product is longer-lasting, the cost is usually less over the life of the deck or other outdoor structure.
Product labels can often be confusing and misleading. These definitions and links will help you wade through advertisers' claims to ensure that you are purchasing recycled and environmentally preferable products.
Recycled Content
Products are made from materials that would otherwise have been discarded. That means these products are made totally or partially from material contained in the products you recycle, like aluminum soda cans or newspaper. Recycled-content products also can be items that are rebuilt or re-manufactured from used products such as toner cartridges or computers. (Source: Earth911)
A term used to describe material that is being reused/recycled after it has been in the consumer's hands (e.g., a newspaper going back to the paper mill to be recycled into new recycled content paper products). Material or product used by the consumer for its original purpose and then discarded. (Source: Earth911)
Pre-Consumer
A term used to describe material that is being reused/recycled before it ever goes to market (e.g. paper scraps off a paper mill floor going back into the next batch of paper). Waste material generated during the manufacturing process. (Source: Earth911)
Buyer Beware! Don't Get Greenwashed!
Greenwashing is a term used to describe false environmental claims and it is illegal!
Federal Trade Commission's (FTC) efforts to curb it.
Do Your Part!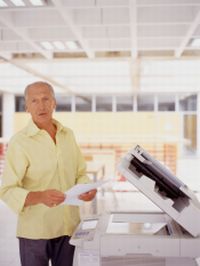 The Federal Government's policy of purchasing only copier paper made from 30% recycled content will result in 450,000 to 500,000 fewer trees cut down annually for paper production and 16,000 tons of carbon absorbed annually by the trees that remain standing.
Source: White House Task Force on Greening the Government
Notify your suppliers - Let your printer and suppliers know that the chief administrative officer of your company prefers to use products and materials made from post-consumer recycled material and products that are remanufactured or reusable.


Talk with your procurement officials - Work with your purchasing staff to overcome any initial opposition to change and overcome difficulties they foresee.


Review specifications and eliminate over-specification - Determine what products to target and then review and revise specifications for these products to allow for the use of post-consumer recycled material content. Eliminate unnecessary requirements that make it impossible for recycled/remanufactured products to compete with virgin (such as unnecessarily high brightness specifications for paper). Give preference to recycled content products that are also reusable or recyclable through your recycling program.


Incorporate minimum content standards - Review the EPA's Comprehensive Procurement Guideline Program (CPG) for federal procurement of recycled content products for guidance in your own purchasing practices. The guidelines also apply to state and local government agencies and government contractors using Federal funds. For example, if a state or local agency or a government contractor spends more than $10,000 a year on an EPA-designated item and part of that money is from appropriated federal funds, then the agency must purchase that item made from recovered materials.


Develop a review process - Set up the procurement program so recycled products can compete. Require suppliers to certify recovered and post-consumer material content.


Buy in Bulk - Buying large quantities of a product should result in a better unit price, so consider buying through business organizations or cooperative purchasing organizations that can coordinate purchasing programs.
Guides/Publications/Procurement Guidelines
Organizations/State Programs
Other
While you do most of your recycling at home wouldn't it be great if your home could also be the place where you "closed the loop." This list of resources, along with those above, will help you come full circle. Remember this is just a sampling of what the market has to offer – entrepreneurs are making new items out of almost everything including textiles, billboards, car parts, plastic bottles, broken glass, grocery bags and more! Be creative when purchasing and remember to check the labels!
Amazing Recycled Products, Inc. Architectural and landscape products, plus general recycled products.
The Old Wood Company - Recycled wood furniture
Greener Choices - Products for a greener planet
Brilliant Earth - Recycled metal jewelry
Patagonia - Recycled polyester fleeces and other products
Watch this cool video clip on recycling plastic into fabric!
Your business may be doing its part to decrease its waste by recycling, but are they purchasing recycled materials to keep the markets strong? The resources in the General section above, and those below will help guide you to more environmentally preferable purchasing decisions and help your company do their part to close the loop. Additionally, all nation-wide office supply retailers such as, Office Depot, Staples and OfficeMax sell recycled content and environmentally preferable products through their stores and their online catalogues, so read the product descriptions carefully. Learn more about eco-labels and "greenwashing".
Signature Marketing - Eco Products
Responsible Purchasing Network
Below, and in the General section above, are resources to help you buy recycled products for the new school year. Start the new school year off on the "green" foot! This is just a sampling of the products on the market. The products and possibilities are endless, so be creative, explore, and enjoy!
Treehugger - Recycled school supplies
Inhabitat - Recycled school supplies
Yale University Green Purchasing
Rutgers University Green Purchasing
Purchasing "Green" for Your Campus - Local and Eco-friendly Products and Services, November 20, 2008 (Webinar) National Wildlife Federation Campus Ecology. Filed chronologically under "past conferences".
Government agencies should set an example for purchasing recycled content products. Because they buy in large quantities, often they can realize bulk quantity pricing, and take advantage of cooperative purchasing with other towns, school districts, etc. In addition to all the above mentioned resources, Connecticut municipalities should visit the Municipal Section, the Environmentally Preferable Purchasing Section, and the EPP Contracts Section of the CT Department of Administrative Services website to view the products already available on state contract. Work with your purchasing agent who may be more familiar with the DAS system and/or speak with the DAS Contract Specialist noted on the contract to facilitate the process.
Also visit the DAS Property Distribution Center (surplus) website for opportunities to purchase/acquire used durable goods.
Sorting Out Green Advertising Claims Federal Trade Commission (FTC)
Guides for the Use of Environmental Marketing Claims Federal Trade Commission (FTC)
FTC Complaint Assistant - Submit a complaint to the FTC
How to Interpret a Label (Consumer Reports)
The Seven Sins of Greenwashing
For more information, please contact Peter Brunelli at 860-424-3536.
Disclaimer: The Connecticut Department of Energy and Environmental Protection (DEEP) maintains the content on this web site to enhance public access to information and facilitate understanding of waste reduction, reuse and recycling. The DEEP is not recommending these resources over any others and recognizes these represent only a partial listing of resources on this subject.
Content Last Updated February 2020