Press Releases
09/04/2018
Bat Appreciation Day at Old New-Gate Prison
Come Celebrate History and Bat Appreciation A Fun-filled Event for All Ages
Join Department of Energy and Environmental Protection (DEEP) wildlife biologists and Department of Economic and Community Development (DECD) staff for a celebration of bat conservation and the reopening of Old New-Gate Prison and Copper Mine. This unique event celebrates the history of one of Connecticut's most intriguing sites and its importance to the conservation of endangered species.
Old New-Gate Prison and Copper Mine in East Granby is our nation's oldest state prison. It is also the first operating copper mine in the North American colonies. Today, it is not just an amazing cultural resources, it is also the winter home of several state endangered bat species.
The bats of Old New-Gate Prison and Copper Mine are considered "cave bats" and are the group of bats decimated by the disease known as white-nose syndrome (WNS). In less than ten years, WNS has killed millions of bats throughout the Northeast and beyond, having spread to and been documented in 29 states and five Canadian provinces.
To raise awareness for the plight of bats and their importance to our ecosystem and our economy, the DEEP Wildlife Division and DECD Office of Culture and Tourism have joined forces to host the second-annual Bat Appreciation Day at Old New-Gate Prison and Copper Mine on Saturday, September 8, 2018, from 10:00 AM to 4:00 PM. The day will feature bat activities for the whole family and include exhibits, arts and crafts, bat story time, scavenger hunts, historical tales, the unique opportunity to sneek a peek at the "bat cave", and a chance to see a live bat up close.
"We are excited to be partnering with DEEP," says Morgan Bengel, site manager of Old New-Gate. "Bat Appreciation Day is a great opportunity to showcase our facility and connect people with the cultural and natural history here."
"This is a wonderful opportunity for the public to learn about the amazing history of Old New-gate Prison and Coppermine and efforts DECD and DEEP have taken to protect a critical hibernation site for state-endangered bats," said Jenny Dickson, Supervising Wildlife Biologist. "Little brown, tri-colored, and northern long-eared bats have all used this site to hibernate during the winter months. We are looking forward to telling not only the amazing story of bats, but also sharing the importance of this site for conservation efforts well into the future."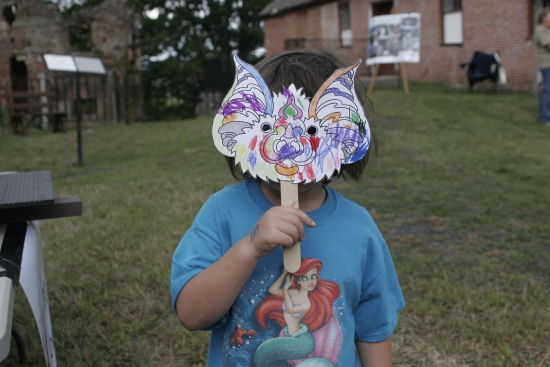 A young bat fan proudly displays a new mask created to celebrate Bat Appreciation Day at Old New-Gate Prison and Coppermine.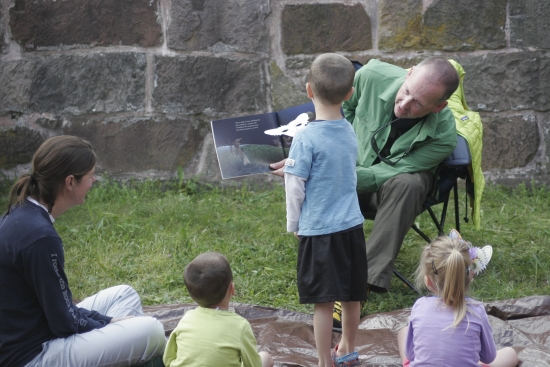 Set against the backdrop of the Old New-Gate Prison, some young fans listen to bat tales as part of Bat Appreciation Day—a celebration of wildlife and history.
Twitter: @CTDEEPNews
Facebook: DEEP on Facebook