Press Releases
05/24/2018
DEEP Completes 2018 Channel Catfish Stockings
Channel Catfish provide great fishing opportunities all summer long!
Connecticut's Department of Energy and Environmental Protection (DEEP) today announced that for the twelfth consecutive year, one of the most sought after freshwater game fish species in the country, the Channel Catfish, has been stocked into twenty-four water bodies across Connecticut (see list of locations below.) DEEP would also like to remind catfish anglers of new daily limits on the number of catfish each angler may keep.
This year approximately 17,000 fish were stocked. The "cats" stocked include adult fish (about 6,600) averaging 14-18 inches in length and weighing just under 2 pounds; and juvenile fish (about 10,600), averaging 9-11 inches and about ½ pound in weight. Stocking the larger fish provides an immediate summer fishery for a great tasting-high quality fish, while stocking the smaller fish provides a cost-effective investment for great catfish fishing into the future. "This DEEP program establishes Channel Catfish in lakes where we know there is sufficient habitat to support a population of large gamefish," said Peter Aarrestad, Director of DEEP's Fisheries Division. "Anglers have reported taking five-to-ten pound fish from several of the lakes. DEEP believes that the combination of a popular gamefish stocked into waters that are selected based on scientific data is a winning combination. We've had great success in using this approach to develop exciting fisheries for Northern Pike and Walleye and now we're seeing similar results with catfish." Each year this fishery has gained popularity and as a result the new daily harvest limit put in place will serve to spread the quality catches among more anglers.
Just over half of the locations stocked are part of DEEP's Community Fishing Waters Program (CFW). Community fishing waters are located in municipal parks that are in close proximity to hundreds of thousands of Connecticut residents. Many of these waters are located along bus stops enabling willing anglers to ride the bus to fish. The intent of the Community Fishing Water program is to create and enhance year-round fishing opportunities in highly populated areas by combining trout stocking (in the spring), catfish stocking (in late spring or early summer), or both. This program began in 2007 and has expanded to now include fourteen lakes or ponds.
"Connecticut has a diversity of fishing opportunities, freshwater and marine, all within a short drive or bus ride from most citizens. Stocking catfish in urban areas provides excellent family recreational opportunities close to home for the many local residents," said Peter Aarrestad. "The Community Fishing Program is one of our many efforts to promote fishing throughout the state and to provide opportunities for all to enjoy the great outdoors."
Tips on fishing for Channel Cats and how to prepare a delicious meal with your catch are easily found with a quick internet search. DEEP strongly encourages anglers to enjoy fishing and catching this great gamefish, but please only take those fish you intend to eat. There is currently no minimum size for harvest; however, there is a an new (as of 2018) three (3) fish per person daily harvest limit at places stocked with adult catfish and a six (6) fish per day limit in all other waters. The new daily harvest regulations will allow a greater number of anglers to benefit from this popular fishery.
All anglers can find fishing regulations in the 2018 Connecticut Angler's Guide, found online at
www.ct.gov/deep/anglersguide
. Print version of the guides are available at more than 350 locations statewide, including many town halls, bait & tackle shops and other vendors selling outdoor equipment, DEEP facilities, and commercial marinas and campgrounds, or by contacting DEEP's Fisheries Division (860-424-FISH). Additional fishing and fisheries related information can be found on the DEEP web site at:
www.ct.gov/deep/fishing
and on Facebook at
www.facebook.com/CTFishandWildlife
.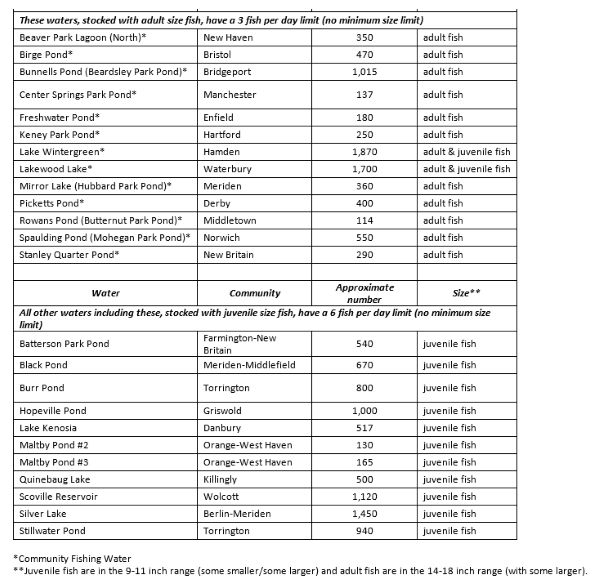 Twitter: @CTDEEPNews
Facebook: DEEP on Facebook