Press Releases
05/29/2018
DEEP Announces Winner of 2018 Connecticut Duck Stamp Art Contest
In a contest filled with great artwork, a panel of judges recently selected Indiana artist Jeffrey Klinefelter's depiction of buffleheads flying across Barn Island Wildlife Management Area as the winner of the Department of Energy and Environmental Protection's (DEEP) 2018 Connecticut Migratory Bird Conservation (Duck) Stamp Art Contest. Jeffrey is a previous winner of the Connecticut contest, winning in 2015 with his depiction of canvasbacks in front of the Ledge Lighthouse in New London.
Jeffrey's painting of buffleheads was chosen out of 29 entries submitted by artists from across the country, including a record 18 from Connecticut artists. Paintings were judged in six categories: suitability for reproduction, composition, habitat suitability for that species, anatomical correctness, eye appeal, originality, and whether a recognizable Connecticut landmark or habitat was used. Jeffrey's painting will be the image for the 2019 Connecticut Duck Stamp.
A pair of Canada geese on the Connecticut River with the East Haddam swing bridge in the background, submitted by Colchester, Connecticut, artist Melissa Barker, placed second. Third place went to Chris Goins of Sheridan, Arizona, who submitted a painting of a pair of redheads. The DEEP Wildlife Division continues to encourage local artists to submit paintings for this contest. The top three paintings will be on display through the end of September 2018 at the DEEP Wildlife Division's Sessions Woods Conservation Education Center, 341 Milford Street, in Burlington. The education center is open to the public on Mondays through Fridays from 8:30 a.m. to 4:00 p.m.
The Connecticut Duck Stamp Program was initiated in the early 1990s when concerned sportsmen worked with DEEP to develop legislation that would generate revenue for wetland conservation. Modeled after the federal Duck Stamp Program, Connecticut's program requires the purchase of a state Duck Stamp, along with a hunting license, to legally hunt waterfowl. By state law, funds generated from the sale of Duck Stamps can only be used for the development, management, preservation, conservation, acquisition, purchase, and maintenance of waterfowl habitat and wetlands, as well as the purchase and acquisition of recreational rights or interests relating to migratory birds.
"The Duck Stamp Program is a great example of how the North American Model of Wildlife Conservation works – users of the resource pay into funds whose monies are solely dedicated to conservation," said Rick Jacobson, DEEP Wildlife Division Director. The Connecticut Duck Stamp fund is a vital source of money for many of the wetland projects that are conducted in our state. Federal aid dollars from the hunter-funded Pittman-Robertson Program can also be used for wetland conservation.
The Duck Stamp Program has generated over $1,600,000 for the enhancement of wetland and associated upland habitats, as well as garnered additional monies for Connecticut through matching grants from federal conservation initiatives. By combining Duck Stamp funds with these additional monies, over $4 million dollars have been available to complete wildlife conservation projects. Thus, Connecticut has received a 4:1 return on Duck Stamp monies. Over 3,445 acres of wetlands in the state have been restored or enhanced using Duck Stamp funds, mostly on state-owned wildlife management areas. The funds also have been used to purchase 75 acres of critical wildlife habitat and conduct habitat projects at over 50 sites statewide. These efforts have benefitted many of the approximately 274 birds, fish, amphibians, and reptiles of our state that rely upon clean, healthy wetlands.
Hunters are not the only ones who can purchase Connecticut Duck Stamps. Anyone who wishes to support wetland conservation and restoration in our state should buy a Duck Stamp. Stamps can be purchased for $17 each wherever hunting and fishing licenses are sold: participating town clerks, participating retail agents, DEEP License and Revenue (79 Elm Street in Hartford), and through the online Sportsmen's Licensing System (
www.ct.gov/deep/sportsmenlicensing
). Upon request, stamps can be sent through the mail. To learn more about the Connecticut Duck Stamp and the Art Contest, go to
www.ct.gov/deep/ctduckstamp
.
Reproduction prints of the winning duck stamps signed by the artists that are suitable for framing and display are also available. Please contact the Migratory Bird Program at 860-418-5959 for more information on purchasing reproductions.
Do your part for conservation. Buy a duck stamp and contribute to habitat protection and restoration.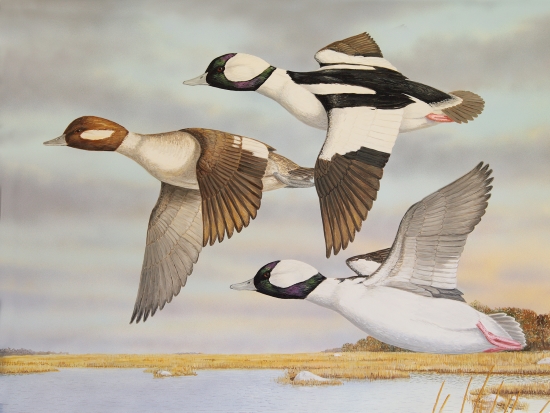 1st place artwork (buffleheads over Barn Island WMA) painted by Jeffrey Klinefelter
| | |
| --- | --- |
| 2nd place artwork (Canada geese with the East Haddam swing bridge) painted by Connecticut artist Melissa Barker | 3rd place artwork (pair of redheads) painted by Chris Goins |
Twitter: @CTDEEPNews
Facebook: DEEP on Facebook