Press Releases
05/10/2018
DEEP Announces 1.347 Million Gallons of Recreational Vessel Boat Sewage Removed in 2017
Connecticut's Department of Energy and Environmental Protection (DEEP) today announced that during the 2017 boating season, pumpout facilities and pumpout vessel programs removed a record level of more 1.347 million gallons of recreational marine sewage from vessels in Long Island Sound and Candlewood Lake.
"With the support of Connecticut boaters and pumpout facility operators, we have once again exceeded our previous volume of waste removal, and increased the amount of recreational boat waste removed by 6.4%," Commissioner Robert Klee said. "The goal is to keep building on this successful program to keep our waters clean and healthy, and to continue to provide excellent water-based recreational opportunities in Connecticut."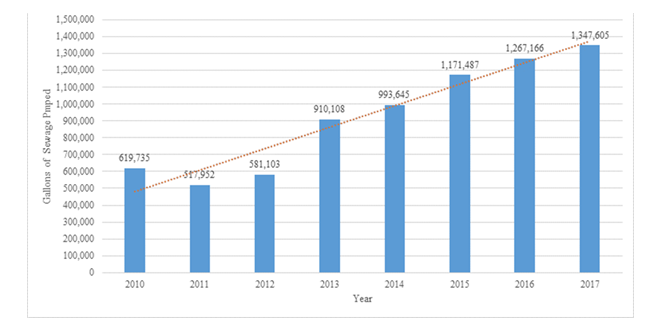 Funding for this program, known as the Clean Vessel Act (CVA) program, comes from the Sport Fishing and Boating Trust Fund, which is supported by excise taxes on certain fishing and boating equipment and boat fuels. DEEP partners with the U.S. Fish and Wildlife Service and issues grants to marine facilities and programs through the CVA Grant Program. This program helps keep coastal waters clean and safe for recreation by safely disposing of millions of gallons of boaters' sewage annually. The marine facilities provide 25% of the cost of each project. To encourage proper disposal of sanitary waste from vessels, all CVA funded pumpout facilities in Connecticut are free to recreational boaters. To locate a pumpout facility or pumpout vessel service, boaters can access the DEEP interactive Clean Vessel Act pumpout directory map at
www.ct.gov/deep/pumpoutdirectory
.
For more information about this program, visit the DEEP Boating webpage at
www.ct.gov/deep/boating
or contact Kate Hughes Brown, BIG/CVA Program Coordinator, at (860) 447-4340 or by email at
kate.brown@ct.gov
.
Additionally, DEEP is seeking grant proposals from owners and operators of public or private marine facilities that wish to install a new marine sewage disposal facility (MSDF); facilities with existing MSDFs in need of substantial repairs or upgrades; and from those seeking funding to operate new or existing MSDFs, including pumpout boats and central vacuum pumpout systems which are incorporated within the marina or boatyard dock system. Grant proposals must be received by 4:00 pm. Thursday, May 31, 2018 to be considered eligible for this round of grant funding. Any proposals received after this time will be considered only as funds may be available. View the
Request for Proposals
(RFP).
Twitter: @CTDEEPNews
Facebook: DEEP on Facebook