Press Releases
12/10/2018
Gov. Malloy Commemorates Imminent Completion of Silver Sands State Park Renovations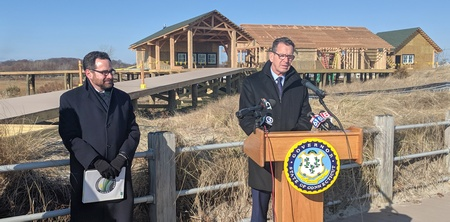 Governor Dannel P. Malloy and Department of Energy and Environment Protection (DEEP) Commissioner Rob Klee today cut a ribbon to celebrate the imminent completion of long-awaited renovations at Silver Sands State Park in Milford.
The project, which will be fully completed by the beginning of the 2019 beach season, includes three new buildings, including a concession building, restrooms, and offices. A new beach boardwalk will connect the previously existing boardwalk to the bathhouse, and a short new boardwalk across the tidal wetlands will connect the existing main boardwalk to the new bathhouse.
"Connecticut's state parks are integral to the state's quality of life," Governor Malloy said. "These renovations will help make Silver Sands more accessible for all. The beauty of our shoreline state parks is that they give people from all backgrounds, regardless of their socioeconomic situation, the opportunity to utilize our world-class beaches. I could not be more proud of the improvements that are being made."
The main paved parking lot, which previously consisted of 197 spaces, is being expanded to 251 spaces. The overflow gravel parking lot, which had been 500 spaces, is being reconfigured and built with reinforced grass with a total of 420 spaces. A new grassed parking lot will be constructed to the north of the main parking lot that will have 146 spaces. Parking at the bathhouse, which previously consisted of 16 spaces, is being reconfigured to accommodate the new building and will increase to 20 spaces. A ticket booth complex is being constructed along the entry road, and a new maintenance building is being constructed at the north end. This 4,710 square-foot building will include a 1,660 square-foot garage, a 1,537 square-foot workshop and storage area and 1,527 square-feet of staff space.
"The significant investments in the Connecticut State Park system are a hallmark of the Malloy administration," Commissioner Klee said. "Each year, millions of people visit our state parks. Projects such as the one at Silver Sands will significantly improve the visitor experience for all park goers in the years to come."
The state park acquisition of Silver Sands, ultimately involving over 300 parcels, began after Hurricane Diane destroyed 75 homes in 1955. Needing help to renovate the battered beach, the City of Milford asked the Park Commission for help with the nearly overwhelming task. When the land transfers were complete in 1960, Silver Sands became the state's fourth shoreline park.


Twitter: @CTDEEPNews
Facebook: DEEP on Facebook