Press Releases
08/23/2018
Risk of West Nile Virus Continues: Positive Mosquitoes Detected in 40 Connecticut Towns
The State Mosquito Management Program is warning Connecticut residents about the increased risk of infection by West Nile virus (WNV) this season. So far, the Connecticut Agricultural Experiment Station (CAES) has detected WNV-infected mosquitoes in: Bethany, Bridgeport, Chester, Danbury, Darien, East Haven, Easton, Fairfield, Franklin, Greenwich, Haddam, Hamden, Hartford, Madison, Manchester, Meriden, Middlefield, Milford, Monroe, New Britain, New Canaan, New Haven, Newington, North Branford, Norwalk, Orange, Shelton, South Windsor, Stamford, Stratford, Wallingford, Waterbury, Waterford, West Hartford, West Haven, Westbrook, Weston, Westport, Wethersfield, Woodbridge.

We continue to see exceptionally high numbers of mosquitoes carrying West Nile virus especially in coastal Fairfield and New Haven counties and in the greater Hartford area," said Dr. Philip Armstrong, Medical Entomologist at the CAES. "This is the critical time of summer when virus activity reaches its peak in the mosquito population."
"August and September are the months when people are at greatest risk of West Nile virus infection," said Dr. Theodore Andreadis, Director of the Center for Vector Biology & Zoonotic Diseases at the CAES. "With higher temperatures forecast for next week, we anticipate further build-up of the virus in mosquitoes with increasing risk for human exposure. We strongly encourage people in affected communities to take simple steps to prevent mosquito bites, such as using insect repellent and covering bare skin, especially during dusk and dawn when biting mosquitoes are most active."
Two human cases of WNV-associated illnesses have been identified this year in Connecticut. One hundred thirty six human cases of West Nile virus, including three fatalities, have been diagnosed in Connecticut residents since 2000.
Figure 1. Connecticut towns in which WNV-infected mosquitoes have been detected in 2018.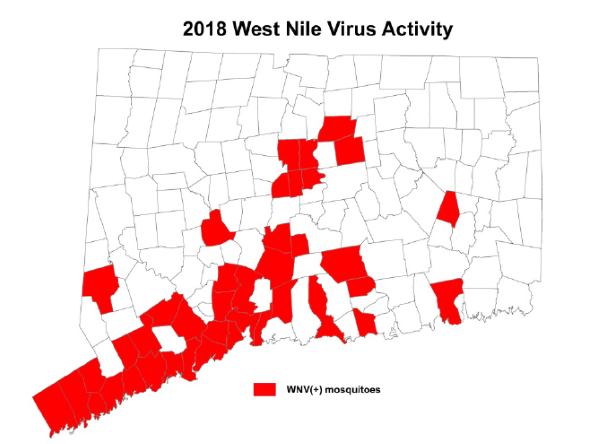 Figure 2. Weekly number of WNV-positive mosquito pools detected in 2018 compared to the 12 year average.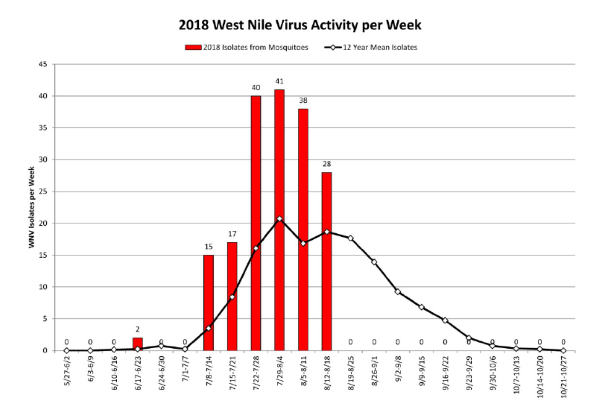 The State of Connecticut Mosquito Management Program is a collaborative effort involving the Department of Energy & Environmental Protection, the Connecticut Agricultural Experiment Station, the Department of Public Health, the Department of Agriculture, and the University of Connecticut Department of Pathobiology and Veterinary Science. These agencies are responsible for monitoring the potential public health threat of mosquito-borne diseases.
The CAES maintains a network of 91 mosquito-trapping stations in 72 municipalities throughout the state. Mosquito traps are set Monday – Thursday nights at each site every ten days on a rotating basis. Mosquitoes are grouped (pooled) for testing according to species, collection site, and date. Positive findings are reported to local health departments and on the CAES website at
https://www.ct.gov/caes/mosquitotesting
.
For information on West Nile and eastern equine encephalitis viruses and how to prevent mosquito bites, visit the Connecticut Mosquito Management Program Web site at
www.ct.gov/mosquito
.
Twitter: @CTDEEPNews
Facebook: DEEP on Facebook