Pharmacist Information
Important Notice
July 1, 2016: All prescriptions must be reported daily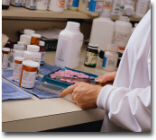 In accordance with Connecticut General Statute: Section 21a-254 – The Connecticut Department of Consumer Protection has established a program to monitor the prescribing and dispensing of Schedule II, III, IV & V controlled substances.
All pharmacies that are licensed by the State of Connecticut and that dispense Schedule II-V controlled substances are required to submit the information.
Pharmacies will report the required dispensing information to Appriss Health, a private contractor. Appriss Health will collect all data, manage the technical aspects of the program, and will forward the verified data to the Connecticut Department of Consumer Protection, Prescription Monitoring Program.
The data must be in the American Society of Automation in Pharmacy (ASAP 2009 v4.1) format for all transactions involving Schedule II - V drugs.
For Technical Assistance (Data Upload)
Call Toll-Free: (866) 683-3246 (available M-F, 8AM-8PM EST)
Please visit the Data Collection website at https://pmpclearinghouse.net to register and upload your data, and/or visit the PMP website at https://connecticut.pmpaware.net to register and access prescription information.
Implementation Schedule and Reporting Timelines for All Pharmacies:
Each pharmacy, nonresident pharmacy, outpatient pharmacy in a hospital or institution, and dispenser shall report all controlled substance prescriptions dispensed immediately upon, but in no event later than the next business day, after dispensing such prescriptions into the CPMRS Data Collection website at https://pmpclearinghouse.net.
Clinical Alerts
Clinical alerts are indicators of patients that may be at a high risk for an overdose.
1. Prescriber & Dispenser Threshold
Generated when a specified number of Prescribers and or Dispensers is met or exceeded within a set time period
Please Note: The CT PMP has set the following threshold: 5 Prescriber AND 5 Pharmacies WITHIN the last 3 months.
2. Daily Active MME Threshold
Generated when the daily active MME (morphine milligram equivalent) is greater than or equal to specified values
3. Opioid & Benzodiazepine Threshold
Generated when Opioids and Benzodiazepines are prescribed concurrently
If one or more records on a report appear to be inaccurate, pharmacists are asked to verify the information in their system and if applicable, perform Error Correction in the CPMRS at
https://pmpclearinghouse.net
or if authorized, at
https://connecticut.pmpaware.net
by navigating to Data>Rx Management>Error Correction.

Contact Appriss Health for technical assistance with data uploads and error correction:
Toll-Free (866) 683-3246.


Please Note:
The Patient Threshold Reports may only
be used by

providers and pharmacists in the active treatment of their patients.
Empowering CPMRS Users - Posting System Alerts (under maintenance)
The Alert feature that allowed users to post notifications on particular situations or patients concerning misuse, diversion or abuse of controlled substances is temporarily down for maintenance. We apologize for the inconvenience.