State Bond Commission Authorizes
$1.7 Million for Regional Fire Schools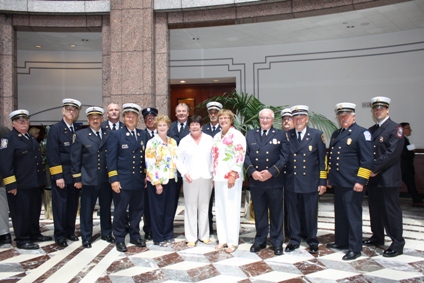 Photo Courtesy of Zachary Geffert
At the July 13, 2010 meeting of the State Bond Commission $1.7 million was authorized for the purchase of land for both the Eastern Connecticut Fire School in Willimantic and the Valley Fire Chiefs Regional Fire School to be relocated to Beacon Falls. In addition funding will help the state prepare for issuing Requests for Proposals (RFP's) to design both the Fairfield and Burrville Regional Fire School facilities.
"Whatever the emergency – fire, auto accident, hazardous materials or someone trapped – Connecticut's professional and volunteer firefighters spring into action at a moment's notice," Governor Rell said. "They put their own safety aside for the sake of the community. We have a responsibility to provide them with the training – and training facilities – they need to do their job as safely and effectively as possible. I am pleased that this project is moving forward for the benefit of fire departments throughout the Naugatuck Valley."
State Fire Administrator Jeffrey J. Morrissette said, "I am very happy that this project and the other fire school projects on the Bond Commission agenda will be moving ahead. These schools not only help train the next generation of firefighters but keep the skills of current firefighters – both career and volunteer – sharp and up to date. I thank the Governor and the members of the Bond Commission for their commitment to the men and women of Connecticut's fire departments."
Several members of Connecticut's fire service and Regional Fire School communities were on-hand to witness this important action.