Nick Sinacori Success Story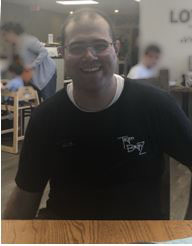 Nick Sinacori
Working in an Awesome Job at Beanz & Co
When you ask Nick Sinacori about his job at Beanz and Co, he says with enthusiasm "Beanz and Co is an awesome place to work. It's like family." Nick has been working at Beanz and Co, a coffee shop in Avon, CT, since the shop opened its doors in December of 2018. Previously, he interned at the state capitol and worked at the front desk at FAVARH, an agency serving inpiduals with disabilities in the Farmington Valley.
Nick's favorite part of his job is interacting with the customers. He's always ready with a smile and kind words for anyone that comes in the coffee shop. In fact, customer service was one of the things he learned on the job at Beanz. He also enjoys working at the cash register and has learned how to do so thanks to his job at Beanz. Another part of the job that Nick likes is being able to work alongside amazing co-workers like Meg and Syd. Nick says he loves working in place where everyone belongs and there's nothing he would like to change about it.
Nick's advice to other people who want to work: "Go for it! It's the best. It's an opportunity to do what you want."
Go see Nick and his co-workers in action at Beanz and Co today! You won't regret it!
Submitted by: Yana Razumnaya, Self Advocate Coordinator