Living Life in My Community of Greenwich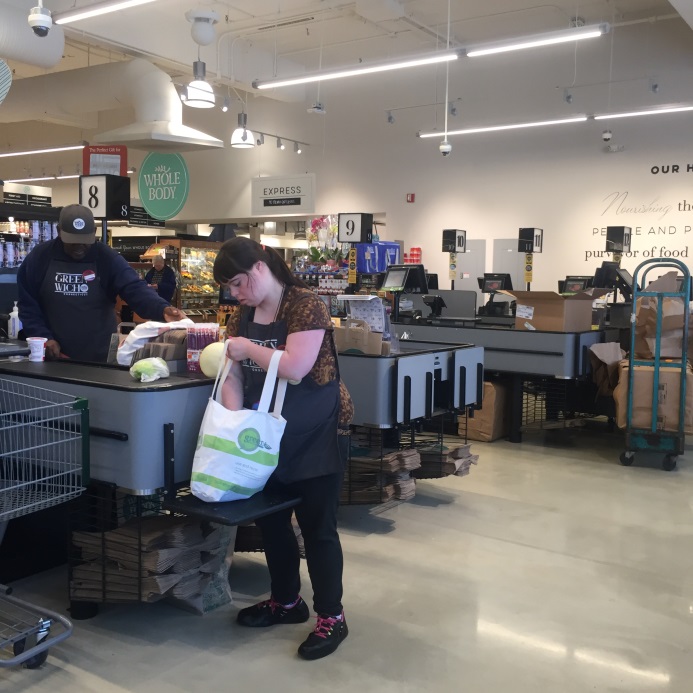 Haley is living her life and contributing to her community of Greenwich.
Being competitively employed has made a difference to both Haley and
the people with whom she works.
Haley Marks is a dedicated worker who derives great satisfaction and a sense of independence and identity from her employment at Whole Foods where she works week day afternoons. She is known as a hard worker and she is liked by her co-workers and supervisors. Haley is a young woman who, with the support of her 1:1 Individualized Day staff, has been competitively employed for three years in her Greenwich community.
Haley loves to keep busy and enjoys volunteering at a local toy store and garden center. She is building her skill in stocking and organizing shelves at a toy store twice per week and watering plants at a local garden center once per week. Haley's love of order and attention to detail make her especially good at these tasks, and she is truly celebrated for her abilities at each of her employment locations.
Haley strives to care for her health, and she and her 1:1 staff visit the YMCA as many times per week as their schedule allows. With the support of her family and staff, she is also learning to use the public bus so that she can get to work independently. Abilis and the Marks family are very proud of Haley and her employment success. Haley is making a difference in her life and her community as she does "Real Work for Real Pay".