Joe Edelstein, also known as "Jukebox Joe", shares his abilities with his community.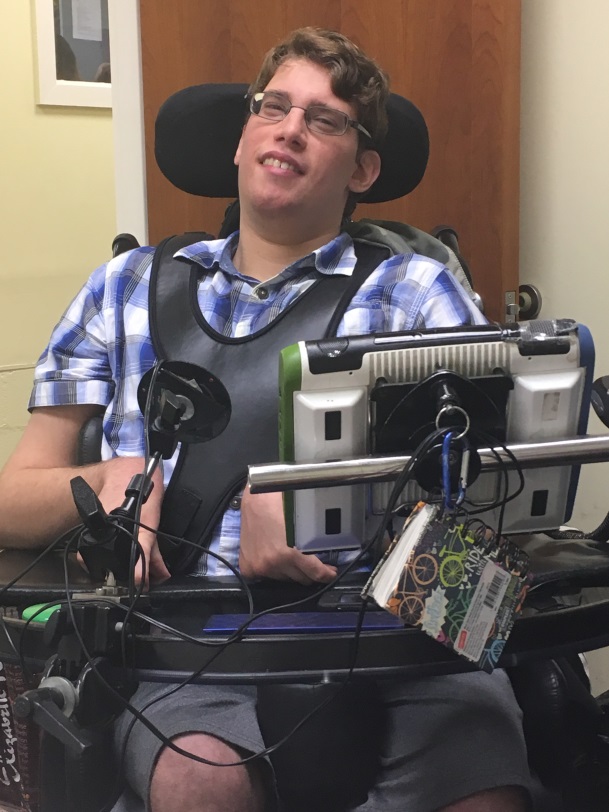 At 23, Joe is showing others that he has abilities to make a difference and assist people to understand what it is like to use a chair and assistive technology to live the life he wants. Three times per week, Jukebox Joe visits local senior centers and conducts singalongs for the people living there. Joe takes requests and plays songs from his iPad, mounted to his wheelchair tray. This program is affectionately known as "Jukebox Joe."
The local elementary schools are also getting to know Joe. Two times a week Joe visits and reads stories to the children with the use of his IPAD. The children love the story telling and it also provides an opportunity for them to know someone that uses a chair and feel comfortable around a person with a disability.
Both of these activities empower Joe and provides him with a sense of joy and fulfillment. He has made an amazing impact on his community of Greenwich. Joe has developed friendships with senior citizens, teachers, children, and families. None of this would be possible if it wasn't for Joe's very supportive family and the supports from Abilis which is funded through the Department of Developmental Services.

Joe, his family, and supports from Abilis have worked together to discover and compile community activities, which are uniquely tailored to Joe's extensive needs and bring him such happiness and purpose.
All are in agreement that Joe's daily activities are a model for the type of day supports Abilis strives to provide to all individuals they support.