Elaine Martin - Success Stories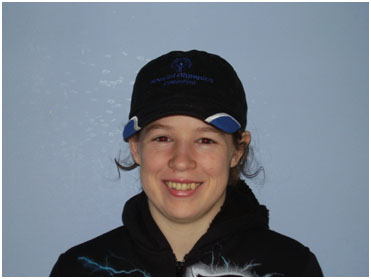 Elaine Martin

Elaine Martin works part-time at Kohl's Department Store in Southeastern Connecticut. An animated young woman with a gift for chat, Elaine has worked independently in retail for the last four years now, and a total of six years at Kohl's. Elaine began her career in high school, finding her job through The Arc New London County's school-to-work transition program.

Like so many of us, Elaine worked her way up the ladder. Her first assignments were tasks like vacuuming and straightening fitting rooms. Elaine's job coach, Audrey, would often say to her on the way to work, "Wouldn't it be great if you could eventually work independently?" Elaine would respond each time by saying, "No way!"

But it happened. With supports from family, friends, co-workers, her job coach and the community, the fears Elaine held deep inside slowly but surely gave way to confidence.

With confidence, Elaine quickly moved into an associate position at Kohl's. Gradually, her job coach transitioned out of the picture, and built-in natural supports were established. Elaine's confidence grew with her independence. Her relationships with co-workers and regular customers have become one two of her favorite things about the job. Elaine is fabulous," says a supervisor who has worked with her since she started. "She has grown so much in the last six years. It's amazing."

Elaine feels that having a job is very important, and she feels the very best part of her job is working with customers. Shoppers at Kohl's will find the slight, bubbly redhead happy to help out by offering directions to specific items. If you visit Kohl's around lunch time, you will hear Elaine talking with her coworkers about her weekend or telling them about the medals she has won at Special Olympics.

Elaine is active in her community. It seems that, wherever she goes, she runs into someone she knows. One of her favorite things to do is hang out with friends. Elaine also enjoys spending time with her family and going to the movies along with competing in Special Olympics. Spending a week at camp every year is something she really looks forward to.

Elaine's professional growth is truly amazing. Her success was hard won and involved the efforts of many people in our community. Nobody worked harder to make it happen than Elaine.