Meet Flo, Stanley and Peggy...They Share A Community Companion Home
Written by Jason Mirsky, M.S., Vice-President, Independent Living Support Services, Marrakech Inc.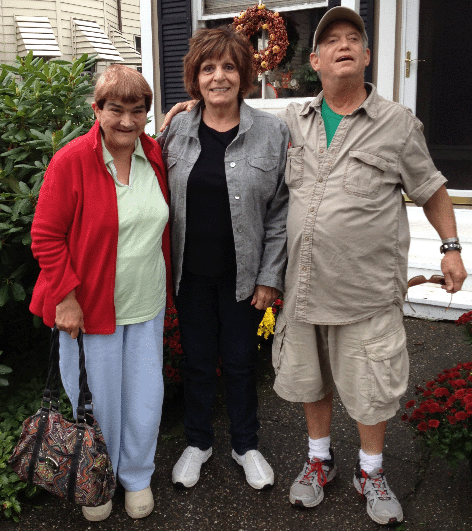 It's a Thursday afternoon and Flo and Stanley are returning home from their jobs. Peggy sits in the kitchen with a display of cakes and cupcakes. Flo comes in, sits down and enjoys a piece of strawberry shortcake. Stanley prefers to show me his snap on sunglasses. I sit down and Peggy grabs the photo album from their recent trip to Seattle. It was Flo's first time on a plane. They visited the Space Needle, saw Bill Gates' house, visited Pike Place Market and enjoyed a museum.
Flo Ibell and Stanley Kopec would have never become roommates if it weren't for Peggy Riiska opening her home as a Community Companion Home Licensee. The two have lived together for 3 years with Peggy at a quaint colonial in Torrington, Connecticut.
Peggy, Flo and Stanley are a family. Looking back on her decision to become a CCH, Peggy says "it was like family coming home". Peggy had already known Stanley for almost 40 years and Flo 5 years. "I just felt that's where they should be", says Peggy.
It's clear how much Flo and Stanley enjoy living with Peggy. "She has respect for me. She is very good to me", says Stanley. Flo likes the fact that she has "family over to visit- my nieces, my sister, and brother-in-law." What does Flo enjoy most about Peggy? "Her cooking", Flo says with a smile.
When asked to describe the CCH model in three words, Peggy responds, "Very, very rewarding." She goes on to say how wonderful their trip to Seattle was. "That was the joy to me, to see them experience something for the first time."
Peggy knows how important the CCH design is for consumers such as Flo and Stanley. There are some individuals who are not a good fit for an independent living situation as they don't have the skills necessary to be successful. However, there are some consumers who also do not fit well in a Group Home environment. A CCH provides "guidance, structure" says Peggy and she attributes 100% of Flo and Stanley's success to the CCH program. "It's an advantage for Flo and Stanley to live in a CCH, having 1:1 medically, health wise."
According to Flo, Peggy has helped her to be safe and healthy, "because when I get sick, she knows." Stanley says, Peggy "helps me wash my clothes and get cleaned up."
My time at the house comes to an end, the same way most guests end their visit to the Riiska CCH- with a piece of chocolate cake. I go outside and ask Peggy, Flo and Stanley if I could get a picture of the three of them together. We find ourselves on the front porch, Peggy in the middle with her arm around Flo and Stanley with his arm around Peggy. It's at this moment that I realize Peggy was right. Flo and Stanley are right where they should be- home.