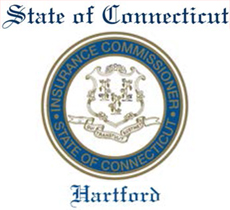 CONSUMER ALERT – May 12, 2023
Spring Into Action
Know Your Risks & Review Your Coverage
With spring in full bloom, the Connecticut Insurance Department (CID) reminds homeowners to be aware of the weather risks this season brings and to ensure your homeowner's insurance covers any potential damage.
Spring brings a variety of weather patterns, including heavy rainfall and severe storms, which can significantly increase the risk of flooding. To protect your home, start by understanding your homeowner's insurance policy and verifying its coverage for flood-related damage.
Just a few inches of water can result in hundreds of dollars of damage to your home. Knowing your risks and reviewing your coverage can save you time and money. The National Association of Insurance Commissioners (NAIC) reports that "Flooding is the most frequent and expensive natural disaster in the United States" but damage from flooding is often excluded from homeowners, condominium, and renter's insurance.
Separate policies can be purchased from the Federal Emergency Management Agency (FEMA) National Flood Insurance Program (NFIP) or a private insurer. As a reminder, there is a 30-day waiting period before the federal flood insurance policy takes effect, now is the time to purchase flood insurance to protect your home.
Spring weather preparation includes:
Inspecting your home

Cleaning out gutters, testing sump pumps, checking for cracks in walls and floors, examining the outside of your home for missing shingles, and creating an inventory of your belongings.

Devising an emergency plan and assembling a disaster kit

What exits can be used in the case of evacuation? Where would you meet if separated? Who will turn the power off? Who will retrieve the disaster kit? And who will gather any pets?
Disaster kits should be easily accessible and may include items such as flashlights, extra batteries, first aid kit, important family documents in waterproof containers, personal hygiene items, phone chargers, money, non-perishable food, and water.

Reviewing your insurance policies

Guarantee you are covered against all damage.
Get protection from flooding in your home, water damage to your car, windows broken due to hail or a fallen tree.

Understand the claims process
The Department's "Be Prepared – Spring Risks" page offers consumers more resources that address the risks of spring weather.
The Department's Consumer Affairs Division is available to assist policyholders with answers to questions by
Ask a question or file a complaint online
Email us at insurance@ct.gov
Call the Consumer Helpline at 800-203-3447 or 860-297-3900.
###