Electric Boat Awarded Long-Lead Contract For Virginia-Class Block V Attack Boats
USNI NEWS 13 MAR 18)
By Ben Werner
March 13, 2018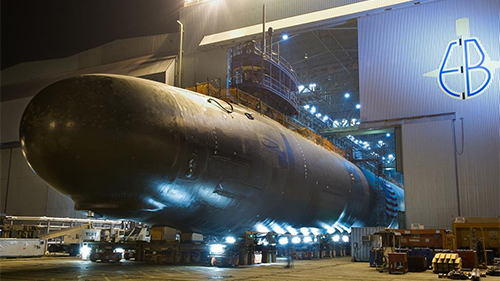 The Virginia-class attack submarine North Dakota (SSN-784) is rolled out of an indoor
shipyard facility at General Dynamics Electric Boat in Groton, Conn. US Navy Photo
Sub builder General Dynamics Electric Boat has been awarded a $696.2 million contract modification for long-lead materials for the next for Virginia-class submarines – the first of the Block V attack boats.
The Virginia-class Block V submarines will be longer than previously built Virginia-class subs, to accommodate four Virginia Payload Module tubes, which will each contain seven Tomahawk Land Attack Missiles (TLAMs).
The Navy is counting on the Virginia-class Block V submarines to be incorporated into a larger military missile strategy by increasing the service's the ability to stealthily strike targets, said Secretary of the Navy Richard V. Spencer on Monday at the Center for Strategic and International Studies.
The Virginia-class Block V submarines are to replace the Ohio-class SSGN submarines as they are decommissioning. Speaking of the Virginia Payload, Spencer described its usefulness as, "Stretching some of our existing attacks, which depending on what we put on the Tomahawks as far as payload, has different implications. Underwater aspect, to date, does seem to be the most elusive, but it comes with a price."
This contract provides long-lead time to purchase components for the hull, mechanical and electrical systems, steam and electrical plants, the service turbine generators, and main propulsion units for SSNs 802, 803, 804 and 805. Facilities in 19 states will be manufacturing the Block V components.
This is a cost-plus-fixed-fee modification to a previously awarded contract to build the Virginia-class submarines and applies to construction scheduled for Fiscal Years 2019 and 2020.