48 Hours On The USS John Warner
The Day
By Julia Bergman
September 17, 2017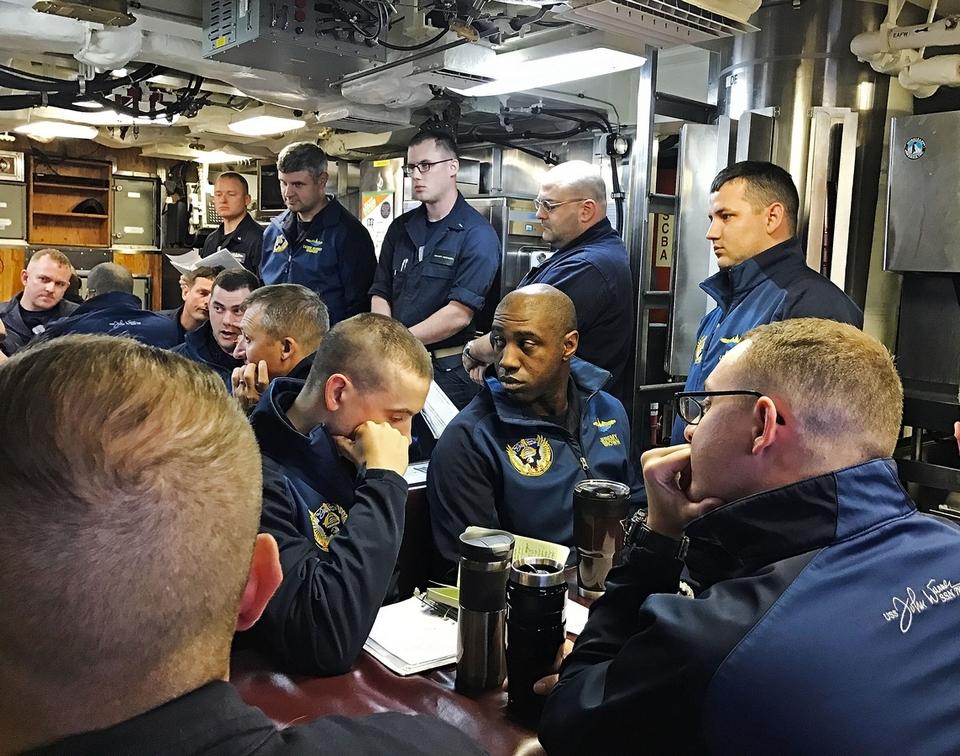 Crewmembers take part in a piloting briefing in the crew's mess aboard the USS John Warner (SSN 785) on Thursday, Sept. 7, 2017, in preparation for pulling into the Naval Submarine Base in Groton the next day. (Julia Bergman/The Day)
ABOARD USS JOHN WARNER — Hundreds of feet below the ocean's surface, the sailors begin to think about what it means to be a submariner.
Just a few short months out from their first deployment, they are hit with a mix of emotions. For the most part, they're ready. They've trained exhaustively for this. They'll move around unseen, carrying out covert missions. They'll visit ports in countries they've never been to and return with great sea stories.
But communication with loved ones will be limited, and they are already thinking of how life at home will go on without them. The sailors know this is part of life aboard a submarine but it doesn't make it any easier.
"My son is 9 months old. I'm probably going to miss him learning to walk and talk, doing a lot of major milestones. I feel like I'm going to come home to a stranger, maybe, which is a little depressing," said Petty Officer 1st Class Jacob Neutz, 28, a machinist's mate from Minneapolis, Minn.
The crew of the USS John Warner, one of the Navy's newest nuclear-powered attack submarines, was underway from their homeport of Norfolk, Va., to Groton earlier this month as part of the advanced stages of training in preparation for the boat's first deployment in early 2018.
"If you'd asked me a year and a half ago, I would've said, 'I'm not looking forward to it at all. I don't want it to happen,'" said Petty Officer 2nd Class Patrick Reilly, 22, a fire control technician from Plymouth, Mass. "But as time's gone on, I've become more accustomed to the lifestyle and started to like it a lot more. ... It can be fun. A lot of fun."
The crew has begun to think about preparations for deployment — getting their families situated, setting up automatic payments for their bills. As part of those preparations, two Navy lawyers were aboard the boat during the two-day trip to assist about 20 sailors with making wills and setting up powers of attorney.
The sailors also are compiling packing lists for the six-month mission: a hard drive full of movies. Books. Music. Pictures of their families.
Energy drinks, dipping tobacco and hard candy are among the most popular items to barter.
"Pretty much anything you can't get out here," said Senior Chief Joel Singletary, 37, of Thomasville, Ga.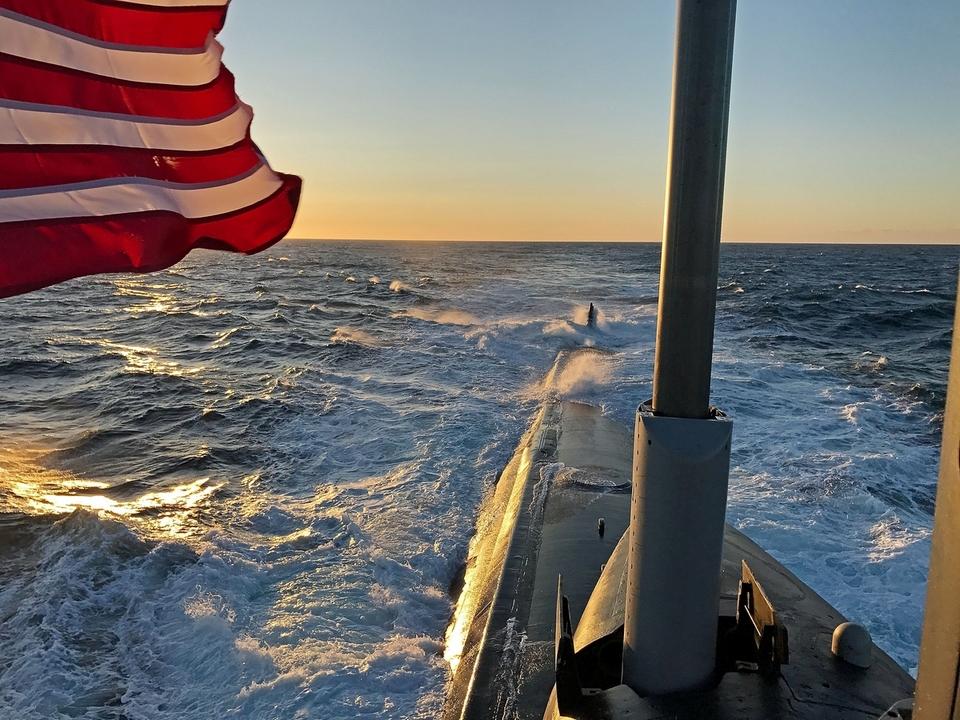 The view from the bridge of the USS John Warner (SSN 785) submarine just after sunrise Friday, Sept. 8, 2017, as it makes its way to the Naval Submarine Base in Groton. (Julia Bergman/The Day)
The crew can get care packages, but only when they pull into port, and that doesn't happen often.
The card game cribbage has a long history in the submarine force as a way for sailors to spend their down time. The crew of the John Warner is no exception. The boat's board is in the shape of a submarine. And the Navy version of the game has some special rules: aboard the John Warner, a player scores points when they have a 7, 8, 5 — the boat's hull number.
Time can be a funny thing
Most of John Warner's 130-plus crew members have never deployed before. They have certain expectations of what it will be like, having spent some time underway and from talking with fellow submariners.
They're accustomed to the cramped quarters, turning sideways to pass each other in the halls. There's more sailors than beds. On a recent underway, sailors slept on mattresses on top of torpedo cradles. It's common for three guys to share two beds, a practice known as hot racking because the bed is oftentimes still warm from the last person who slept in it.
There's no personal space when living in a steel tube — which is about the length of a football field, but only 34 feet wide — in the depths of the ocean for long periods of time. There's no getting away from one another, either.
Usually, about a third of the crew is on watch at any given time. Several years ago, the submarine force switched to eight-hour watch schedules to help improve sailors' sleep schedules and improve overall performance. Previously, crews worked an 18-hour schedule while underway, which meant they were on watch for six hours a day and off for 12 hours. Now, they operate on a 24-hour schedule.
Time is a funny thing on a submarine where there's no daylight. Sailors say they check their watches often — not to see what time of day it is but to figure out where they need to be next.
Culinary Specialist 1st Class Alejandro Acosta puts cookies in the oven in the galley aboard the USS John Warner (SSN 785) as it made its way back to the sub base in Groton Sept. 6-8, 2017. (Julia Bergman/The Day)
It's usually pretty cool aboard, particularly in the control room, where a lot of equipment is located. Sailors move around quickly, dressed in jackets, long pants and, in some cases, beanie hats.
The John Warner, being a new boat, doesn't yet have the strong chemical smell that sailors say makes their clothes stink. The chemical smell comes from amine, which is used to remove carbon monoxide and dioxide from the air onboard. Instead, the smell aboard the John Warner is more like stale air. With the constant humming of machinery, the sounds aboard a submarine are not unlike those on a commercial airplane.
Submarines like the John Warner, which are designed to last 33 years in service without refueling, make their own air and water and are only limited by the amount of food that can be carried onboard. When on deployment, with limited storage capacity, crew members will walk on top of canned goods until they eat their way down to the deck plates. Fresh foods, such as fruit and vegetables, usually are eaten first.
They eat well but quickly
Submariners often say that they eat the best of anyone in the Navy. Some say it's because they have the best cooks. Others say they get better food. When out at sea, submerged for 30 to 45 days at a time, food plays a big part in crew morale.
For lunch one day while the boat was underway, the menu featured bratwurst, grilled chicken, macaroni and cheese, baked potato wedges and broccoli. Macadamia nut cookies and cookies 'n' cream ice cream were the desserts. And, as is customary the night before pulling into port, the crew enjoyed pizza and wings.
Submariners eat quickly. There's limited seating so sailors shovel in food so that they can give up their seat to someone else. But also, submariners usually have somewhere to be — training, drills, standing watch. Officers and enlisted sailors eat separately. The crew's mess, where the enlisted eat, is cafeteria style. Sailors grab a tray, a plate and utensils and serve themselves. On the John Warner, framed pictures of the sub's namesake Republican senator from Virginia, who also was Secretary of the Navy from 1972 to 1974, line the walls. There's also pictures of the crew, donning their dress whites, at the boat's commissioning ceremony.
"We try to make it feel like home," said Senior Chief Mark Eichenlaub, the assistant navigator.
Meals in the wardroom, where the commanding officer — or captain, as he's usually called — and the other officers eat, are more formal.
Everyone waits to sit until the captain sits, and no one else sits in his chair, which is at the head of the table.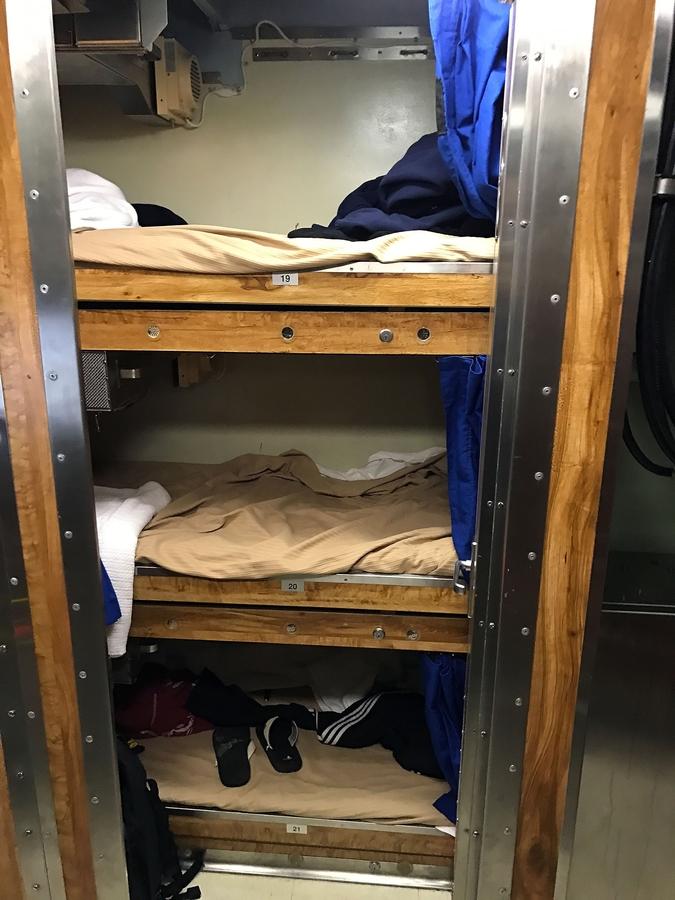 Three racks where sailors sleep aboard the USS John Warner. (Julia Bergman/The Day)
A plaque featuring a sledgehammer — "Democracy" is engraved on the wooden shaft of the sledgehammer — hangs above the captain's chair. There's also a sledgehammer of freedom, an ode to the ship's motto of "On a Mission to Defend Freedom." The crew often talks about bringing the sledgehammer of freedom or democracy, one of many "John Warnerisms" the crew has adopted.
Given the limited amount of space onboard, most objects on the submarine serve a dual purpose. The table in the wardroom doubles as a surgery table. And the tables in the crew's mess can be used for triage.
Away from family
Submariners enjoy a special kind of camaraderie, poking fun at one another and pulling pranks.
"That ribbing and good-natured fun is a product of us knowing each other well," said Lt. j.g. Kyle Leonard, the assistant weapons officer onboard.
"It definitely helps us when we're in a hairier situation."
As Leonard put it, he talks to and sees his fellow shipmates more than his wife.
Limited communications mean that sailors don't know what's going on at home while they're out to sea. Lt. Cmdr. Justin Hardy, the executive officer, said that leadership keeps close track of the sailors who have pregnant wives or sick parents. Hardy asks the crew if they want to be notified if something bad happens at home, though if the situation is bad enough, they'll be informed regardless.
Several crew members said they'd want to know as soon as possible.
"In the heat of the moment it might take my mind off work for a second, but I know personally, I can readjust and get my mind back to the task at hand," said Petty Officer 1st Class Nicholas Mcdowall, 30, a machinist's mate from Richmond, Va., who is married and has a daughter.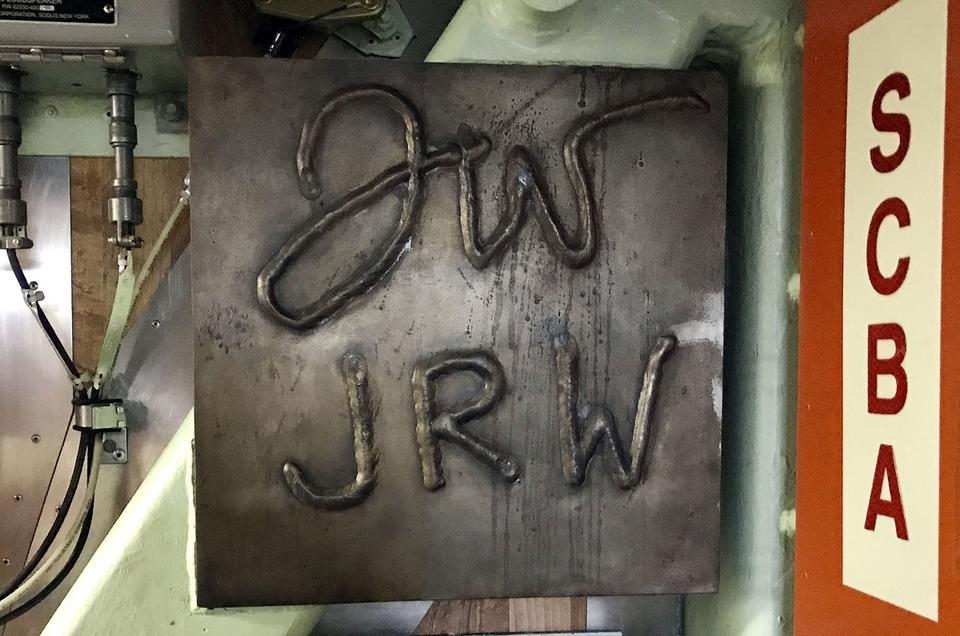 The initials of John Warner, the sub's namesake, who was a five-term U.S. senator from Virginia and also served as 61st secretary of the Navy from 1972 to 1974, are welded onto a piece of metal on the submarine. (Julia Bergman/The Day)
On the other hand, one of the more frustrating aspects of their job, sailors said, is not being able to say much to family and friends about what they do.
When you have a bad day at work, you can't go home and tell your wife because she might not "grasp completely what you do or you just can't tell her because of the confidential nature of the work. So you end up saying, 'Oh, it's fine,'" Mcdowall said.
The crew members are all men, but not for long. The boat's first female officers are scheduled to report to the John Warner in the summer of 2018. Nothing will have to be changed onboard. The women, who will range in rank from ensigns to lieutenants, will sleep in the three-person state room onboard. Women are serving aboard 18 crews and 11 boats.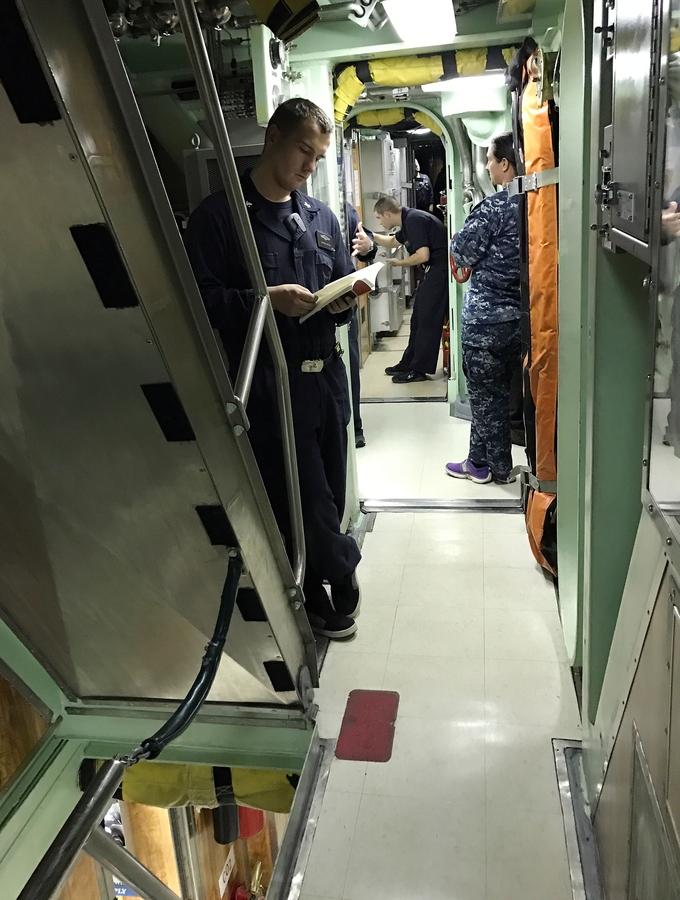 A sailor reads while waiting to go through the chow line aboard the USS John Warner (SSN 785) as the submarine was on its way back to Groton on Sept. 5-9, 2017. (Julia Bergman/The Day)