Navy Commits $5.4M To Pier Reconstruction Project At Groton Sub Base
By Julia Bergman
New London Day
October 31, 2016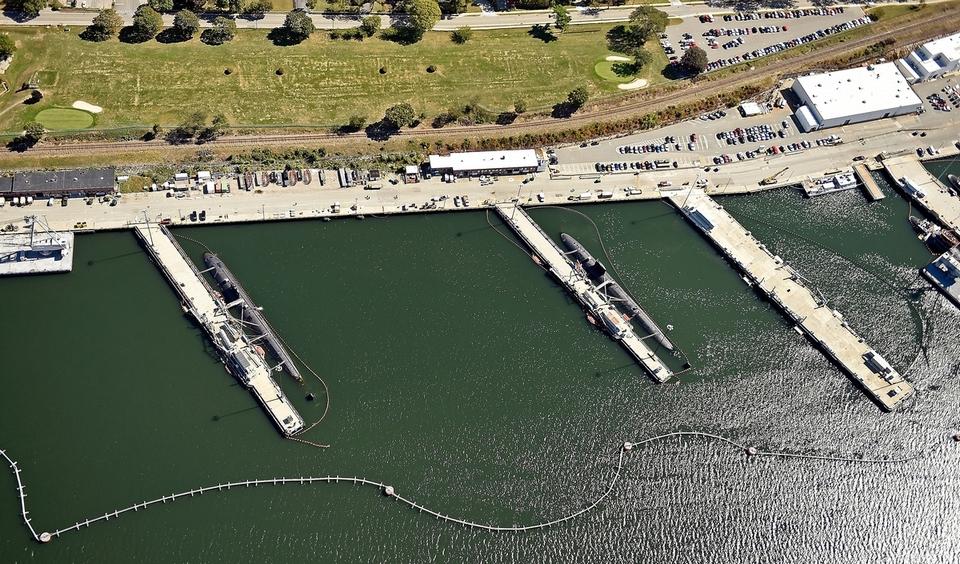 This aerial photo of U.S. Navy Submarine Base in Groton, taken on September 26, 2016, shows Pier 32, at center, the object of a $5.4 million reconstruction project which will allow the pier to accommodate Virginia class attack submarines. (Sean D. Elliot/The Day)
GROTON – The Navy has committed $5.4 million for design and planning work to replace Pier 32, one of 11 operational piers at the Naval Submarine Base, which is home to 15 nuclear attack submarines.
The plan is to demolish Pier 32 and construct a wider, longer pier in its place. The project is expected to include dredging of the navigation channel in the Thames River.
A fish and marine mammal survey is underway in the Thames River in preparation for the pier-reconstruction project, which is part of a larger infrastructure development plan for the base, dubbed the Groton 2025 plan.
A Navy contractor recently placed eight monitoring buoys in the river to collect data on endangered Atlantic sturgeon – a 2- to 3-year-old tagged sturgeon was found swimming in the river near the base in June – and other species. The monitoring will take place over the next two years.
If sturgeon or seals are found, that could impact the construction timeline for the pier project.
Navy officials have declined to discuss the project since it has not been fully funded. The service is working on its Program Objective Memorandum – its plan for how it would like to allocate resources for various programs – for fiscal year 2018.
The $5.4 million came from the Navy's architectural and engineering account, over which it has some power to allocate funding on its own in support of future military construction projects.
U.S. Rep. Joe Courtney, D-2nd District, and U.S. Sens. Richard Blumenthal, D-Conn., and Chris Murphy, D-Conn., hailed news of the Navy's commitment in releases put out by their offices last week.
Since the spring of 2014, more than $155 million in both federal and state funds has been invested in the base, according to Courtney's office. The release also states that additional funding for construction of the new pier is expected in the future, and that "additional upgrades to other piers may be needed to accommodate the new generation of Virginia-class submarines."
Starting in 2019, an added 80- to 85-foot section called the Virginia Payload Module will be incorporated on Virginia-class submarines to give them additional payload capacity.
In a joint release from Blumenthal and Murphy, the senators said the funding is "a critical investment in our submarine force, and yet another example of the U.S. Navy's commitment to the long-term future of America's first and finest submarine base."
The senators pledged to continue working with officials at the base and the defense department to "ensure that we continue making the necessary investments in our vital undersea capabilities, which are not only home-ported, but built in Connecticut."