Coast Guard Academy Cadets Take Flight On Simulator
By Julia Bergman
The Day
March 20, 2016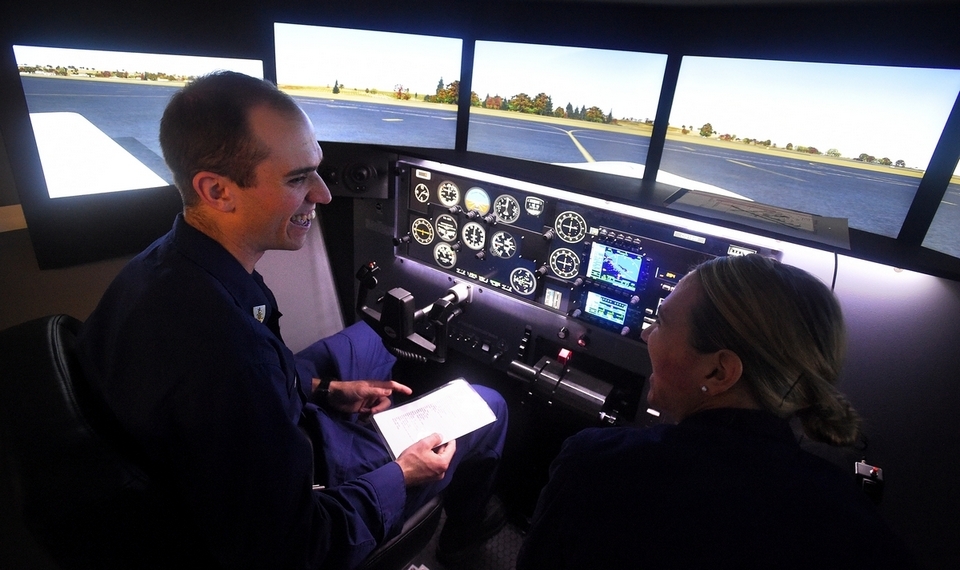 United States Coast Guard Academy Aviation Club President Ally Roesch, right, works with 2nd Class Cadet Brandon Books on flight instruction in the academy's new fixed wing flight simulator in Chase Hall at the academy in New London Thursday, March 17, 2016. (Tim Cook/The Day)
New London — It was Second-class cadet Brandon Books' first time flying.
Books took off from Groton-New London Airport, followed the Thames River north, over I-95, spotting the Coast Guard Academy at one point on the screen to his left.
While he's played with flight simulators on the computer and his phone before, this was different.
"You could feel everything that was happening in the airplane, so that was really cool," said Books, a member of the academy's Aviation Club, fresh out of a 30-minute ride in the full-motion flight simulator recently installed at the academy.
The simulator — approved by the Federal Aviation Administration and modeled off a Piper Warrior aircraft — is designed to give aviation-inclined cadets a feel for what flying is like.
"So this is a training aircraft. It's designed to be very forgiving to pilots who make mistakes because that's what's going to happen early on," said Cmdr. Hans Govertsen, adviser of the 200-cadet Aviation Club.
Sitting next to Books in the "cockpit" while he navigated his first flight was First-class cadet Allyson Roesch. Roesch is president of the Aviation Club and one of four cadets on the Flight Team, new to the academy last year.
"We're not really harping on them for maintaining altitude or air speed or getting really critical," she said. "We just want them to get comfortable and have fun ... catch that aviation bug."
Cadets run through a basic checklist including how to start the aircraft and can practice "touch and goes"—when the aircraft touches the ground then immediately takes off again—taxiing, take-offs and landings, and when they're more advanced, emergency situations such as engine failure.
Visibility is about 180 degrees and the cadets can simulate different locations and weather conditions.
Through the simulator, the cadets also learn more physics-based principles like the aerodynamic forces required to get the aircraft to move exactly as desired. Flying is somewhat counter-intuitive in that the pedals control elevation rather than speed. And getting used to that is often a challenge for first-timers.
The Class of 1949 donated $105,000 to purchase the new simulator, which provides a vastly different experience from the old one: a chair, two monitors and a joystick.
The simulator will be incorporated into the Private Pilot Ground School, a course on the fundamentals of navigation and the basics behind radio navigation, and will help to prepare cadets for actual flying competitions.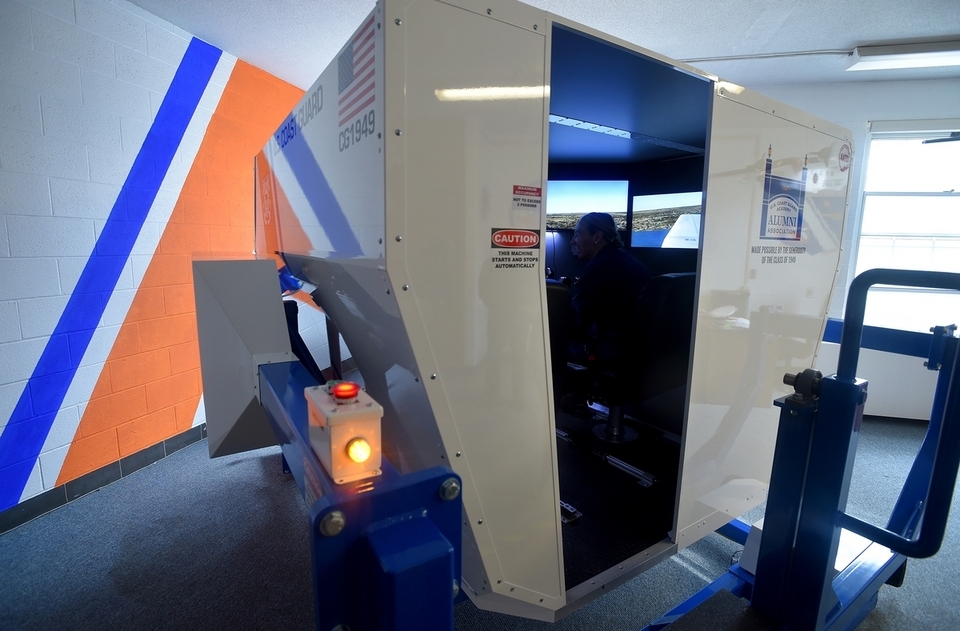 United States Coast Guard Academy Aviation Club President Ally Roesch, right, works with 2nd Class Cadet Brandon Books on flight instruction in the academy's new fixed wing flight simulator in Chase Hall at the academy in New London Thursday, March 17, 2016. (Tim Cook/The Day)
It's a timely year for the simulator as 2016 is the 100th anniversary of Coast Guard Aviation. This year, 10 cadets of the 186 in the Class of 2016 are headed to flight school in Pensacola, Fla., after graduating in May.
Roesch is one of them. By teaching other cadets how to use the simulator, she's keeping her aviation knowledge up to par. When she goes to flight school maybe she won't be "totally blasted by anything they throw at me." Though, she said she's expecting it.
"I also think it's good — you're not really a master of a craft until you can explain it to someone well," she said.