After Arctic Trip, Murphy Calls For Continued Sub Funding
By Russell Blair
Hartford Courant
March 21, 2016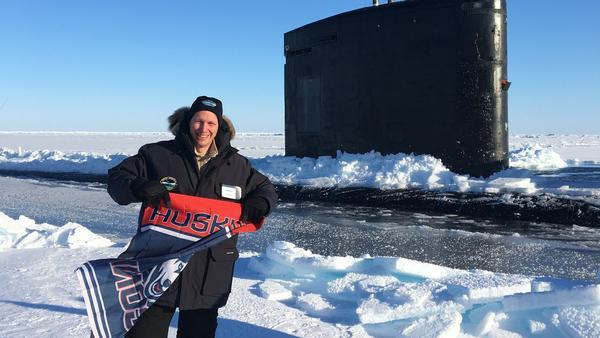 U.S. Sen. Chris Murphy shows his UConn pride this weekend after taking a trip on the USS
Hartford beneath the Arctic. (Courtesy of U.S. Sen. Chris Murphy's Office)
Back in Washington after an overnight stint on a submarine in the Arctic, U.S. Sen. Chris Murphy reaffirmed his commitment to ramped-up production of Virginia class boats, which are designed and built at Electric Boat in Groton.
"I can speak with greater first-hand experience now about the importance of keeping a full complement of subs in the water to protect the Arctic," Murphy said Monday.
The junior senator from Connecticut was one of a handful of lawmakers that made the two-day trip. After flying to Alaska, Murphy and the rest of the delegation continued north to a Navy station on an ice floe in the Arctic and boarded the USS Hartford, an older Los Angeles class sub based out of Groton that the new Virginia class is replacing.
"The boat is serviceable, but it's old," he said. "I understand … how important replacement schedules are."
Electric Boat, a subsidiary of General Dynamics Corp., has been building two Virginia class submarines a year. But beginning in 2021 production drops to a single Virginia a year as work begins on a replacement for the Ohio class ballistic missile submarine. Murphy wants to see the accelerated production of Virginia class subs continue through the 2020s.
At stake for southeastern Connecticut are billions of dollars in government contracts that support thousands of jobs. Electric Boat employs more than 14,000, about 10,000 in Connecticut. A single Virginia class submarine costs about $2.7 billion.
While most of the nation's security concerns are focused on the Middle East and the growing threat of the Islamic State, Murphy said a robust submarine program in the Arctic is critical to protect shipping lanes there. Russia is "building new classes of submarines faster than we are," he said. And "It's not clear how tethered to reality [Russian president Vladimir] Putin is."
"It should make us nervous that many of his submarines are starting to get dangerously close to the U.S. and our allies," Murphy said.
But there were some light-hearted moments from Murphy's trip too. He said the USS Hartford has a partnership with the Yard Goats and the submarine is decked out with jerseys and banners for the capital city's new minor league baseball team. Saturday night Murphy had pizza and watched "The Hunt for Red October" with some Connecticut-based sailors.
Murphy's trip came in the midst of ICEX 2016, a five-week exercise to test the readiness of the Navy's submarine fleet in the Arctic.
"The USS Hartford is participating in a strategically important exercise specific to operating in the challenging Arctic environment," the Navy's SUBLANT Public Affairs Office said in a statement. "Hartford's crew received training and demonstrated its proficiency, in real world Arctic conditions, to navigate to the Arctic region, operate under the ice, while avoiding hazards like ice keels from the canopy above. Hartford's crew demonstrated their ability to gauge the thickness and density of overhead ice, hover in location and safely break through the ice. The crew also demonstrated the ability to operate various sensors and systems while accounting for distortions due to colder water, increased salinity, pressure and overhead ice coverage."
Murphy is a member of the U.S. Senate Appropriations and Foreign Relations Committees.