National Guard Officer Candidates 'Stay Focused And Keep Driving On'
By Julia Bergman
The Day
July 22, 2015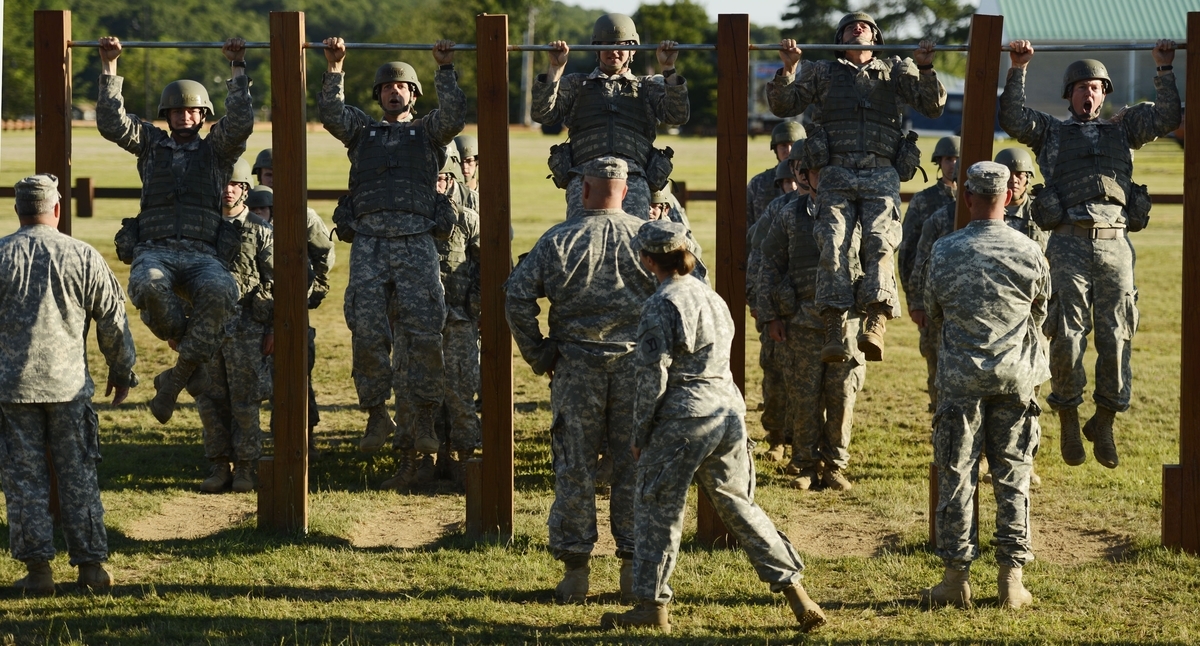 Army National Guard Officer Candidates struggle to complete 10 pull-ups before being released
to the mess hall for breakfast during Phase One of Officer Candidate School and training at the
Connecticut National Guard's 169th Regional Training Institute at Camp Niantic in East Lyme
Wednesday, July 22, 2015. (Sean D. Elliot/The Day)
East Lyme — One of the largest Officer Candidate School classes ever hosted by the Connecticut National Guard's Regional Training Institute was in the final stretch of what is called 'Phase One' of the training program Wednesday at Camp Niantic.
At the start of Phase One, a two-week program, there were 178 officer candidates: 144 men and 34 women. That number has decreased due to candidates disenrolling for medical or academic reasons. OCS, designed to turn out commissioned officers for the Army National Guard, features three phases spanning about 14 months in total.
During Phase One, candidates are tested on their preliminary leadership abilities and basic soldier skills such as land navigation, general military knowledge and squad and platoon tactics.
At this stage the completion rate is about 80 percent, according to Capt. Mike Petersen, director of public affairs for the Connecticut National Guard, although that rate increases during the next two phases, which are more focused on academics and leadership.
Some candidates came from "right off the street," as officials say, and others from the enlisted side of the National Guard. Those coming from the civilian world first have to go through basic training before beginning the OCS program.
Candidates have to have a four-year degree and a host of other qualifications such as passing an entry exam and a physical, meeting basic Army requirements such as height and weight, and being eligible for a security clearance.
Candidates were divided into platoons by desired specialty.
Officer candidates reported to Camp Niantic on July 10, with the program ending this week. They represent 17 different states.
Females make up about 16.5 percent of the Connecticut Army National Guard's total strength, and just under 14 percent of the commissioned officer ranks, according to Capt. Mike Peterson, director of public affairs for the Connecticut National Guard.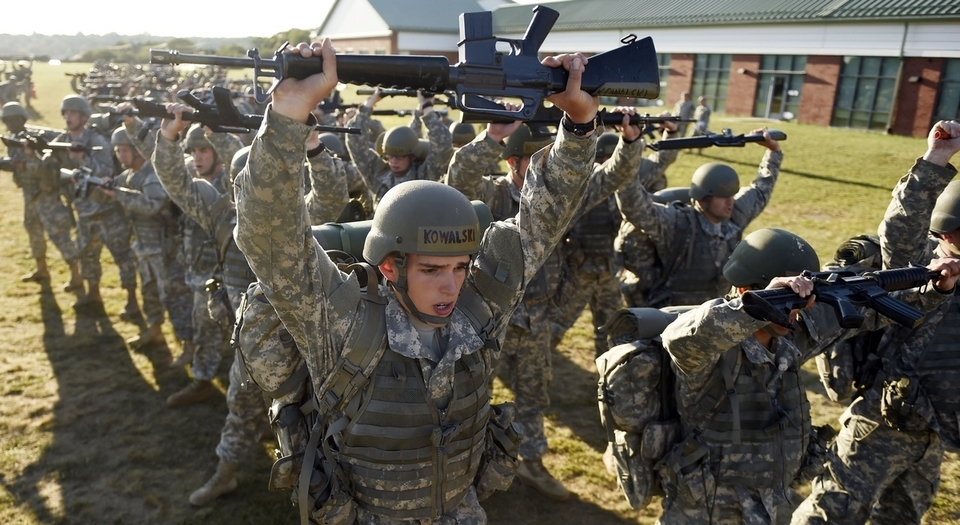 Army National Guard Officer Candidate Alexander Kowalski and his classmates go through "Lines of Knowledge" drills prior to breakfast during Phase One of Officer Candidate School and training at the Connecticut National Guard's 169th Regional Training Institute at Camp Niantic in East Lyme Wednesday, July 22, 2015. (Sean D. Elliot/The Day)
Below are a handful of women who were undergoing the training program.
Leisa Duncan, 40, Windsor, Conn.
Leisa Duncan was likely the most experienced of the officer candidates at Camp Niantic.
Duncan has served as a sergeant for 12 years with the Connecticut National Guard and has already deployed once to South Korea from 2002 to 2004. She's currently assigned to Fox Company in Southington, which she said supports the infantry. She also works full-time in the finance department at the CTNG's Joint Force Headquarters in Hartford, processing and taking care of all pay issues.
Duncan, who hails from Kingston, Jamaica, came to Connecticut around the age of 18. Her father came to the state first and then brought the rest of the family. Members of the National Guard do not have to be American citizens, although they do have to be permanent residents of the state. Currently, there are there are just under 200 foreign nationals now serving in the Connecticut National Guard.
While decked in her military gear fresh from a physical training exercise Wednesday morning, Duncan explained she wanted to go through the OCS program for a further challenge and for career progression.
"It's challenging because, of course, you know I'm older but I still, of course, made sure to keep myself in shape before I came here, review all requirements and everything," she said.
The training is physically demanding and stressful, but officer candidates have to learn to cope and stay focused, she continued.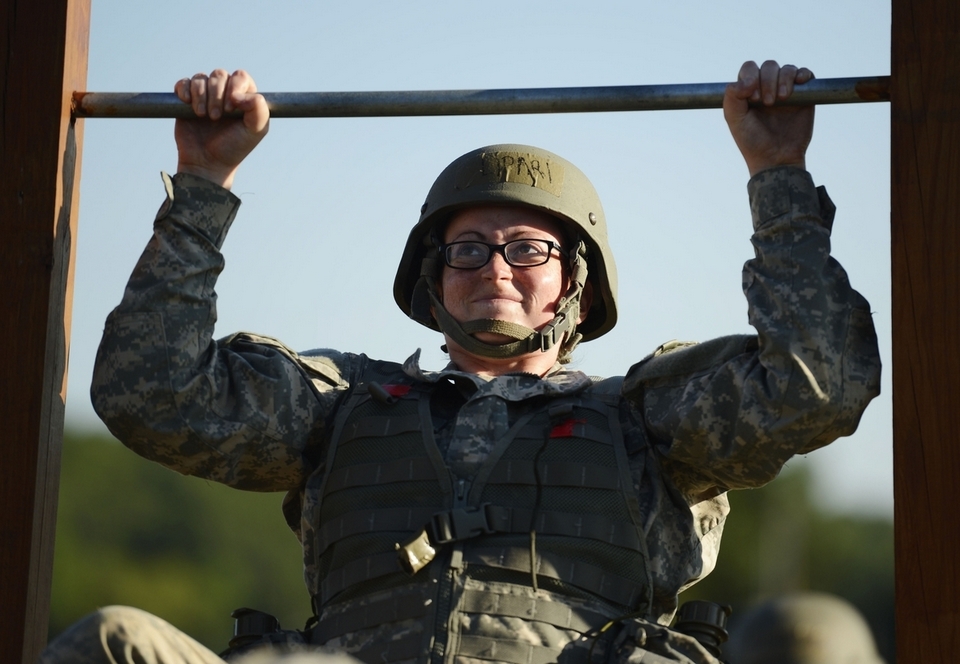 Army National Guard Officer Candidate Alessandra Lipari struggles to complete a pull-up as her platoon lines up for breakfast during Phase One of Officer Candidate School and training at the Connecticut National Guard's 169th Regional Training Institute at Camp Niantic in East Lyme Wednesday, July 22, 2015. (Sean D. Elliot/The Day)
"You can't quit," Duncan said. "The main thing is you can't take it personally. You cannot take the screaming or the yelling personally. You just have to stay focused and keep driving on."
By 8:30 a.m. Wednesday, the 12th day of training, she said, "My feet are hurting. My back is hurting. The sun is burning me all over. When I look in the mirror I'm like 'Oh, my God, I look like this?'"
But, she said, she was still happy to be there. Duncan hopes to become an adjutant general after completing officer candidate school, "But I'm flexible," she said. "It depends on the needs of Army. Wherever they say they need me to go, I'll go."
Veronica Sanchez, 33, Hamilton, N.J.
A health and physical education teacher who served in the New Jersey National Guard for six months before turning in her packet for officer candidate school, Veronica Sanchez's students often ask her, "How many push-ups do I do a day? Do I yell at people or do people yell at me? The typical things they see in movies."
Sanchez teaches 2nd through 12th graders at The Center School, a special-needs school in Somerset, N.J.
During her six months on the enlisted side, Sanchez served as a water treatment specialist for the 154th Water Purification Company. She's hoping to get involved with the military police or field artillery after completing officer candidate school.
After following orders on the enlisted side, Sanchez said, "I feel like I can give better orders."
Sanchez has thought about joining the National Guard since high school. A high school athlete, Sanchez chose to go straight to college at William Patterson University in Wayne, N.J.
"It's always been something in the back of my mind, so I figured you're never too old," she said.
Of the training program thus far, Sanchez said "There have been very, very, very long days."
"I expected long days, but they've been very long," she continued, "It's been good. We've had a lot of physical challenges, mental challenges, again that's what we're here for and that's going to build us up."
Melissa Maciag, 32, Warwick, R.I.
"It's almost like two full-time jobs," Melissa Maciag said of her work as an office manager in the Department of Psychology at the University of Rhode Island, and of being an enlisted member of the Connecticut National Guard.
While Maciag lives in Warwick, she grew up in Colchester, and chose to serve in the National Guard because it allowed her to serve her country while still pursuing a civilian career.
Her employer has been understanding and encouraging of her decision to join.
"It's a balance," she said. "It's a big balance."
"From what I understand as we continue in the program we're going to be spending 20 hours a week," she said, doing operations, writing, studying, researching, testing, and other tasks to see how the candidates "can handle both" civilian and military life.
There's a part of each day that's challenging, but perhaps the most challenging can be getting everyone on the same page.
"Everybody has their own interpretation of what is said so one person can tell 20 people or 30 people one command or one direction and people will interpret it different ways, so then it's getting everyone on the same page as to how it's supposed to be interpreted and understood," Maciag explained, noting the different talents, backgrounds and educations of the officer candidates "play a factor into it."
Aleesha Quintana, 22, Coventry, Conn.
Aleesha Quintana, a recent graduate of Western Connecticut State University, has always been interested in the military and when she began researching the various service branches, she chose the National Guard because "it gave me the opportunity to stay and finish school." She also wanted to stay close to home, and help those locally.
She hopes to get her master's in justice and law administration from WCSU.
"It's as tough and rigorous as they say," Quintana said while waiting in line Wednesday morning for breakfast.
There were no real surprises for Quintana, who said that before coming officer candidates are told "you have to be on top of everything, really need to know what's required from you," and that they "expect a lot out of you."