Pratt, Pentagon Agree on 8th F-35 Engine Lot
Aaron Mehta
Defense News
October 30, 2014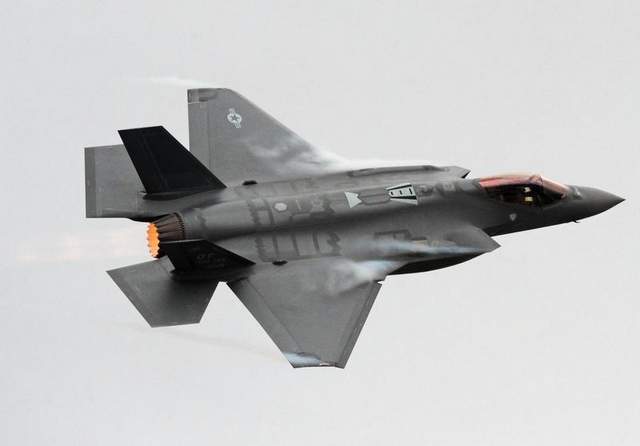 The agreement between Pratt & Whitney and the Pentagon's F-35 program office will cover 48 engines, with a total
value of $1.05 billion, for the eighth production lot of the stealthy fighters. (Alex R. Lloyd/ / US Air Force)
WASHINGTON — The Pentagon has signed an agreement with Pratt & Whitney for the eighth lot of F135 engines to power the F-35 joint strike fighter.
The agreement between Pratt and the joint program office will cover 48 engines, with a total value of $1.05 billion. The price for this lot dropped, on average, by 4.5 percent per engine from the recently agreed to low-rate initial production (LRIP) Lot 7 agreement.
See DefenseNews.com's interactive map of the F-35 program.
Lt. Gen. Chris Bogdan, the F-35 program head, acknowledged that Pratt has been driving cost down for each engine lot, highlighting the fact that the costs dropped 4.4 percent between LRIP 6 and LRIP 7, and then a further 4.5 percent between LRIP 7 and LRIP 8.
All told, there was a drop of roughly 9 percent from LRIP 6 to LRIP 8. That actually puts the engine costs ahead of a cost curve projected under Pratt's "War on Cost" program to drive down prices on the F135 engine.
"Pratt has shown a commitment to get back on the 'War on Cost' curve, and that's good on us," Bogdan told reporters Thursday. "And I have told them, on no uncertain terms, that I would expect that lot over lot so we can realize what was originally promised in the 2009 'War on Cost' curve."
"Pratt & Whitney and our supply base remain focused on delivering the F135 propulsion system on or below the cost targets we committed to for our customer," Chris Flynn, vice president for Pratt & Whitney F135/F119 engine program, said in a company statement. "The entire production enterprise is focused on meeting our cost and schedule commitments."
Earlier this week the Pentagon announced it has agreed on principal with Lockheed Martin for the eighth lot of F-35 fighters. Once that contract is signed — which Bogdan indicated should happen before Thanksgiving — both Lockheed and Pratt will be under contract through LRIP 8.
While the agreement with Lockheed was initially billed as driving costs down by an average of 3.6 percent per unit, that total is actually going to be 3.4 percent, something Bogdan blamed on poor calculations of the various exchange rates for suppliers and customers on the international program.
In addition to the contract news, Bogdan told reporters that air-worthiness authorities are in the process of validating a pair of short-term fixes for the engine problem that caused a fire aboard an F-35A model this summer.
Those solutions include either pre-trenching a part of the engine to avoid further friction or using a "burn-in" procedure to essentially warm the engine up and avoid a repeat of the problem.
Bogdan reiterated that Pratt would be paying for all costs associated with repairs, including the cost of the two one-hour flights needed for the "burn-in" procedure.
While noting that the fleet's 19 test program jets should have those fixes by December, Bogdan warned that "it will take us a while to get through all the fielded airplanes" currently based around the US.
A long-term solution for new production models will require more discussion, Bogdan said, noting that Pratt has five different possible solutions being looked at. He hopes to have one selected by the end of 2014. Engines with that fix should start coming off the line at the end of 2015.