Navy Secretary Predicts More Submarines In Visit To Electric Boat
Mabus thanks shipbuilder for cost-cutting moves
Greg Smith
NEW LONDON DAY
September 18, 2014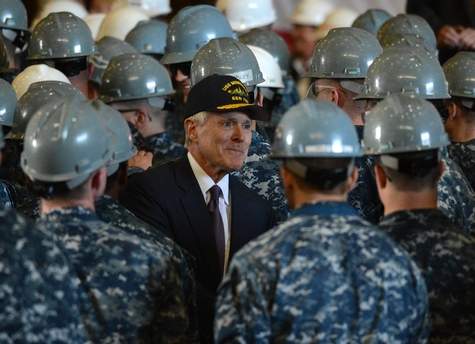 Secretary of the Navy Ray Mabus shakes hands and greets people as he walks
through a large group of Navy personnel after speaking to them and shipyard
employees during a visit to General Dynamics Electric Boat in Groton Wednesday,
GROTON – Secretary of the Navy Ray Mabus wrapped up a tour of the Virginia-class submarine Illinois (SSN 786) Wednesday by reiterating his commitment to an increased Naval submarine fleet.
Mabus addressed a crowd of several hundred Electric Boat workers along with the crews of both the Illinois and the USS Minnesota (SSN 783), which was commissioned in September and is at EB for regular maintenance.

"Thanks for what you do here," Mabus said. "Thanks to the crews here, we own the undersea. Nobody else is even close. And because of the work you're doing now, that's not going to change."

Mabus made his remarks and answered questions in a cavernous Electric Boat construction facility housing portions of both the Illinois and Colorado (SSN 788), two Virginia-class submarines currently under construction. Mabus' daughter, Annie, will be the sponsor of Colorado.
Mabus was to receive briefings on the submarine-construction process and visit test facilities during his visit.

He thanked EB leadership and its workforce for their part in helping drive down the cost of submarine building and allowing the Navy to sign a $17.6 billion contract earlier this year for 10 Virginia-class submarines to be built over the next five years – "10 for the price of nine."
"The Congressman up here, Joe Courtney, says he wants to be known as 'Two Subs Joe.' I'd sort of like to be known as '10 Subs Ray,'" Mabus joked.

Asked about the future size of the Navy's submarine force, Mabus said, "I sure don't see it decreasing."

On Sept. 11, 2001, Mabus said, the U.S. Navy had 316 ships in its fleet, a number that had decreased to 278 by 2008 and was continuing on a downward trend.

"That wasn't enough to meet the missions we needed," he said.

In the five years before he became secretary of the Navy, Mabus said, 27 ships were commissioned. He said 70 ships were put under contract since he took over five years ago.
"Thanks to leadership at Electric Boat and thanks to the proud workforce we've got here, we're building another 70 boats with a smaller top line than when we were building 27," he said.
In a related question, Mabus was asked about the likelihood of the Navy seeking funding outside its shipbuilding budget in order to fund future replacements for the ballistic missile-carrying Ohio-class submarines. Design of the submarines are under way, and the first boat is expected to be built in 2021, Mabus said. Billions are already budgeted for the design and other preliminary work, he said.

"We've got to have this conversation," Mabus said. "If we just take this straight out of the Navy shipbuilding budget, it'll take more than half of our shipbuilding budget for 12 straight years. It's got the potential to gut the rest of the shipbuilding programs, including the Virginia class."
Mabus said an effort is under way to seek an alternative funding source.

Mabus also addressed the possibility of another Base Realignment and Closure process, saying he expects a request for a base closure in every Pentagon budget. The Groton base was nearly closed in the 2005 round. Mabus said that while there are some savings to look at, the Navy has "gotten down to the footprint we need."

He said he suspected the Navy and Marine Corps are not likely to be the focus of any future BRAC proceedings.

Before leaving, Mabus took part in a traditional ceremony in which Fire Control Technician 3rd Class Petty Officer Kevin Sullivan earned his "dolphins," which means he met all the requirements of an enlisted submariner. A passage from the book "Thunder Below!" written by World War II naval hero Eugene Fluckey, was read as Mabus pinned the Submarine Warfare Insignia onto Sullivan's uniform.

Cmdr. Brian Tanaka, of the USS Minnesota, said the ceremony was the culmination of a year's worth of submarine training. Takana said the visit by Mabus offered a great opportunity.