Exclusive: Lockheed, Pentagon reach $4 billion deal for more F-35 jets
Andrea Shalal
Reuters
October 23, 2014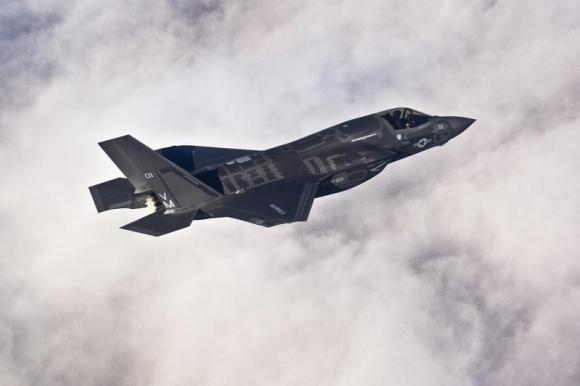 A Lockheed Martin F-35B Lightning II joint strike fighter flies toward its new home at Eglin Air Force Base,
Florida in this U.S. Air Force picture taken on January 11, 2011.

(Reuters) - Lockheed Martin Corp (LMT.N) and U.S. defense officials have reached agreement on the terms of a contract worth about $4 billion for an eighth batch of 43 F-35 fighter jets, sources familiar with the deal said on Thursday.
The contract will lower the cost of the radar-evading warplane by about 3 percent and includes jets to be built for the U.S. military, Britain and other U.S. allies, according to the sources, who were not authorized to speak publicly.
The cost of the U.S. Air Force model of the plane, which accounts for 27 of the 43 aircraft, will go down by nearly 4 percent, said one of the sources.
Both sides had expected to reach a deal in May or June, but the negotiations slowed after a June 23 engine failure on an Air Force jet grounded the entire F-35 fleet for several weeks.
Lockheed Chief Financial Officer Bruce Tanner told analysts on Tuesday that the company was close to reaching a deal with the Pentagon office that runs the $399 billion weapons program, the costliest arms project.
The Pentagon reached an agreement earlier this month with engine maker Pratt & Whitney, a unit of United Technologies Corp (UTX.N), that lowered the cost of the engines that will power the seventh batch of jets by 4.5 percent.
Pratt expects to conclude an agreement with similar cost reductions for engines to power the eighth set of jets after the Lockheed deal is finalized.
Lockheed, the Pentagon's No. 1 supplier, delivered the first airplane from the sixth lot of jets on Wednesday. It was the 23rd jet to be delivered this year of 36 that are due.
Lockheed has said it has a plan to deliver all 36 jets that were slated for this year, despite the grounding earlier this summer and some flight restrictions that remain in place.
Lockheed and the Pentagon said they were still finalizing the eighth Low-Rate Initial Production (LRIP 8).
"We are encouraged by progress taking place and look forward to an agreement in the near future," said Lockheed spokesman Mike Rein.