USS Springfield Returns From Six-Month Deployment
By Mass Communication Specialist 1st Class (SW/EXW) Jason J. Perry, Submarine Group 2 Public Affairs
July 22, 2013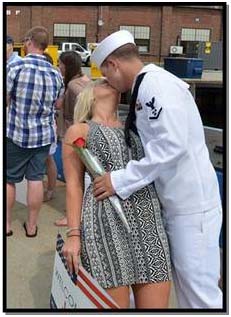 (U.S. Navy photograph by Mass Communication Specialist 1st Class (SW/EXW) Jason J. Perry/Released)
130722-N-TN558-235 GROTON, Conn. (July 22, 2013) –
Sailors assigned to the Los Angeles-class attack
submarine
USS Springfield (SSN 761) are reunited with their families
and loved ones following a regularly-
scheduled, six-month
deployment.

GROTON, Conn. (NNS) -- Los Angeles-class attack submarine USS Springfield (SSN 761) returned to its homeport in Groton, Conn., July 22, after completing a scheduled six-month deployment.
Under the command of Cmdr. Chris Williams, Springfield transited more than 34,000 miles and conducted maritime operations in Europe and the Middle East in support of U.S. national security interests.
"The crew was privileged to serve as a forward deployed unit of our Navy," said Williams. "They performed this duty admirably."
Executive Officer Lt. Cmdr. Joe Lautenslager was also pleased with Springfield's performance.
"The crew performed superbly in all mission areas during deployment," Lautenslager said. "I am proud to have had the opportunity to serve with them."
Springfield Sailors departed Naval Submarine Base New London in late January and now looks forward to reuniting with their loved ones.
"We plan to enjoy some well-earned time with our families," said Williams.
The "first kiss" honor was awarded to Sarah Krueger, who welcomed her husband Electrician's Mate 2nd Class (SS) Steven T. Krueger home.
The "first hug" was awarded to Chief Yeoman (SS) Aaron S. Norton's three children - Ethan, Madison and Quinn.
Springfield qualified 25 enlisted Sailors and six commissioned officers in submarine warfare, a significant career milestone.
Enlisted crew members who qualify in submarines wear silver warfare pins known as silver dolphins. The officers' warfare pins are gold.
Springfield was commissioned Jan. 9, 1993 and is the fourth Navy vessel to be named for cities in both Illinois and Massachusetts.