Sub Base Reserves Parking For Gold Star Families
The Day
July 1, 2013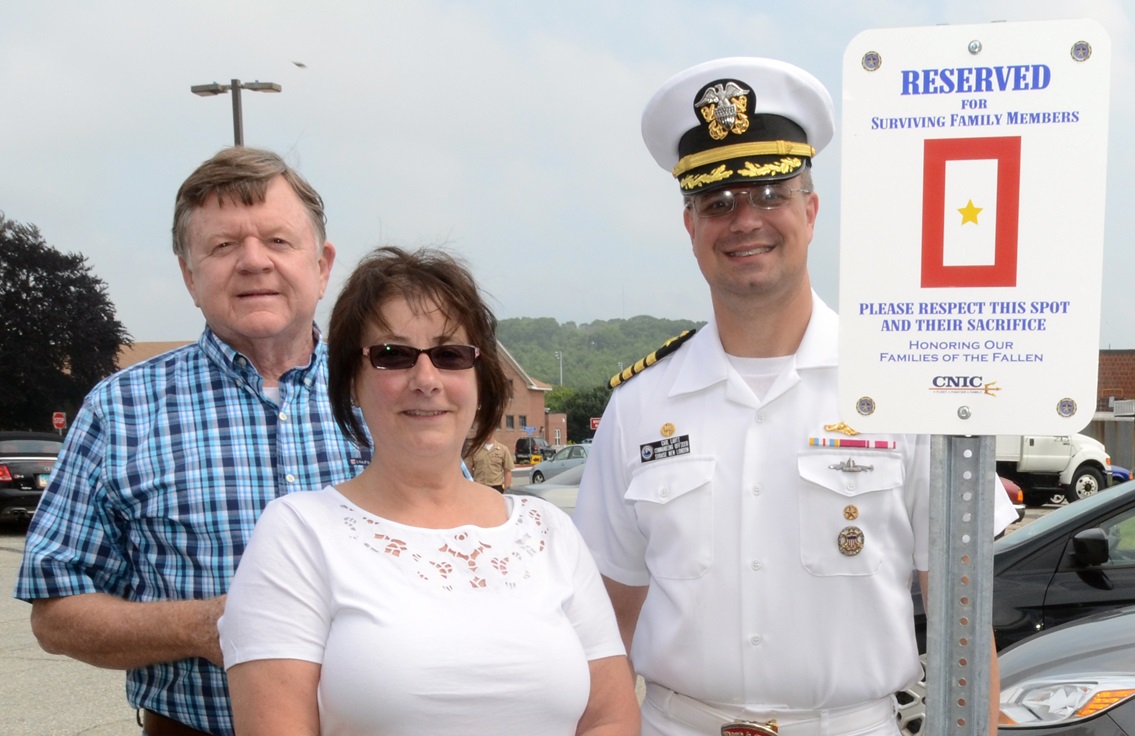 GROTON, Conn. - (left to right) Richard Hamill, Sharon Hamill, father and mother of deceased
U.S. Army Capt. Jason Hamill, and Capt. Carl A. Lahti, commanding officer, Naval Submarine
Base New London (SUBASE), pose for a photo following a sign unveiling for one of three
reserved Gold Star Family parking spaces on SUBASE, June 28. Naval installations across the
country are designating spaces for the family members of service members who were killed
Groton - The Naval Submarine Base unveiled parking spots at the base on Friday, June 28, that are now reserved for Gold Star Families so these families can easily access resources and support services and attend events at the installation.
Naval installations across the country are designating spaces for the spouses, children, parents, and siblings of service members who were killed in combat.
Richard and Sharon Hamill, of Salem, attended the ceremony. Their son, Army Capt. Jason R. Hamill, 31, was killed by a roadside bomb in Baghdad in 2006. Richard Hamill served for 20 years in the submarine force and retired as a master chief.
Sharon Hamill said they visit the base at least once a week and a friend who was helping organize the ceremony asked them to take part.
Capt. Carl A. Lahti, the base commander, spoke during the brief ceremony in which the reserved spaces were unveiled at the Naval Branch Health Clinic Groton, the Navy Exchange and Commissary complex and the Dealey Center, which includes the chapel, Morale, Welfare and Recreation programs and the Fleet and Family Support Center area.
Lahti said he hopes the small initiative would help make things a little easier for the families.
"Our fallen heroes answered our country's call to duty, sacrificing all they had and all they would ever know. Their families, Gold Star Families, exemplify that same mark of selflessness and patriotism," he said. "Through heartbreaking loss, our Gold Star Families continue to support one another, to serve their communities, and to bring comfort to the men and women of our Armed Forces and their families. We owe these Gold Star Families our admiration and more."
"Today, here at (the) Subase, we reaffirm our promise to care for those left behind," he added.
Bob Ross, executive director of the state's Office of Military Affairs, also spoke at the ceremony. He said to the Hamills, and to all Gold Star Families, that he knows their loss is a "wound that time will not heal" and he hopes the sign for the parking spaces will "serve as a billboard to those who still wear the uniform of the toll of war."
The Army is issuing Gold Star Installation Access Cards to parents and siblings of deceased soldiers so they can access services and support on Army installations. The Navy plans to issue similar cards for Navy and Marine Corps families and the base plans to recognize the access cards of other services, according to the base.