Plans For National Coast Guard Museum Unveiled
by Matt Clark
Coast Guard Foundation
April 5, 2013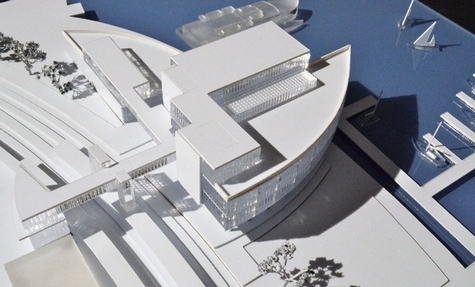 Artist rendering of the Coast Guard Museum
The National Coast Guard Museum Association, along with the Commandant of the U.S. Coast Guard, and Connecticut's political leaders revealed today the location and conceptual designs of a national museum to be situated on the waterfront in New London, Connecticut.
The highly-anticipated announcement unveiled plans for a four-story, 54,300 square-foot building located in downtown New London adjacent to the city's train station and ferry terminals. The museum will be an attraction for visitors worldwide, and the first national museum dedicated to the U.S. Coast Guard's history.
Mr. James J. Coleman, Jr., chairman of the Museum Association board, unveiled the plans at the Science and Technology Magnet School in New London. "All I can say is 'Semper Paratus.' We are ready and eager to get this done."
The proposal outlines a museum that will include four floors featuring interactive exhibit spaces, an event space and lecture room, as well as a reception area with gift shop and café. The Coast Guard's tall ship, the barque Eagle, will be docked at a nearby pier to serve as an additional attraction.
A pedestrian overpass connecting the local ferry terminal and train station to the downtown area is a critical component of the proposal.
"Congratulations to the National Coast Guard Museum Association and the federal, state and local stakeholders for their commitment to this project; on behalf of the Coast Guard Foundation, I applaud your efforts and I look forward to working together to support the National Coast Guard Museum," said Coast Guard Foundation President Anne Brengle.
The museum announcement included remarks from Admiral Bob Papp, Commandant, as well as Governor Dan Malloy and Senator Richard Blumenthal and Senator Chris Murphy. Mayor Darryl Justin Finizio shared remarks about the importance of the project for the city of New London and the region in general.
The new Coast Guard museum will be a fitting tribute to the men and women of the service — those currently serving, and all those who came before them. The Coast Guard's 220 year history is rich with tales of bravery, devotion to duty and patriotism. The National Coast Guard Museum will be a place where Americans from all over the country can visit and be inspired by the legacy of the service.
Mr. Coleman cited the Museum Association's mission: "Respect the past, engage the present, and look to the future."