North Dakota Makes Its Debut
By Karen Florin
The Day
November 2, 2013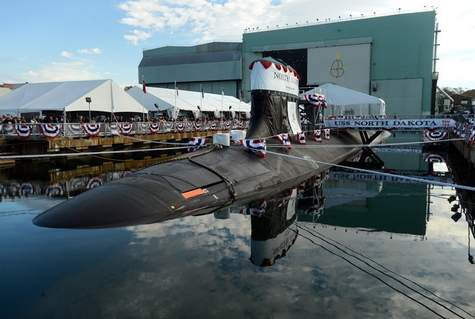 The North Dakota (SSN-784), the 11th Virginia-class submarine,
before the christening
ceremony at General Dynamics Electric
Boat in Groton Saturday, Nov. 2, 2013.
Electric Boat fetes newest Virginia-class submarine Saturday in Groton ceremony
Groton — A Navy wife wound up with gusto, took aim and smashed a bottle of Champagne against the hull of the North Dakota (SSN 784) Saturday morning at a christening ceremony in the Electric Boat shipyard.
The 4,188 people gathered at the graving dock along the Thames River cheered as the ship sponsor, Katie Fowler, wife of retired Vice Adm. Jeff Fowler of North Dakota, held up the remains of the bottle.
"As I officially christen this warship, I encourage her crew to represent the Rough Rider state as enthusiastic ambassadors to North Dakota," she said.
The submarine was decked out in red, white and blue bunting and bore the seal of its namesake state as Navy officials, shipbuilders, politicians and crew members celebrated the boat's near-readiness to join the fleet. Capt. Douglas Gordon and the 138-member crew stood at attention as speakers hailed the nuclear-powered, fast-attack submarine as a warship designed to help the nation preserve peace.
The ship, the 11th member of the Virginia class, next will undergo sea trials and could be delivered to the Navy as early as the end of February, according to Kurt A. Hesch, Electric Boat vice president and program manager for the Virginia-class submarines. The North Dakota is on track to be delivered after 59 or 60 months of construction — the shortest construction period yet for a Virginia-class submarine.
Electric Boat in Groton and Newport News Shipbuilding in Virginia build two Virginia-class submarines a year together. EB previously delivered the USS Mississippi to the Navy in 62 months, and Newport News built the USS Minnesota in 63 months.
Vice Adm. Michael J. Connor, commander of the submarine force, said he previously had seen the North Dakota's "highly innovative bow section" during a tour of the Newport News shipyard.
"Now it's great to see it all put together," Connor said.
The North Dakota is the first submarine to have a redesigned bow with a new sonar array and two larger payload tubes instead of 12 individual, vertical-launch missile tubes. Twenty percent of the ship's design was changed to save about $100 million per submarine. Virginia-class boats cost about $2.6 billion each.
Connor said he had sailed out of Groton on five different boats, all of which had been built here, carrying on a tradition that began in the early days of the nation, when whaling ships were built in the region and provided to other states.
He also hailed the North Dakota's namesake state, saying it has a lot in common with a nuclear submarine.
"Neither has a lot of people, but both have a lot of impact," Connor said.
Gov. Dannel P. Malloy thanked Electric Boat for "all it does for this state's economy" and said Connecticut is proud of its role in the creation of submarines and defense of the nation.
North Dakota Gov. Jack Dalrymple said that more than 100 people from his state were in attendance and that Saturday was also the 124th anniversary of North Dakota's statehood.
"We couldn't be more proud to have this mighty submarine bear the name North Dakota," Dalrymple said.
U.S. Sen. John Hoeven, R-N.D., said his is the fastest-growing state in the nation. It's strong and prosperous and produces more than 1 million barrels of oil a day, he said, second only to Texas, which should be "looking over their shoulder."
"And today we've got something else to brag about," he said. "That's the USS North Dakota."
(Technically, the North Dakota is still a precommissioning unit, a PCU, It will not be a USS — a United States Ship — until it is commissioned in a ceremony in Groton in May.)
"As North Dakotans, when we look at the amazing pride and workmanship that went into this boat, we know you built a ship worthy of the name," U.S. Sen. Heidi Heitkamp, D-N.D., said.
At one point, the entire assembly stood up and sang "Happy Birthday" to the Rough Rider state.
U.S. Sens. Richard Blumenthal and Chris Murphy, both D-Conn., U.S. Sen. Jack Reed, D-R.I., and U.S. Rep. Joe Courtney, D-2nd District, all spoke of the importance of continuing to build two submarines a year. Connor has said, however, that continuing to get the money to buy two Virginia-class submarines per year will be "a constant battle" because of cuts to the defense budget. A second submarine is planned for 2014, but the production rate could go down to one in future years.
The christening ceremony marked the last official duty for Electric Boat President Kevin J. Poitras. The company's new president, Jeffrey S. Geiger, takes the helm on Monday.