Base Commander Made Community His Business
By Jennifer McDermott
The Day
May 30, 2013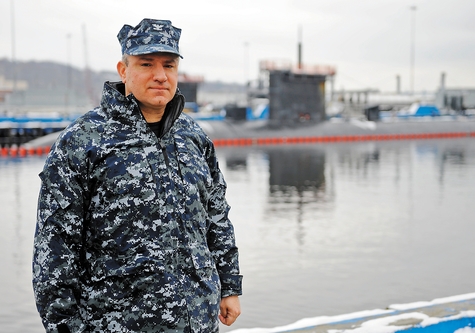 Capt. Marc W. Denno, commander of the Naval Submarine Base in Groton, shown on
pier 10 at the base in 2010, will relinquish command during a ceremony Friday.
Capt. Marc W. Denno will relinquish his leadership during a ceremony Friday
Groton - The Naval Submarine Base and the towns that surround it may someday share one department that will repair all of the local roads and another that will plan activities for all of the residents.
"Everyone has roads," Capt. Marc W. Denno, the outgoing base commander, said in a recent interview. "So why does the sub base have a road department and the town of Groton have a road department? Maybe we could combine those efforts. You could purchase and contract in quantity, as well as get more use out of the existing trucks. An asphalt paver works on a base as well as it does out in town."
Denno, officials in the town of Groton, Groton City and Ledyard, and the state have met to talk about how they could work together to save money and be more efficient. On Friday, after nearly four years in charge, Denno will turn over command of the base to Capt. Carl A. Lahti, but he said he thinks the plans to pool resources will move forward even after he moves on.
"I think it's not only a good idea, I think it's a necessity," said Denno, who has served as base commander longer than any of his predecessors.
Denno said he has worked to build a strong relationship between the base and surrounding towns because he realized quickly that his job included "being the face of the Navy in the community."
"Any commanding officer has the option to focus on base operations and delegate community affairs to someone else," said Bob Ross, executive director of the state's Office of Military Affairs. "He didn't do that."
Gov. Dannel P. Malloy is the scheduled guest speaker at Friday's ceremony, which will be held on the base's new synthetic sports field. When it comes to military protocol, having the governor of a state speak at an event like this is "highly unusual," Ross said, "but it's because this governor really understands the impact Capt. Denno has had."
Ross said it was Denno who saw that New London was not on the list of cities in which the Navy was planning to hold War of 1812 bicentennial commemorations and Operation Sail events. Denno called Ross and state officials began petitioning the Navy to add New London.
"If Capt. Denno had not given us that heads-up, it probably would have been too late. We would not have had the time to get on the list," Ross said. "Connecticut owes that War of 1812-OpSail event to Capt. Denno, and most people never knew he was behind that."
Precedent for partnering
Ross called Denno after he went to a conference in Monterey, Calif., last June, where the idea of sharing resources between municipalities and military installations was discussed. Congress passed legislation in its last session to allow the Department of Defense to enter into shared services agreements with local governments, Ross said.
Denno has since suggested building a compressed natural gas refueling station on Route 12 for the refueling of municipal and federal vehicles - a smaller project that could set the stage for future collaboration. The project is still in the "meeting stage," he said, but the joint highway and recreation departments are among other ideas. Congress did not allow for any sharing of police or fire resources.
"As you try to stretch your tax dollars, whether they're federal or local or state tax dollars, any economy of scale is an easy way to do that," Denno said. "I think in the past, there has just been enough money for everybody to rule their own kingdom."
The state already set a precedent for partnering with the base. In 2009, Connecticut became the first state to fully fund a construction project on a base by giving the Navy $7.65 million to upgrade the facility for Navy divers and replace aging boilers at the power plant. More recently, the state gave Groton and Ledyard nearly $700,000 to buy land around the base to prevent development from encroaching on its operations.
Groton Town Manager Mark Oefinger said there are plenty of issues to work through, but there are also many opportunities. If they bought salt for the roads together, for example, the next step could be storing it collectively in fewer facilities, he said.
"The base is like a small city and there are lots of things we do in the community that they do on the base," he said. "I don't know how many of these things we'll ultimately be successful with, but giving it a good, honest look and evaluation is certainly an appropriate thing to do."
Oefinger added, "It has been fairly easy for people to sit down and have these discussions because of how outgoing Marc has been and how involved he has been."
'One of the best'
Denno serves as an ex-officio member on the Groton Education Foundation and was appointed to the task force that is planning school facilities initiatives in Groton. In 2011, he accepted the Pete Taylor Exemplary Partnership Award for the southeastern Connecticut's Military Superintendents Liaison Committee. The committee was recognized for its efforts on behalf of military children.
Denno also attends the Southeastern Connecticut Council of Government meetings. Groton City Mayor Marian Galbraith said that whenever he hears people are in need of volunteers for projects throughout the region, he always says, "Call us."
"He really goes out of his way to be a part of the community," she said.
"We've been very fortunate to have had some very good commanders of the base," Oefinger said. "Marc has been one of the best."
About $150 million in federal funding and an additional $11 million from the state have been spent on the base during Denno's tenure. Another $29 million in projects is in the planning stages. Denno used most of the federal dollars to enhance the lower base with a new pier, port operations center and other infrastructure improvements. The base is home to 15 attack submarines and more than 70 tenant commands, including the Naval Submarine School.
Lahti, the incoming base commander, has served in Groton several times before, including tours aboard the USS Miami and USS Dallas and on the staffs of Submarine Squadron Four and Submarine Development Squadron Twelve. He led the USS Memphis on its final deployment before decommissioning. Most recently, Lahti worked on the Joint Staff in the Pentagon.
Denno will next work in the operations department at the U.S. Naval War College in Newport, R.I. Originally from Hutchinson, Minn., he grew up in various locations as the child of an Army medical officer. Denno said he has seen a lot of bases and "no one has a stronger relationship with the community than we do here."
He has led two submarine crews, but he said being in command this time was a unique experience.
"The work we have done will live on for many, many years. When you command a submarine, eventually that submarine ends up in a scrap yard somewhere," Denno said. "So I've been very proud and fortunate to be able to leave a mark on something that is going to last."