Vets Honored In Avery Point Ceremony Glad Sacrifices In Wartime 'Weren't Forgotten'
By Jennifer McDermott
The Day
September 24, 2012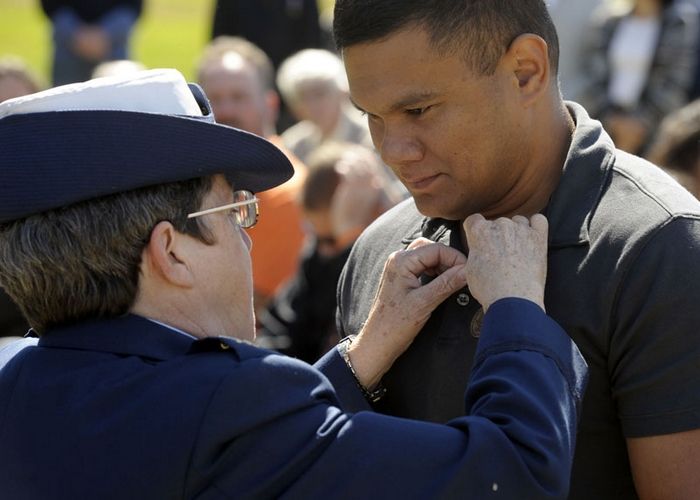 Dr. Linda Schwartz, Commissioner Connecticut Department of
Veterans Affairs, presents
Donaven R. Jack with his Connecticut
Veterans Wartime Service Medal at the University of
Connecticut
at Avery Point Monday, Sept. 24, 2012. Twenty-four veterans with
ties to the
UConn campus were honored in the ceremony.
Groton — Veterans who received medals for their wartime service Monday at the University of Connecticut said the recognition was exciting and heartening.
"It's uplifting to know that Connecticut does take care of its veterans, and that the years I served weren't just forgotten after I left," Donaven Jack said after the Connecticut Veterans Wartime Service Medal was pinned to his shirt.
Jack, 27, a psychology student, served in the Marine Corps from 2002 until February and deployed three times to Iraq. His friend, Keith Appleton, said it was an honor to participate in the ceremony with the other veterans, especially those who served during the Vietnam War.
"I have a lot of respect for them so it's humbling to receive it with them and be recognized on the same level," said Appleton, 30, a biology student who was in the Army from 2003 until May and served 15 months in Iraq.
In an awards ceremony at the UConn Avery Point campus, 24 students and staff members were honored for their military service. Connecticut veterans who served during wartime are eligible to receive the medal, which was given to veterans of the Civil War, Spanish–American War and World War I but then was not used for many years.
State Veterans Affairs Commissioner Linda Schwartz said the tradition resumed in 2005 because many residents were fighting in Iraq and Afghanistan. Of the 250,000 veterans living in Connecticut, 21,000 have deployed since Sept. 11, 2001.
The red, white and blue ribbon is the same as the ribbon on the medal awarded to the WWI veterans. Schwartz explained the significance of the ribbon during the ceremony.
"That was really cool that they came up with that idea. It adds more value I think," David Kerr, a Navy veteran, said.
Kerr, 23, a psychology student, served from 2007 to 2011 and was assigned to the USS Dallas in Groton. He wants to work with veterans with post-traumatic stress disorder after graduating. The ceremony was "pretty exciting," Kerr said, because "all these really important people" attended.
Schwartz pinned a medal on each veteran's shirt while thanking them on behalf of the state for their service in defense of freedom. U.S. Rep. Joe Courtney, D-2nd District, spoke at the ceremony and state Sen. Andrew Maynard, D-Stonington, state Rep. Elissa Wright, D-Groton, and Bob Ross, executive director of the state's Office of Military Affairs, shook the veterans' hands.
Alan Goldfinger, a student who celebrated his 69th birthday Sunday and served in the Air Force from 1964 to 1968, said the ceremony was a "nice gesture."
Courtney told the recipients their service is an inspiration.
After the ceremony, Schwartz learned that Brandon Lemery, who works in Courtney's Norwich office as a veterans' representative, had applied for the medal. She presented it to him during the reception. Lemery served in the Navy from 2005 to 2009 as a corpsman and deployed to Fallujah in 2007.
Schwartz asked the veterans to share their stories from their time in the military with their families. She said she treasures the story of her father's experience on D-Day, which her mother wrote by hand and gave to their children.
"I know some of you will say, 'I was a supply clerk in Biloxi, Mississippi, and that wasn't very adventurous,'" she said.
But, she said, each of the veterans had the courage to step forward and volunteer to serve.
"Please remember the people of Connecticut want you to know how much they appreciate that service," she said.