Officials Brace For Possible Fight Over Submarine Base Closing

The Bulletin

February 23, 2012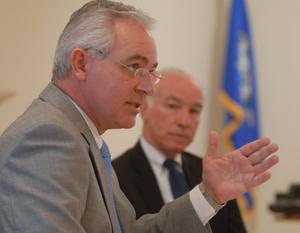 Aaron Flaum/ NorwichBulletin.com
Bob Ross from the Connecticut Office of Military Affairs
talks about possible BRAC and the Groton based sub base
during the SouthEastern Connecticut Enterprise Region
Subase coalition steering committee at Fort Trumbull
Conference Facility in New London.

New London — State and local officials say they are better prepared now than they were in 2005 to fight any order to close Groton's U.S. Navy submarine base.

And while the state's Congressional delegation has called the Pentagon announcement of the possibility of a new round of base closures "dead on arrival," preparations for a fight are nonetheless underway.

It was a reunion of sorts on Thursday for the subase coalition group that led a successful fight against the last round of the U.S. Department of Defense Base Realignment and Closure (BRAC) in 2005. The group met at Fort Trumbull in New London.

"We should assume nothing is safe," said U.S. Rep. Joe Courtney, D-2nd District, who expects a fight in Congress but is optimistic that a new BRAC round will not come to fruition.

All agree closing the base, which contributes an estimated $3 billion to the state, would be economically devastating to eastern Connecticut.
Courtney said the last BRAC round actually cost the government $35 billion in exchange for savings that will not materialize until 2018.

"I believe we will jump off the capitol dome," before voting in favor of a bill authorizing a new BRAC round, Courtney said of the armed services military readiness committee of which he is a member.

But mandated budget cuts and the drawdown in Iraq and Iran make a new BRAC round sometime in the near future likely.

Robert Ross, executive director of the state Office of Military Affairs, said "there will be a future BRAC," but Groton's base is in a better position than it was in 2005 thanks to $150 million investment at the base and improved synergy with submarine builders Electric Boat.

"Unlike last time we're not going to have to react from a dead stop," Ross said.

Former Congressman Rob Simmons, who remembers the hard-earned victory to keep the Groton base off the list in 2005, warned of challenges. He said the state now has two freshman senators in a time when fiscal conservatives in Congress are fighting for budget cuts.

The Groton base also has fewer submarines and one of only three bases on the east coast, including Norfolk, Va. and King's Bay, Ga.

Because of its size and strengths, Simmons said King's Bay is highly unlikely to be considered for closing.

"I'm glad we're having this meeting now. It's not too soon," Simmons said.